The Best Time Of Year To Visit Acadia National Park's Thunder Hole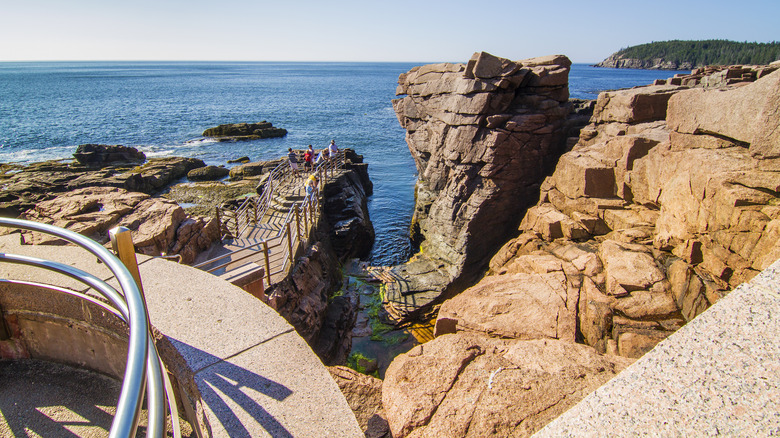 Mirceax/Getty Images
According to the National Park Service, Acadia National Park welcomes roughly 4 million annual visitors, placing it among the 10 most-visited national parks. And "rough" may be an operative word. While the national park is unquestionably beautiful, most visitors tend to explore Acadia within a small summer window, which is understandable. When you envision Maine's coast, you probably don't imagine sandy beaches, beach blankets, and sunshine.
Located primarily on Maine's Mount Desert Island, Acadia National Park is celebrated for its miles of hiking trails, dramatic rocky coastlines, glacier-scarred cliffs, and abundant wildlife. With temperatures hovering between the 50s and high 70s degrees Fahrenheit, late summer is peak tourist season, per U.S. News and World Report.
While the annual influx of peak-season crowds is a feature of all national parks, Acadia National Park — as expansive as it is — does experience congestion, especially at its popular sites like Thunder Hole. If you're planning a trip to Acadia to see this natural coastal wonder, then consider sacrificing ideal weather for a less-congested experience. The weather of Maine's early autumn isn't exactly rough.
Acadia's Thunder Hole is LOUD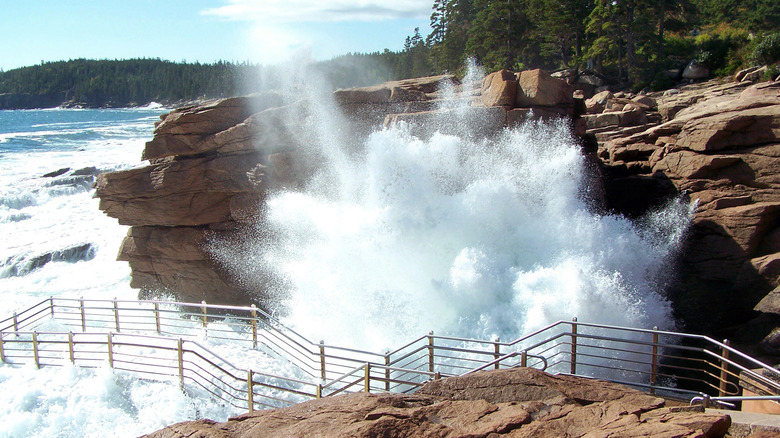 Lisa Wispe/Shutterstock
Thunder hole is a natural phenomenon that showcases the ocean's immense power. Located on the jagged eastern shoreline of Mount Desert Island, Thunder hole is a semi-submerged cave in a carved-out inlet. Per the NPS, when the tides turn and force waves into the channel, the air escaping from the cave, combined with the crashing waves, creates a deafening, "thunderous" boom.
When visiting Thunder Hole, you can walk down to the rocky outcrops at low tide to get a closer view of the cave and inlet. However, as high tide begins to swell, visitors must climb back up the staircase to wait for the thunder to roll in. During particularly large swells and storms, the spray of waves can reach 40 feet high. If you want to stay dry (and remain on land), do not stand on the lower sections of the cliffs during tide changes.
The NPS warns that ocean temperatures average under 60 degrees Fahrenheit in summer, which is shockingly cold for most. In addition, as recent as September of 2022, a woman was plucked from the ocean after she was swept away near Thunder Hole, according to the Boston Globe. Trust us, you do not need a closeup view of Thunder Hole to experience Thunder Hole.
Acadia's autumn is a bit quieter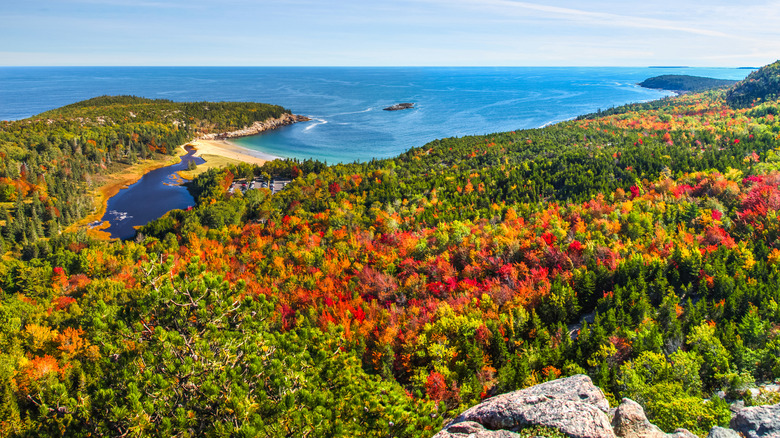 Jason Busa/Shutterstock
Barring Old Faithful in Yellowstone, most national park attractions aren't set to a clock. In other words, a popular lookout will typically provide great views, and you can usually hike past crowded trailheads. These attractions aren't contingent on timing, which helps to spread crowds out a bit.
However, Thunder Hole's reverberations typically only occur a few hours before high tide. With two high tides every 24 hours, visitors are bottled-necked into these windows of time. If one high tide is at 4 a.m., then Thunder Hole will be very busy during that one daytime high tide. Unsurprisingly, In peak-season summer, the congestion around Thunder Hole can be tough.
For this reason, the ideal time to experience Thunder Hole is probably early autumn. From September to early November, the summer crowds dissipate, but the weather is still pretty good. You'll probably find more budget-friendly lodging, and mid-October is the height of the leaf-peeping season, says Visit Acadia. With thinner crowds and brilliant foliage, visiting Acadia in autumn isn't really rough at all.