This Beautiful State Park Is Home To One Of The Best Campgrounds In Northern California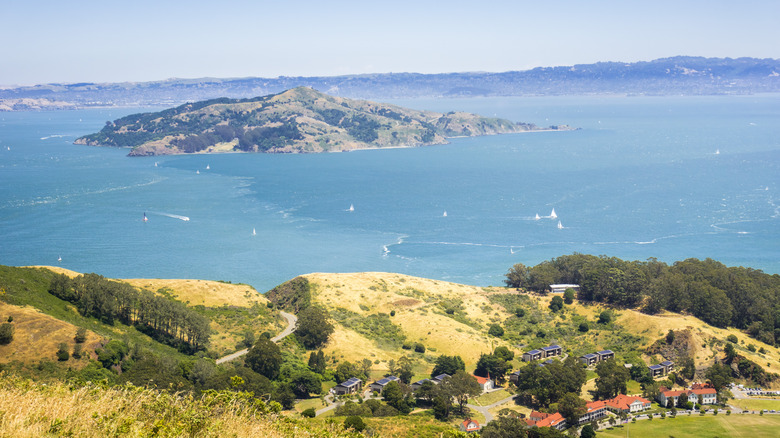 Sundry Photography/Getty Images
Northern California is a prime location for camping. With options to set up tents in redwood forests, on sandy beaches, near cliffside vistas, and on lakes in mountain towns, it's no wonder the state is popular among campers. One Northern California campground, in particular, on an island in the San Francisco Bay offers campers gorgeous views, excellent hiking trails, and the unique opportunity to learn more about the area's interesting past.
Near Alcatraz and the Golden Gate Bridge, Angel Island State Park is 740 acres and includes 11 campsites in four camping areas, all offering unique benefits. Sites on the eastern side (East Bay Sites) are mostly protected from the wind. The Ridge Sites offer the most impressive views of the Golden Gate Bridge and the city skyline. The Kayak Site has the added bonus of being near a small beach. Both the Sunrise Site and the Kayak Site are available for large groups, up to 24 and 20 people, respectively. Reservations can and should be booked well in advance (up to 6 months).
How to get to Angel Island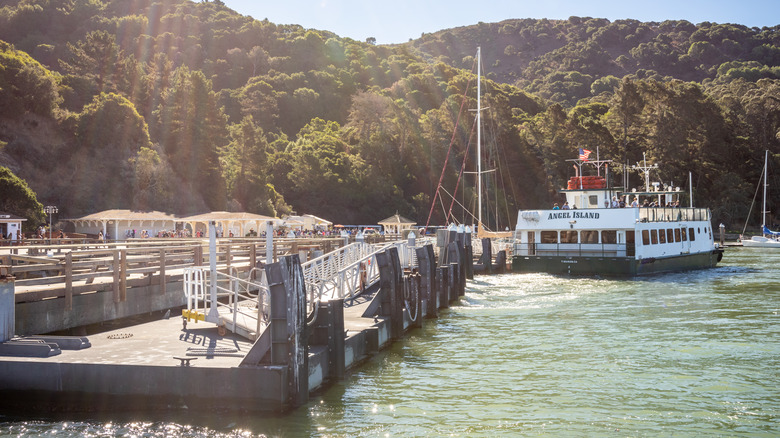 Eloi_omella/Getty Images
Unless campers have access to a private boat, the ferry is the best way to get to Angel Island. Visitors have their choice between two departure locations: San Francisco or Tiburon. From San Francisco, hop on the Golden Gate Ferry from Gate B at the San Francisco Ferry Terminal. Tickets cost $15.50 each way and include the Angel Island State Park's entrance fee. They can be purchased at Gate C, but be sure to buy a roundtrip ticket before boarding, as tickets are unavailable for purchase on Angel Island. Ferry schedules are reliable but vary based on the season and the day of the week. 
For visitors planning a trip to Angel Island via Tiburon, tickets are available to purchase online. A roundtrip ticket for campers is $15, but proof of campsite must be confirmed at check-in. From March to October, ferry service is offered daily, but between November and February, ferry service is limited to weekends and holidays.
Ferries from both San Francisco and Tiburon arrive at Ayala Cove. Campers can find a visitor's center here offering more information about the island and its history. All campers should be prepared to carry belongings up to 2.5 miles to their campsites. Per the Angel Island Conservancy, once there, all campers have access to tables, barbeques, food lockers, running water, and pit toilets.
Things to do on Angel Island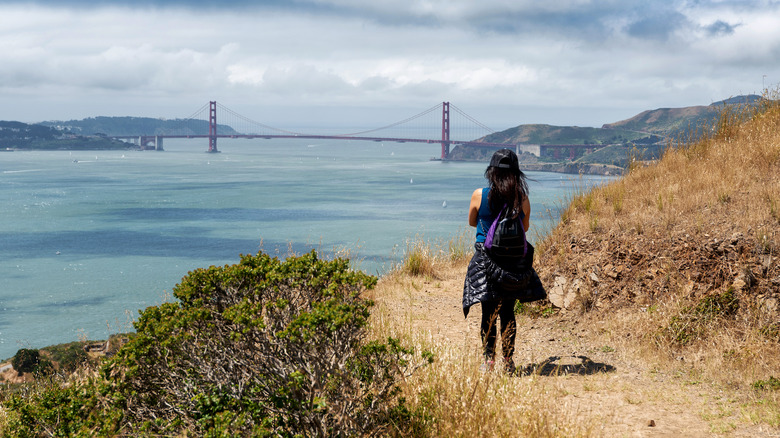 Allen.G/Shutterstock
Campers looking to relax will love the beaches at Ayala Cove, Quarry Point, and Perle's Beach. Ayala Cove and Quarry Point get less of the bay breeze, while Perle's Beach tends to be a little windier with rougher waters, but it does offer spectacular views. Quarry Point is a nice spot to sunbathe on a warm day, and Ayala Cove is ideal for swimming, kayaking and stand-up paddleboarding.
Campers on Angel Island may also love trekking to the tallest point on the island, Mount Livermore. This California hike is 788 feet tall and offers incredible 360-degree bay views. Alternatively, the perimeter road is 2.5 miles and takes a little over two hours to complete. For those planning to bring bikes, this paved path is also an excellent place for two-wheel exploration. While hiking, keep your eyes peeled for wildlife. The island is home to many species of birds, like egrets, blue herons, hawks, and owls. 
Another interesting activity for campers is to visit onsite museums. From 1910 to 1940, thousands of immigrants passed through Angel Island's U.S. Immigration Station. During World War I and II, thousands of soldiers were processed through Angel Island. The Angel Island Immigration Museum is free and allows visitors to learn more about immigration to the U.S. through individual stories, policies, and social issues. The Detention Barracks Museum & Mess Hall costs $5 ($7 for a guided tour) and lets visitors peek into the history of immigrant detention.