This California Hike Will Give You The Best View Of The Golden Gate Bridge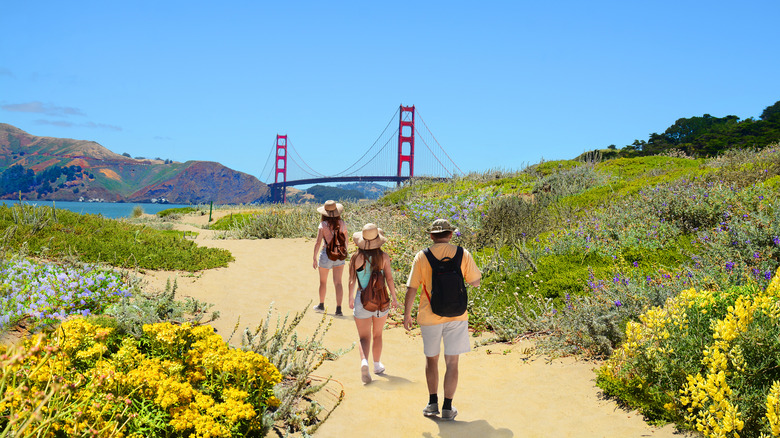 Margaret.Wiktor/Shutterstock
Set between San Francisco and the Pacific Ocean, Golden Gate National Recreational Area is a natural treasure of the San Francisco Bay Area. Spanning over 80,000 acres, the urban oasis supports over 2,000 species of plants and animals and features plenty of postcard-worthy landscapes. Drawing travelers from all over the world, the park welcomed over 13 million visitors in 2021. While there are plenty of reasons to visit the area, the park particularly popular for hikers.
The Golden Gate National Recreational Area features more than 250 trails that weave through San Francisco, San Mateo, and Marin Counties. Exploring the 140 miles of trails, visitors can hike among towering redwoods, past historical landmarks, and alongside vistas with panoramic ocean views. 
While each trail offers visitors a unique hiking experience, reflecting the eco-diversity of the area, Lands End's Trail is not only a fun hike; it provides an unimaginably awesome view of the Golden Gate Bridge.
Natural higlights and historical landmarks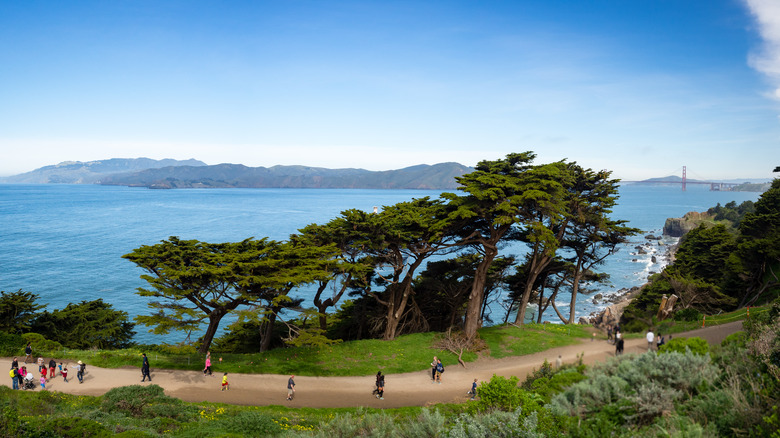 Ventu Photo/Shutterstock
According to All Trails, Lands End's Trail is a 3.4-mile loop and is considered a moderately challenging route by most hikers. Although located in northwestern San Francisco, the coastal trail seems far removed from the bustling city.
Traversing atop rocky cliffs overlooking the Pacific Ocean, hikers are treated to spectacular views of the California coastline around almost every bend. During the clifftop walk, you'll pass windblown grasslands, shady eucalyptus trees, and inviting cypress groves. There are also plenty of places worth exploring along the way. Because of its incredible views, historic landmarks, and natural splendor, Lands End's Trail is definitely not the type of hike you power through. 
History buffs should take a second to climb around the ruins of the Sutro Baths. Part of the Sutro Historic District, the Sutro Baths was once a swimming complex and amusement park intended for San Francisco's elite. Built in 1894, the indoor complex could hold 10,000 visitors and was billed as the largest indoor swimming pool complex in the world. It's an interesting — if not quirky — part of San Francisco's rich history. 
Lands End Lookout, a scenic option for non-hikers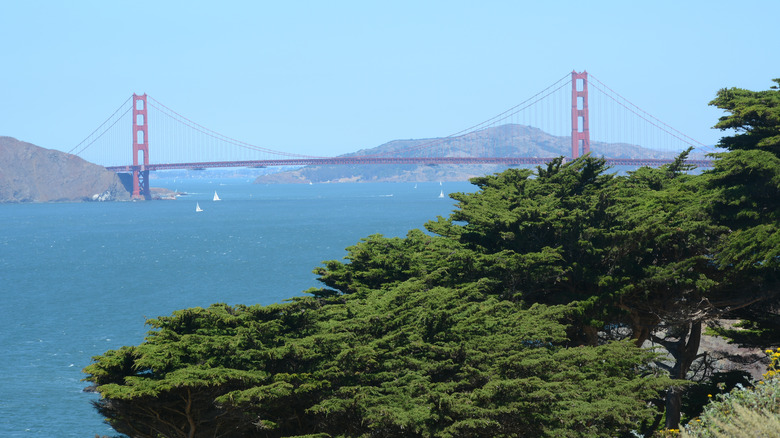 photravel_ru/Shutterstock
Unlike other trails of the Golden Gate National Recreational Area, Lands End's coastal location offers sweeping views for the duration. You'll enjoy Golden Gate Bridge and Pacific Ocean views at several different spots. Clifftop vistas, park-established overlooks, and pockets of sandy beaches will all offer amateur and professional photographers plenty of viewpoints. However, Lands End Lookout may offer one of the best vantages.
Along with providing an incredible view of the Golden Gate Bridge, Lands End Lookout also serves as a visitor's center, café, and bookstore. At certain times, the facility also hosts public events and features exhibits on the history and ecology of the area. With restrooms and on-site parking, the Lands End Lookout is ideal for visitors who may not have the time, ability, or desire to hike the entire trail.
However, if you are considering a hike in the Golden Gate National Recreational Area, then Lands End's Trail is a scenic choice that will definitely reward your time, effort, and photo portfolio.