Visit This Huge Theme Park For A Budget-Friendly East Coast Vacation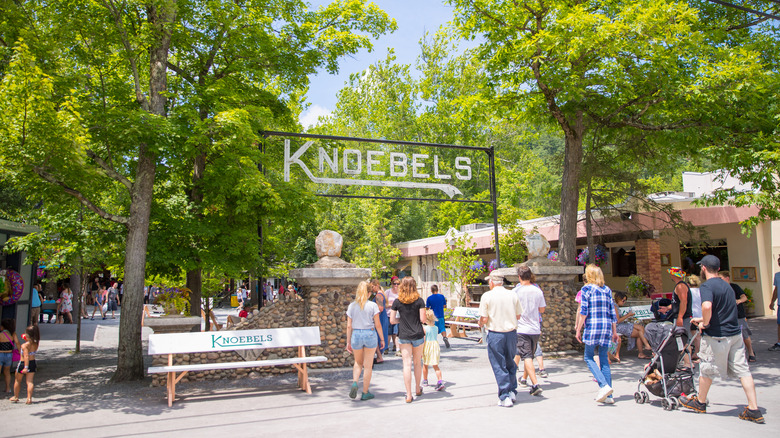 Helen89/Getty Images
When you think of an East Coast theme park getaway, there's a good chance destinations like Orlando's Walt Disney World or Universal Studios will come to mind. These beloved parks are always thrilling for visitors, but they're also expensive. A January 2023 market report on the global amusement and theme park industry estimates the market at over $82 billion by the year 2030.
The U.S. is home to 16 of the 20 most expensive theme parks across the globe. With single-day base ticket prices to Walt Disney World in Florida sitting at over $100 for adults and children alike, visiting can be a significant investment. This is even before you incorporate the cost of food, entertainment, merchandise, and park hopping.
The good news is, there are other options out there. If you're looking for a budget-friendly theme park to enjoy on the East Coast that's equally impressive and fun without the price tag, Knoebels Amusement Park is it. Located in Elysburg, Pennsylvania, just 2.5 hours from Philadelphia, Knoebels Amusement Park hosts more than 60 rides and has been operating since 1926.
Today, Knoebels Amusement Park has grown into a 45-acre destination for fun complete with rides, shows, swimming, shopping, dining, and golf. However, the biggest draw is that admission to the park is completely free (you do have to pay to go on rides, however). Visitors pay nothing to walk through the gate, making this the country's largest free admission amusement park on the map.
Save big on parking and rides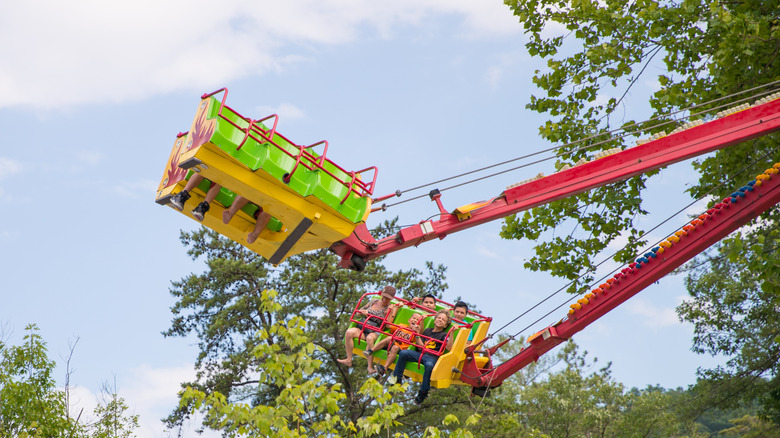 Helen89/Getty Images
The idea of entering a theme park without having to pay can seem too good to be true. At Knoebels, the reality is even better. That's because this family-friendly amusement park doesn't charge guests for parking on-site either. Instead, you simply park and go, not having to wait in line for hours to show your ticket at the gate. The process is as simple as that.
Knoebels also offers budget-friendly options when it comes to paying for rides. Where other theme parks charge an entrance fee that includes rides whether you plan to try them all or not, Knoebels customizes your choices. Guests here can pick and choose between buying individual ride tickets or purchasing a wristband for access to them all. This can save guests a significant amount of money if they happen to enjoy on-site shows and park food more than the rides themselves.
The opportunity to pick how you pay for rides becomes even more beneficial when you realize just how many options there actually are. In total, the park hosts 20 family-friendly rides, 21 thrill rides, and 23 rides for kids. With some rides being restricted to certain height limitations, families with small children ultimately won't waste money paying for rides that their little ones aren't allowed to enjoy.
Cost-effective food options and entertainment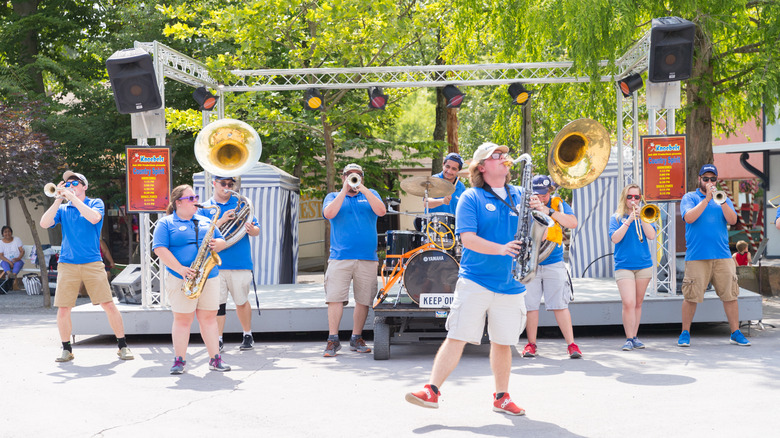 Helen89/Getty Images
Once you've saved money on that $0 entrance fee, enjoyed free parking, and spent only as much as you wanted on rides, Knoebels goes a step further and offers up options to save on food, too. Theme parks are infamous for their expensive meal options that can put a dent in your overall budget if you're not careful or if you're traveling with a big group. At Knoebels, you can skip the on-site dining altogether if you choose and instead, bring food and non-alcoholic drinks into the park in a personal cooler.
Knoebels has 34 locations where guests can buy snacks, sandwiches, or full-service dining meals. If you're not willing to skip out on these delicious experiences entirely, you can still save some money by bringing your own food. Just plan one on-site dining experience and then use your personal food for the rest of the day. 
When it comes to entertainment, Knoebels offers that free of charge as well. Every day the park is open, guests will have easy access to great live performances ranging from bands and dancers to main-stage singers. The park's mobile app is a convenient way to keep up with these free, daily pop-up performance schedules so you can make sure you don't miss them.