This Historic Theme Park Is The Perfect Stop On Your Next Northeast Family Trip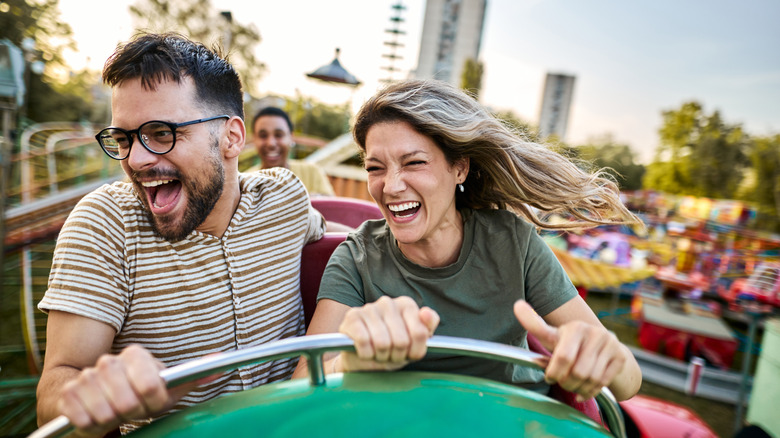 Skynesher/Getty Images
Maybe you're familiar with the anticipation that bubbles up when you ride a roller coaster. The cart slowly makes its way towards the sky and all your nerves and excitement become visceral. Then, for a moment, you're suspended at the peak and can see out for miles. That only lasts for a couple of seconds, if that, before you find yourself plunging downwards at top speeds — hands up and wind blowing through your hair as you smile or scream on the plummet. Some love the adrenaline that roller coasters can stir up, while others dread it. Whatever your position is, Kennywood has something for you.
If you're in the Pittsburgh area looking for thrills, or you're simply trying to plan your next visit to an amusement park, the whole family will love Kennywood. This historic spot has all the exhilarating rides and attractions you could ask for. They have over 40 rides that vary from intense and fast to mild and leisurely, so no matter your preference, you're sure to find something that'll be a delight.
History and exciting rides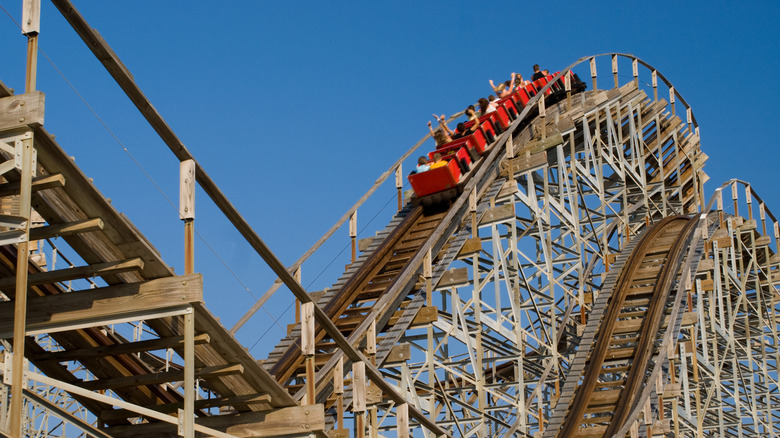 Aneese/Getty Images
The park first opened in West Mifflin, Pennsylvania, back in 1898. It was declared a National Historic Landmark almost a century later in 1987. It's grown drastically since its early days, but it still maintains a few rides from the 1920s. Don't worry — these rides have been kept up and are deemed safe.
When you visit, you'll have the option to ride these three historic, wooden roller coasters (the Thunderbolt, Racer, and Jack Rabbit) or the newer, faster ones, like the exhilarating Phantom's Revenge and the Aero 360. If you're not a fan of roller coasters, you can hop in a bumper car at the Gran Prix or get a thrill and a splash on Pittsburg Plunge. These are only a couple of the numerous options. If you're traveling with young children, they can have a blast in Kiddieland.
If you get hungry, you can grab a bite at one of the many food stalls or restaurants on site. Get your theme park fixings, like cotton candy and hot dogs, or sit down for a full meal at Johnny Rockets. Just be sure you have your card on you or some kind of electronic payment ready to go. The park is cashless.
Fun themes for different seasons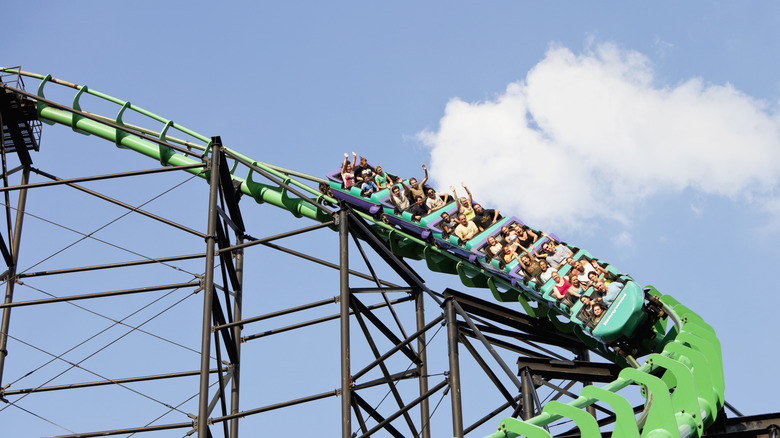 Kali9/Getty Images
Summer isn't the only time to visit Kennywood. Between late September and October, the park is open on the weekends; only this time, with the Halloween theme of Phantom Fall Fest. Haunted houses are open after sundown and scary decorations are set up. If you'd like a scare in addition to your thrill, fall is the perfect time to visit.
December is also a unique time to head to the park since there's the Holiday Lights. While most rides are closed with the exception of a small few for children, the park is adorned with Christmas lights and special events. Bundle up and join the holiday festivities that abound from late November to New Year's Day.
If you live in the area, you can consider purchasing a season pass. Save some cash when you purchase it online. Otherwise, you can buy day tickets either in person or online. Whatever you decide to do and whenever you decide to go doesn't matter — you'll be sure to have a blast at Kennywood. You might just consider it to be one of the best theme parks you've ever been to.