This Underrated Hawaiian Island Is A Great Spot For A Crowd-Free Beach Vacation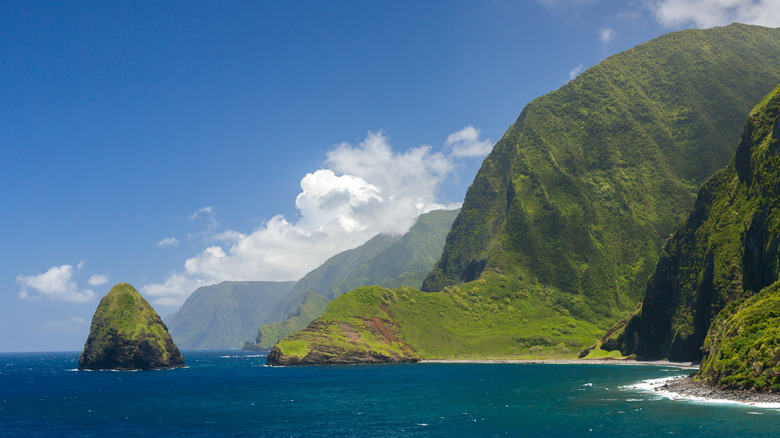 Kridsada Kamsombat/Getty Images
According to the State of Hawaii's Department of Business, Economic Development & Tourism, 9,247,848 people visited the Hawaiian islands in 2022. One small island however, known for its dramatically high cliffsides and untouched natural beauty, only saw 43,420 visitors. It's an understated locale ideal for travelers seeking a crowd-free beach vacation.
Molokai is the fifth-largest Hawaiian island. While it might not be as frequented as Hawaii's more popular islands, like Maui, Oahu, and Kauai, it offers a quieter tropical paradise, equally perfect for relaxing on tranquil beaches and experiencing exciting outdoor adventures. And due to its high population of Native Hawaiians, Molokai is also an ideal destination to be a respectful tourist and learn more about authentic Hawaiian culture.
Only 38 miles long and 10 miles wide, Molokai is divided into three regions: the West End, the East End, and Central Molokai. The West End is the spot to be for less crowded, quiet and serene sandy shores. The East End is ideal for adventure seekers. There are plenty of hiking trails, lush landscapes, and cliffside views. And Central Molokai is where visitors will find Kaunakakai, a small town with shops and eateries. The island may be small, but it offers so many things to see and do.
Things to do in Molokai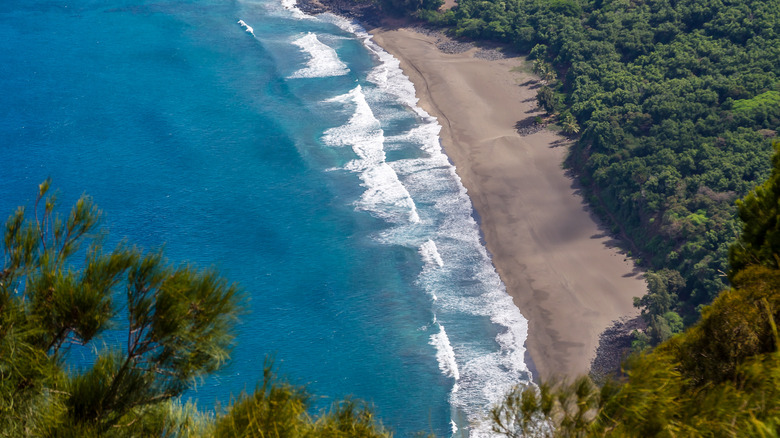 Matt Anderson/Getty Images
Beaches in Molokai are known to be much quieter and subdued than the stretches of sand on neighboring islands. Molokai's miles of beaches aren't lined with resorts, restaurants, and bars. Expect a secluded and beautiful setting, perfect for strolling, watching the sunset, and taking a dip. But before diving in, keep in mind there are no lifeguards on duty in Molokai.
The most popular beach in Molokai is Pāpōhaku Beach Park. Located in the West End, it stretches 3 miles long and is the biggest beach on the island. Swimming isn't advised in fall or winter, but visitors will love the idyllic feeling of having the pristine white sand beach to themselves. Also, in the West End, Kapukahehu Beach is smaller but better for swimming. Kūmimi Beach in the East End is good for snorkeling and swimming, and One Aliʻi Beach Park in Central Molokai, loved by Hawaiian royalty, is a lovely spot for a picnic.
For hikers, one of the best outdoor activities to try in Hawaii is to hike Molokai's sparsely traveled trails. Halawa Valley is an impressive place to trek, offering waterfalls, lush greenery, and spectacular views. Another fantastic place to explore is the Kamakou Preserve. Here, spot endangered species in the tropical rainforest while traversing the slopes of Molokai's highest point, Mt. Kamakou. And for tourists looking to get a better look at Molokai' famous cliffs (they're the tallest sea cliffs in the world), book a helicopter tour (starting at $359).
Where to stay in Molokai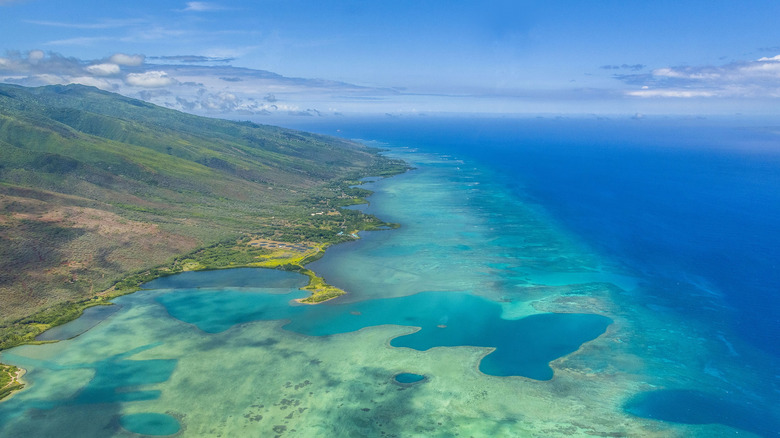 Gary Gilardi/Shutterstock
Most accommodations in Molokai are quaint and cozy. A few favorites include Hotel Molokai, Dunbar Beachfront Cottages, and Pu'u O Hoku Ranch. Hotel Molokai sits on Kamiloloa Beach, offering Polynesian-style bungalows situated among palm trees and hammocks. The swimming pool overlooks the ocean, as does the on-site restaurant, Hiro's Ohana Grill. Dine on fresh Hawaiian seafood, like poke and the day's fresh catch, while admiring spectacular ocean views.
Dunbar Beachfront Cottages in Molokai's East End is another ideal beachside accommodation. The plantation-style cottages each have two bedrooms and one bathroom, offer stunning views of the Pacific, and a quiet, secluded beach. Also in Molokai's East End, the Pu'u O Hoku Ranch is a family-owned, rustic ranch and organic farm surrounded by 14,000 acres of land. Accommodations here include a lodge and cottages that were built in the 1930s featuring classic Hawaiian ranch style design. The cozy Sunrise Cottage sits on a hill surrounded by tropical gardens. Offering lovely ocean views and including a full kitchen, the cottage sleeps four and is the perfect place for a family to unwind (without Wi-Fi) and connect with Hawaiian nature.