Take In Views Of A Beautiful Pink Lake At This Underrated European Destination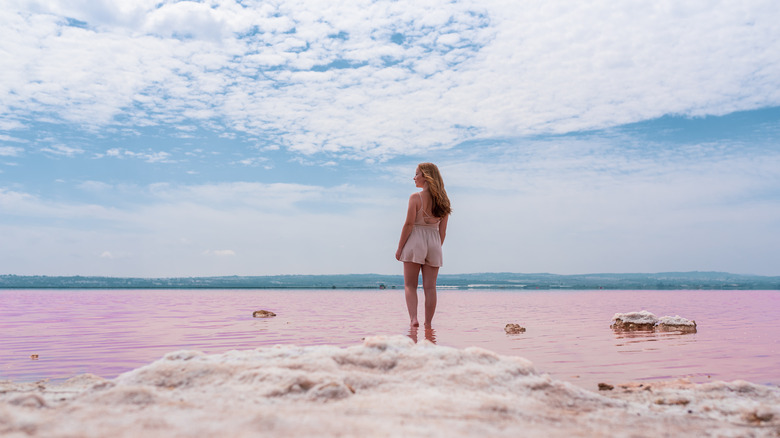 Unai Huizi Photography/Shutterstock
Laguna Salada de Torrevieja brings a whole new aesthetic to the idea of a lake day. You may picture blue water shimmering in sunlight, but this spectacular lake is different. Its rare bright pink waters stand out, drawing tourists from around the world to come stand at its shores and admire its beauty.
The Laguna Salada de Torrevieja is located in Torrevieja, Spain, inside of the Natural Park de las Lagunas de la Mata y Torrevieja. While you shouldn't swim in the candy-colored waters, it's still worth the visit to get a good look at this unique phenomena. You can instead take a leisurely walk or bike ride around its perimeter.
Visiting the lake is free. All you have to do is figure out how to get there. Luckily, the lake is accessible by a couple of different routes. You can bike from the town, drive, or take public transportation.
Why the water is pink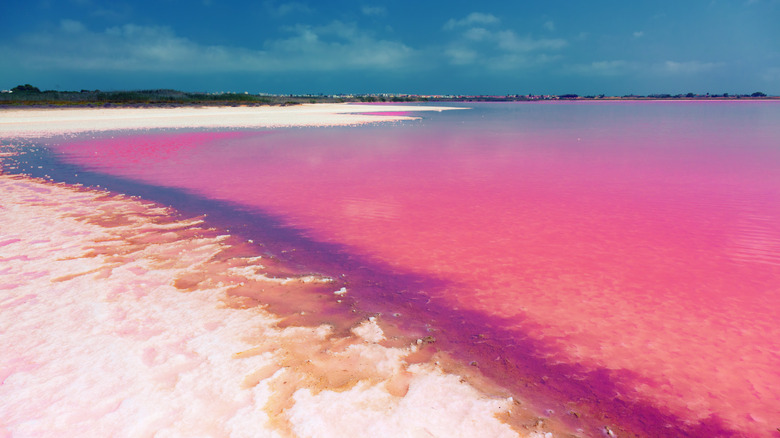 Vicnt/Getty Images
It's natural to wonder how the pink lake got its bright pink color. The answer is relatively simple: a combination of salt, Dunaliella salina algae, halobacterium create the pink color in the water. The water is naturally extremely salty, which provides ideal conditions for both the bacteria and the region's salt industry. When you come to the lake, you'll see dunes of salt at the salt plant on the shore. 
Another, more exciting sight you may encounter are flamingos. The pink birds are at home in the pink lake. They too enjoy the lake's saltiness as well as creatures that thrive in salt water, specifically shrimp. The lake has been a source of salt for centuries — both for people and for wildlife —and remains one today. Its function goes far beyond looking pretty.
But the pink lake inside Torrevieja's Natural Park isn't the only body of water in it. Nearby is La Mata Lake, which is often described as emerald green. While pretty, it naturally doesn't draw as much attention as the pink lake.
Things to do and places to stay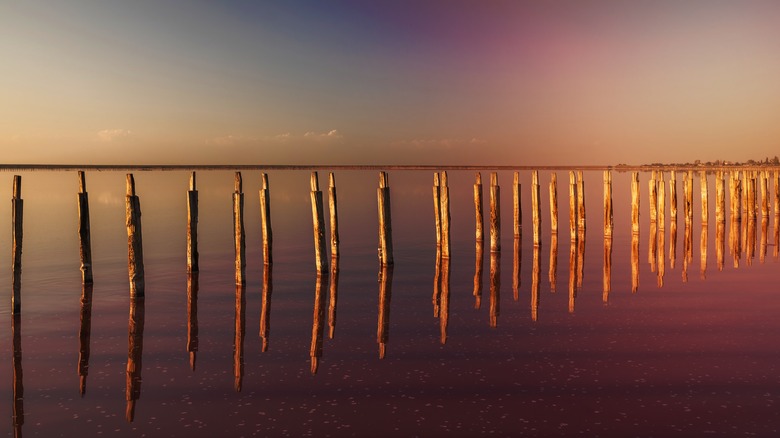 Laguna Salada de Torrevieja is one of the town's popular destinations but it's not the only one. Torrevieja is a quaint town with some unique sights to see, in addition to the Laguna Salada de Torrevieja of course. There are lovely parks like the Garden of Nations Park that's home to a variety of birds and plants, a lake you can paddle boat on, a beautiful fountain, and more. If you're itching to get in the water after being surrounded by it all day, head to La Mata Beach to take a dip or engage in water activities like surfing.
As for places to stay, you've got options. Some of the top-rated places include the Doña Monse Spa & Golf, which has a spa and golf course on the property in addition to the typical amenities like a pool and gym, and the Hotel Playas de Torrevieja, which is great for families because it includes a pool exclusively for children and live entertainment. Each hotel is within biking distance of the pink waters of Laguna Salada de Torrevieja.
Next time you're looking to upgrade your lake views, consider coming to Spain and spending time at the Laguna Salada de Torrevieja, one of the rare pink lakes in world. The unique views are a worthwhile pursuit.