Visit The Largest State Park In California For Incredible Hiking Adventures
Richvintage/Getty Images
California has nine national parks and just under 300 state parks, making it a paradise for nature lovers. You can visit mountainous regions, deserts, valleys, the ocean, and more within the state's borders. You can choose where to go based on the climate you prefer and the land features you'd like to see. We recommend taking a trip to California's largest state park, Anza-Borrego Desert State Park. Here, you can explore the nearly 600,000 acres of desert by foot, bike, or horseback.
If you love hiking, this spectacular state park is for you. It has 110 miles of hiking trails to wander. They vary in difficulty, so whether you're an experienced hiker or just starting out, there's one for you. These desert trails reveal beautiful vantage points of the park's rugged landscape and a potentially close look at the desert's flora and fauna. You can stay for a day or make a camping trip out of your visit. Whatever you decide to do, Anza-Borrego Desert State Park offers sunshine and beauty for all.
What to expect while out on the trails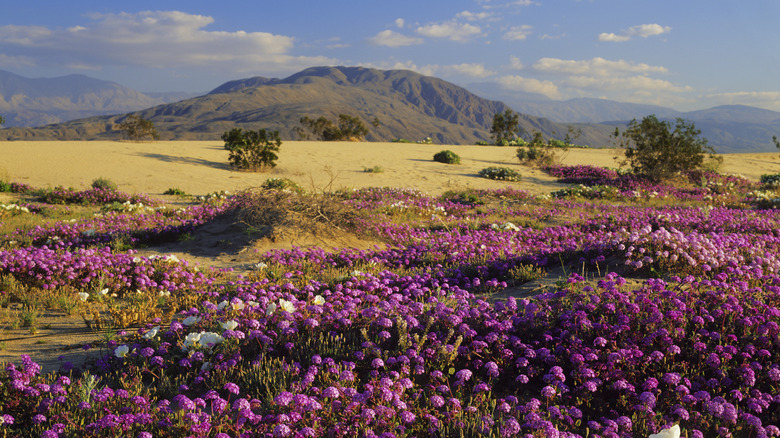 Ron And Patty Thomas/Getty Images
Since Anza-Borrego Desert State Park is, well, a desert, so temperatures can get pretty high. The average temperature is over 100 degrees Fahrenheit June through September and between the 70s and 80s for the rest of the year, with the exception of October when temperatures are in the 90s. 
While you're out exploring, you may be surprised to see the diversity in the landscape in the park. It's not just stretches of sand dotted with shrubs and cacti, although that is certainly part of the terrain, it's also palm oases, slot canyons, even badlands, and steep ridges. You can see it all on your hikes, depending on which trails you choose. You can go for a quick mile-long hike or take a couple of days with a nearly 30-mile-long one. 
Natural landforms and wildlife aren't the only things to keep an eye on as you're trekking. Petroglyphs and pictographs are also sights to see during your hike. Native Americans once inscribed the boulders throughout the desert. You can see them throughout the park, but the Pictograph Trail highlights them best.
Camping info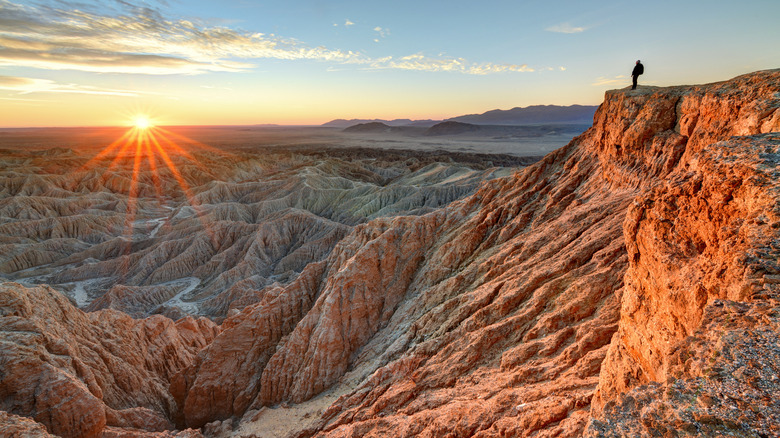 Sierralara/Shutterstock
In addition to hiking, biking, and horseback riding, you can also camp. You have the option of primitive campsites and paid campsites. Lita of the Pack explains that you do not have access to amenities at primitive campsites, while you do at the paid ones. Camping fees range from $35 to $45 per night depending on where in the park you camp and what kind of shelter you're taking. Check out their website to learn what additional fees apply.
Anza-Borrego Desert State Park is a state park you must visit. Its beauty is just as grand as that of a national park. "It's true, state parks get less attention," executive director of the California State Park Foundation Rachel Norton told Outside. "What you don't realize is that there are all of these wonderful state parks around the country protecting similar landscapes, and you might not even be aware of them." So now that you know, grab your hiking boots and head out to this gorgeous state park in California.