Take A Break From City Life At This Beautiful East Coast Campground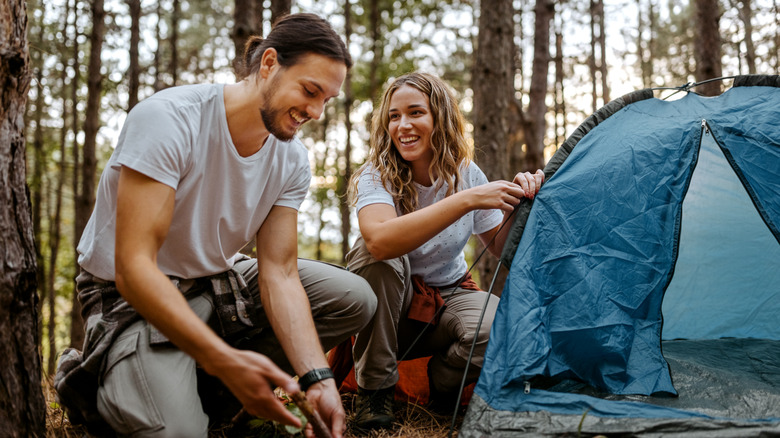 Mixetto/Getty Images
Life in the city can often be overwhelming, with its hectic schedules and crowded streets. Needing a break from the stress, noise, and pace of urban living is common, and what better way to do that than by escaping to a beautiful campsite near the ocean? Located on the picturesque shores of the Long Island Sound in East Lyme, Connecticut, Rocky Neck State Park is an outdoor experience that promises a rejuvenating experience for nature lovers and camp enthusiasts alike.
With 710 acres of sandy beaches, scenic hiking trails, and multiple camping options, Rocky Neck State Park offers the perfect opportunity to unplug and unwind. The park is just two to four hours from Boston and New York City on Route 156 within feet of the Long Island Sound. Rocky Neck is an easily accessible destination for those looking to escape city life for a weekend of camping, fishing, and relaxation.
Rocky Neck is open from mid-May to the last week in September, with its peak season mostly in June, July, and August, so booking your campsite ahead of time is a good idea. With a massive campsite that can accommodate hundreds of visitors, it allows even the busiest of city-dwellers to choose their ideal camping site, unplug, and immerse themselves in nature. The park offers a range of camping and recreation that cater to various preferences and group sizes, from families to solo travelers, cyclists, beach buffs, and more.
Amenities at the Rocky Neck State Park campground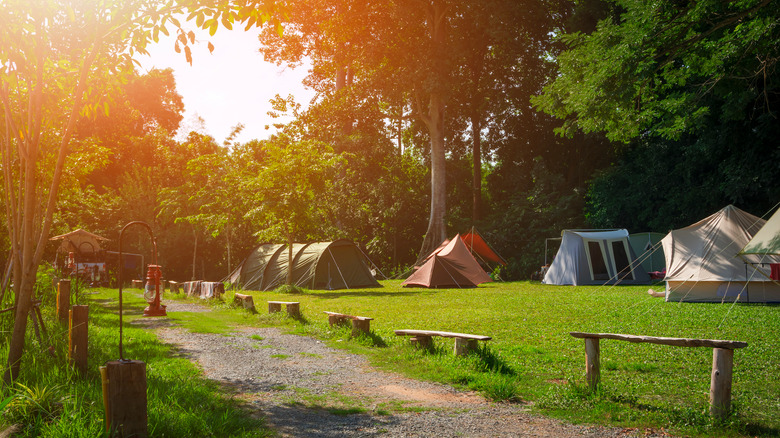 Prapat Aowsakorn/Shutterstock
Whether you prefer the convenience of a cabin or the rustic charm of tent camping, this park has you covered. The campground features 160 wooded and open campsites and three rustic cabins for a less primitive camping experience. Cabin rentals require a 7-night minimum stay and traditional camping spots are available for $20 per night for Connecticut residents or $30 per night (minimum of two nights) for non-residents.
Reservations for primitive sites can be made on the Connecticut State Park website. Campsites are equipped with fire rings, access to clean restroom facilities, and taps for drinking water. However, there are no RV hookups, nor does the campground allow for pets of any kind, so if you're traveling with your furry friend, you'll have to make other arrangements.
Rocky Neck State Park's bathing beach is a 1/2-mile curved shoreline just a short walk from the campground, making it easy for campers to take advantage of all the park offers. The Pavilion, located near the beach, is a cobblestone structure perfect for picnics or to be reserved for group events. It offers seating for up to 300 people and includes access to electricity and picnic tables.
On-site and surrounding outdoor adventures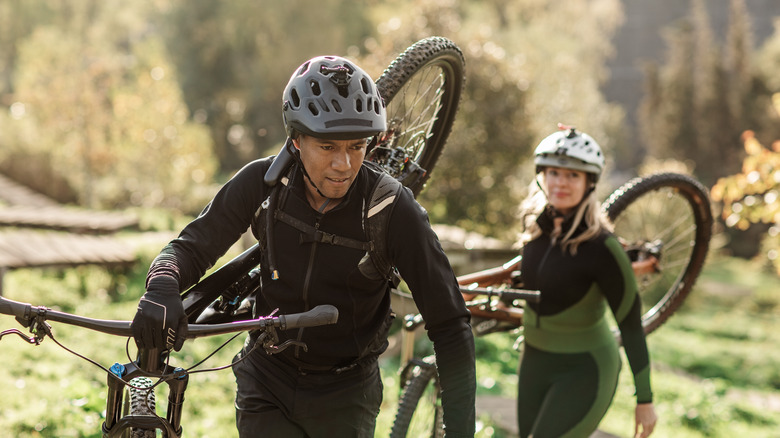 Lorado/Getty Images
Rocky Neck State Park doesn't just offer a place to lay your head; it's a hub for outdoor adventure and recreational activities. The park has 13 mountain biking trails with easy, intermediate, and difficult ratings. The park's access biking trail is a 2,923-foot-long double track for an array of riders, while longer rides like the 10-mile Rocky Neck State Park Route challenge mountain bikers and seasoned riders.
For those looking to escape city life with a relaxing day of fishing, Rocky Neck boasts a variety of freshwater and saltwater species like flounder, sea bass, striped bass, and more. Fishing on the shoreline or the jetty on the right side of the beach is allowed all year long. Crabbing for blue crabs is also popular in designated areas along the beach.
A visit to Tony's Nose, a unique rock formation on the beach, is a must for geology enthusiasts, and for those who love hiking, the park features over five miles of several scenic trails. The Rocky Neck State Park Trail and Extended Loop wind through the woods, offering scenic views of Long Island Sound and the opportunity to observe local bird species. Birdwatching is particularly popular here, with over 200 recorded species, making it a haven for bird enthusiasts searching for a relaxing day of birdwatching.