This Popular Road Trip Route Is Considered One Of The Most Dangerous In America
Kristi Blokhin/Shutterstock
Road Trips have been an American pastime for decades. While driving always comes with a risk, you may want to avoid Highway 550 if you pass through Colorado. Also called the Million Dollar Highway, the 25-mile route passes through the San Juan Mountains and the cities of Durango, Silverton, and Ouray. In fact, there is no other way to drive from Ouray to Silverton. The Million Dollar Highway also makes up the San Juan Skyway, an acclaimed Colorado road trip that traverses the Rocky and San Juan Mountains.
Businessman Otto Mears built the Million Dollar Highway in the early 1880s as a way for wagons to travel to and from the mines in Colorado's Red Mountain. In 2023, FindByPlate named the Million Dollar Highway the second most dangerous U.S. Highway. The cliffside highway, which is 11,000 feet above sea level, is infamously narrow.
Although it has winding turns, there are no guardrails. This is reportedly for snowplows to clear the road more easily. According to Outside, the San Juan Mountains get 349 inches of snow each year. The highway is also known to be an avalanche hot spot and is said to have 70 avalanche chutes per Denver7. A 2013 article from The Durango Herald states that between 1995 and 2010, there were 302 accidents on the highway. Needless to say, you must be well prepared to drive on the Million Dollar Highway.
Safety tips for driving the Million Dollar Highway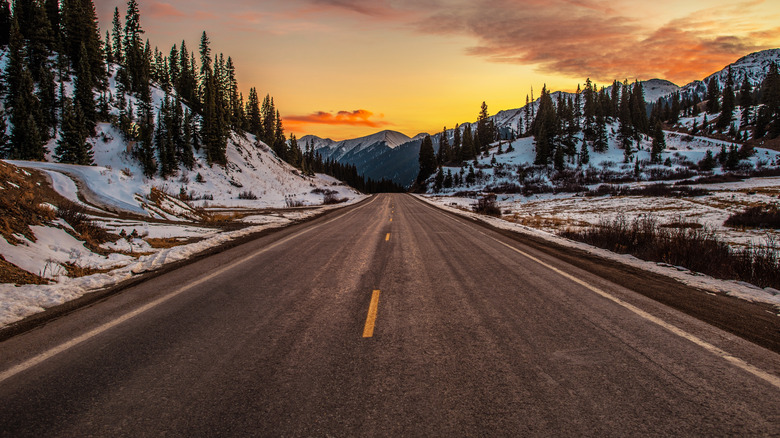 Virrage Images/Shutterstock
Despite the danger the Millon Dollar Highway presents, drivers can't seem to get enough of it. One Trip Advisor reviewer wrote, "The scenery between Silverton Colorado and Ouray Colorado on Hwy.#550 is probably some of the most incredibly beautiful and spectacular scenery you can find." However, before making your way to the Million Dollar Highway, you should take important road trip safety precautions.
First and foremost, drive slowly. Remember, there are no guard rails, and driving slowly will allow you to ease through the highway's many turns. Although it only takes 45 minutes to drive the entirety of the road, you want to ensure your car, preferably a 4WD, and tires are in tip-top shape. Fill (or replace) your tires, if needed, and your gas tank. You won't find a gas station on the highway, so if you need to make a pit stop, do that before.
With that said, driving during the winter requires even more planning. If winter conditions are too severe, the Colorado Department of Transportation (CDOT) may temporarily close the Million Dollar Highway, as per Denver7. Thus, make sure you check the weather before hitting the road. Another vital note: if it's snowing, have snow tires. And if you're a newer or inexperienced driver, perhaps have someone else take the wheel, especially during winter.
Points of interest on the Million Dollar Highway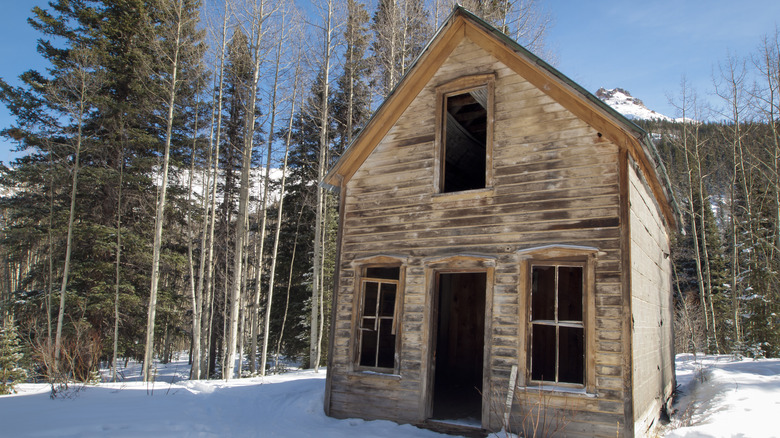 Arina P Habich/Shutterstock
A road trip on the Million Dollar Highway is incomplete without some sightseeing. Stop in Durango. The picturesque town is home to the Durango Hot Springs, where guests can relax in various soaking pools and enjoy mountain views. For a hearty burger or sandwich, stop at James Ranch Grill. This top-rated restaurant on Trip Advisor uses local and sustainable ingredients. Want to stay the night? The Historic Strater Hotel has been around since 1887 and retains its vintage charm.
In addition, Durango has the Durango and Silverton Narrow Gauge Railroad. This train takes passengers on a day trip to Silverton via the San Juan Mountains. In other words, you could skip out further driving up the Million Dollar Highway with this train ride. Formerly a mining town, Silverton offers various activities. Guests can ski on Silverton Mountain. In addition, they can learn about the town's mining history and explore a real mine through the Old Hundred Gold Mine Tour.
Several mining ghost towns are also on the Million Dollar Highway near Ouray. Ironton, which dates back to 1893, is one of these. Only an 18-minute drive from Ouray, Ironton (pictured above) is home to several dilapidated buildings. While you can walk around the remains of the town and see these for yourself, it is discouraged to go inside of them for safety reasons, as per radio station KEKB.