This Mediterranean Island Is A Must-Visit For Thrilling Outdoor Adventures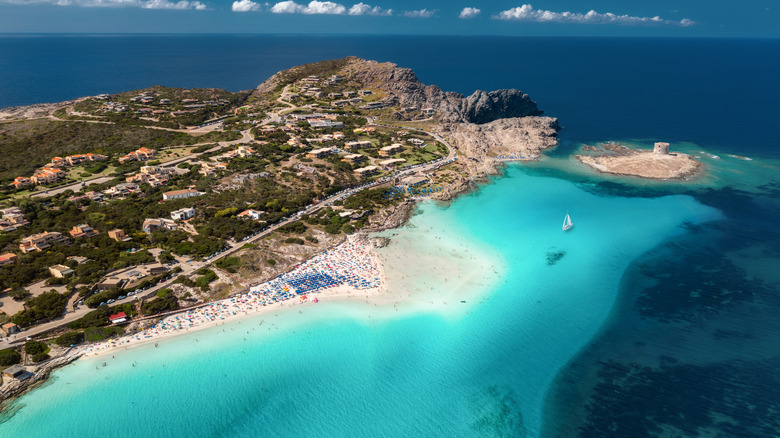 Kucherav/Getty Images
Italy is among the most visited countries in the world. Multiple parts of the country's easily recognizable boot see millions of tourists each year. Aside from the mainland, the country encompasses popular island destinations as well. Sicily is the largest and likely the most well-known Italian island, especially given the popularity of "The White Lotus," which filmed its second season in Sicily. However, Italy's island of Sardinia has exciting outdoor adventures with which Italy may not often be associated.
Sardinia is a rocky Mediterranean island located just south of France's Corsica. Its cities of Cagliari and Sassari make for quintessential Italian escapes, and its beaches are expansive, but the island's hiking, cave exploring, and snorkeling draw in tourists as well. There are multiple places on the island for each activity; some can even take you to places with fewer crowds. Not to mention the weather, which rarely goes below 40 or over 90 degrees Fahrenheit. 
Hike to Punta Salinas and Cala Goloritzé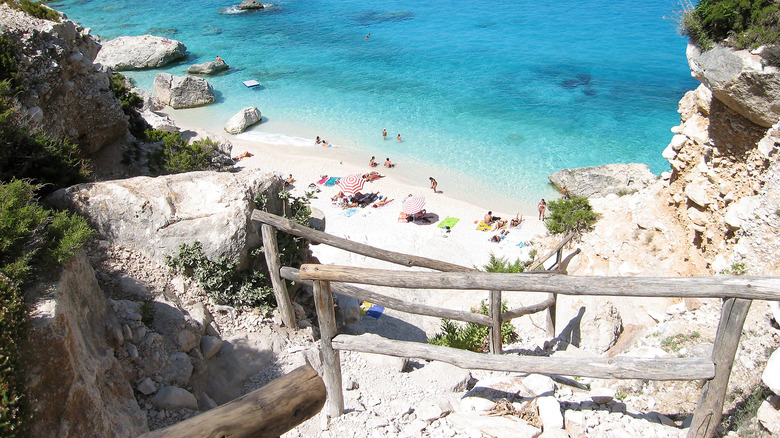 rueba/Shutterstock
Outdoor land excursions in Sardinia vary from walking trails to challenging hikes. For a low-impact day in Sardinia's nature, look for signs pointing to walking trails near Camping La Pineta. The area near this campground is just a 15-minute walk from the quiet Spiaggia di Planargia beach on Sardinia's eastern coast. Rio Bau Samu flows from this beach and through this less-traveled coastal region as well.
Among the challenging hikes are those that lead to Punta Salinas and Cala Goloritzé (pictured above) further north on the east coast. This rocky terrain is well worth the effort as Punta Salinas offers broad views of the Cala Goloritzé beach and its bright blue water. Cala Goloritzé itself is perfect for swimming. Cars can be parked at the Su Porteddu bar, and from there, the hike to Punta Salinas is around two hours, while the hike to Cala is closer to three hours. To go from Punta Salinas to Cala Goloritzé before heading back to Su Porteddu, look for signs labeled either "Golgo" or "Cooperativa Goloritzé" to get from the path to Punta Salinas to the path that leads to Cala Goloritzé.
Explore Neptune's Grotto in northern Sardinia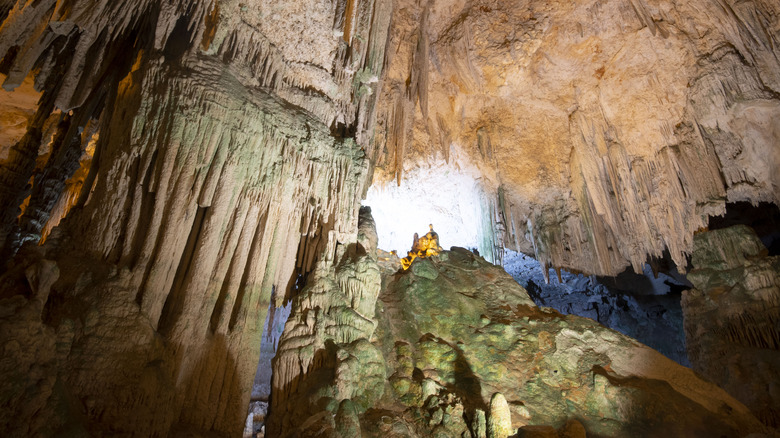 Photon-photos/Getty Images
A favorite of Sardinia's northern coast is Grotta di Nettuno, or Neptune's Grotto in English (pictured above). This cave is within a small section of Sardinia called Capo Caccia. While it sounds remote, there are boats and buses that leave from the nearby town of Alghero. Navisarda tour boats depart from Alghero's marina, which is found along Lungomare Barcellona. Bus line 9321 goes to Capo Caccia and leaves from the Alghero Via Catalogna bus stop. Trips with either mode of transportation take just under an hour. If you booked your tour of the cave in advance, arrive at least 40 minutes ahead of time due to the steps that lead down to the cave itself.
Alghero is popular for snorkeling as well. The area off the coast of the town is called Coral Riviera and is famous for its red coral. Dolphins frequent the area as well. Combine both snorkeling and dolphin watching on a boat tour with Progetto Natura departing from Banchina Rafael Catardi in Alghero.