Why You Should Visit This Popular New York Summer Vacation Spot In The Fall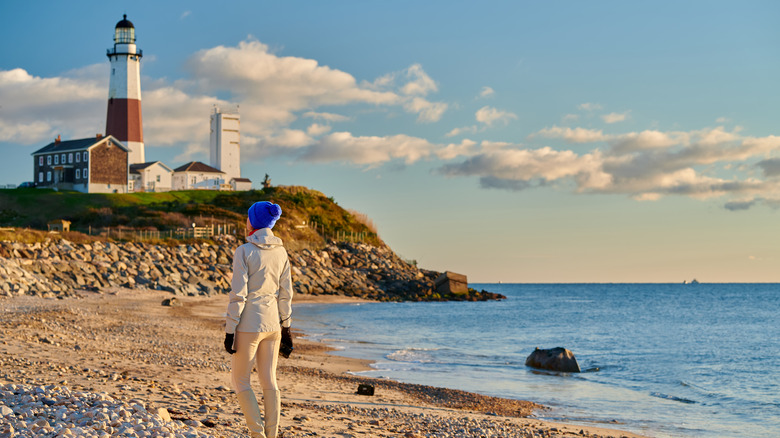 Haveseen/Getty Images
If you're in the market for an East Coast fall vacation, look no further than Montauk, New York. Located on the easternmost tip of Long Island, this sandy peninsula is a hot spot in summer but a quiet, picturesque town in fall. During September and October, the coastlines are dressed in a flurry of orange and yellow, creating a captivating fall haven.
Visiting Montauk during the off-season means crowds are tame, making it easy to enjoy the local hot spots tourist-free. New England's fall season is gorgeous, with clear skies and cooler temperatures hovering in the 60s. While the town has a reputation as a surfer's paradise, it loses none of its charm in the autumn months. Walk along the shores of Ditch Plains Beach while just a short distance inland, there's spectacular fall foliage. Apple picking and visiting pumpkin patches are just a few festivities the town enjoys when pumpkin spice season rolls around.
Spread some autumn cheer at local festivities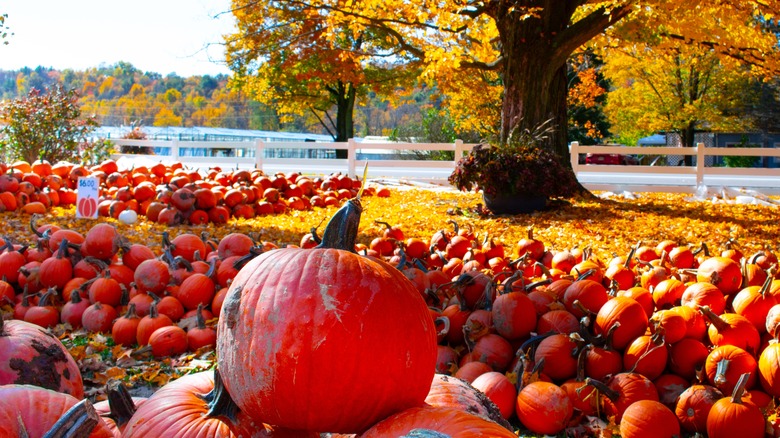 Gray Cat Photography/Shutterstock
Classic fall traditions are huge in Montauk. Fairview Farm at Mecox is your one-stop shop for all things festive and fall. Visit their pumpkin patch for pumpkin picking and their iconic corn maze, featuring eight acres of corn. Taste the fall flavors of upstate New York at their farmers market, boasting seasonal, local produce. To satisfy a sweet tooth craving, visit the on-site farm kitchen with indulgent, homemade treats such as apple rhubarb and pumpkin pies.
The town also holds an annual fall fest every October with live music, festive food, raffle prizes, and a clam chowder contest. Speaking of clam chowder, you can't leave without ordering a bowl of the famous nautical dish that's a staple in the Northeast. Bigelow's New England Fried Clams is a local favorite. The clam shack is nestled on the western tip of Long Island, and its white-washed picket fences give the eatery its New England charm. The retro diner-style sign reads "Since 1939," validating its status as a long-valued gem in the community.
Stop by the Montauk Brewing Company for a pumpkin ale on the patio while enjoying the company of friendly residents. This small-batch brewery is located in the heart of Montauk and was founded by a trio of locals. The brand focuses on seasonal flavors to reflect the climate and topography of their home state.
Cozy up at a fall resort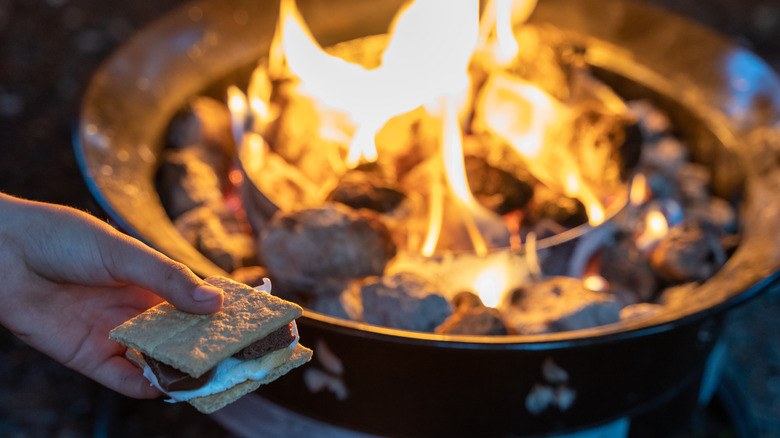 Stefan Malloch/Shutterstock
One of the many luxuries of planning an East Coast fall getaway is you often have no trouble snagging reservations at the hotel of your choice. Montauk has no shortage of stylish boutique hotels that are just as charming in the fall as they are in the heat of summer. If you're looking for an oceanfront resort that doubles as a cozy fall retreat, check out Marram. This idyllic hotel knows how to cater to sweater weather. Fire pits scattered on the sandy shores are perfect for toasting marshmallows on chilly nights, and traditional Latin American dishes populate the menus.
Alternatively, stay at Gurney's, a luxury resort with an intimate, laid-back vibe. Daily wellness classes such as yoga and meditation make for a restorative weekend retreat to give yourself a bit of extra pampering. If it's too chilly for a beach day, their seawater spa pool is a great alternative while watching the fall colors from an indoor setting.