Experience The Stunning New England Fall Season On This Road Trip Route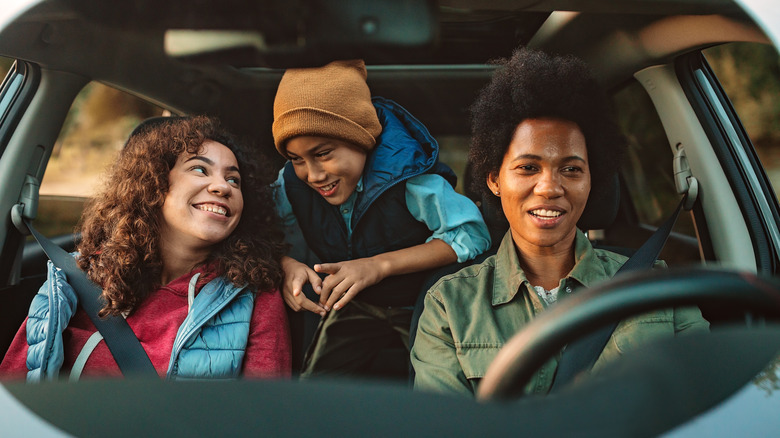 Pekic/Getty Images
Fall in New England is magical. The trees go from lush green to a colorful array of bright reds, soft oranges, and vibrant yellows before turning brown and signaling winter. The couple of months where the leaves burst with color make New England a quintessential fall location. You can witness the beauty while driving down winding roads, walking the streets of Boston, or hiking a mountain and breathing in the crisp air.
Ultimately, a road trip through New England is the ideal way to take advantage of both the scenery and all of the fall activities. The 216 miles of Vermont Route 100 will take you from Massachusetts through New Hampshire and to Vermont. You can drive this scenic route within a day, and it'll take just under 5 hours; or you can stretch it out and take a five-day road trip through New England that allows you to make stops in the small towns along the way.
Stops along the way in Massachusetts and New Hampshire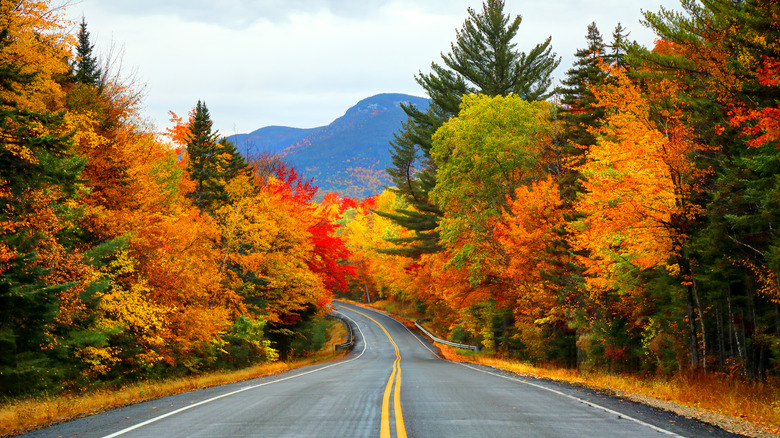 Denistangneyjr/Getty Images
In addition to taking in the scenery, you can fill your itinerary with quintessential fall activities. Visit Concord or Stow, Massachusetts, for an afternoon. Places like Verrill Farms and Carver Hill Orchard are open during the fall for those who want to pick fresh produce — including pumpkins and apples.
You can also plan a stop in Lincoln, New Hampshire, the charming small town nestled away in the White Mountains. You can window shop along Main Street, stop in a café, or grab a meal at a diner. If you're looking to stay outdoors, you can venture into the mountains near Lincoln and go for a hike on the Mount Pemigewasset Trail, which takes a little bit over 2 hours to complete. If you want to take in the views without much physical exertion, then hop on the White Mountain Express Gondola, a 1.3-mile ride through the sky on the Gondola Skyride. You'll get to see the foliage and sweeping landscape from an aerial view.
Franconia, NH, is a great alternative (or additional stop) to Lincoln. Once again, you can participate in outdoorsy activities during the fall, such as hiking or kayaking. The town is located in Franconia Notch State Park, meaning you'll get to experience the homey feel of a small town as well as phenomenal views of the changing flora.
Unique Vermont Experiences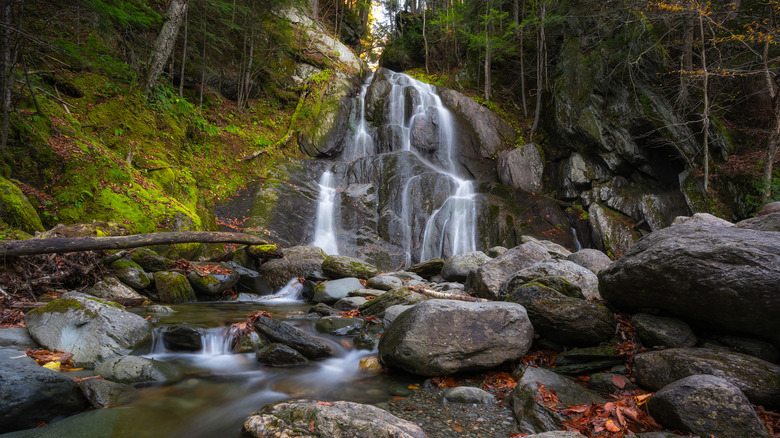 Mike Ver Sprill/Shutterstock
Once you get to Vermont, you'll have quite a few options for unique experiences. If you're a fan of ice cream, you can tour the famous Ben & Jerry's in Waterbury, VT. It's their original location, where you can watch how the ice cream is made and sample your favorite flavors, as well as new ones. If your sweet tooth isn't satisfied after ice cream, you can head on over to Ludlow, Vermont, to visit a maple tree farm and indulge in some of the best maple syrup around. Smith Maple Crest Farm offers a variety of fresh products, as well as lodging right on the farm. It's great for either an overnight stay or a quick visit.
If you're itching to get out of the car and have a scenic stretch break, stop by Moss Glen Falls in Granville, VT, for a lovely view of a quaint waterfall surrounded by fall foliage.
There are plenty of other towns and spots worth visiting along Vermont Route 100. You'll have to check them out for yourself! When you're planning your trip, try using the Foliage Forecaster, a tool that shares just how much foliage is present in Vermont. So, get your road trip essentials together and prepare for the most beautiful views in New England as you drive along Vermont Route 100.