This Midwest National Park Is A Great Destination For Your Next Kayaking Adventure
Taking time to explore the many alluring national parks found across the U.S. is an adventure worth having. Whether you're someone with a passion for time on scenic hiking trails; you're pursuing breathtaking landscapes; or you're hoping to come across incredible wildlife — there's a national park out there waiting just for you. There are currently 425 national park sites for visitors to discover, spanning more than 84 million acres of terrain.
If you happen to be specifically looking for a place to enjoy unforgettable experiences on the water, Apostle Islands National Lakeshore is one of those 425 national sites that you're going to want to be sure to add to your must-visit list. This Midwest-based national lakeshore in Wisconsin is particularly appealing if you're excited to spend time adventuring via kayak. Situated on Lake Superior, Apostle Islands National Lakeshore offers guests 69,372 acres to explore where you'll have access to 22 islands and a plethora of sea caves to check out as well. From the wildlife on the shoreline, to the shipwrecks that sit below the waves, a kayaking adventure here promises to be filled with thrilling surprises.
A kayaking experience designed by nature to inspire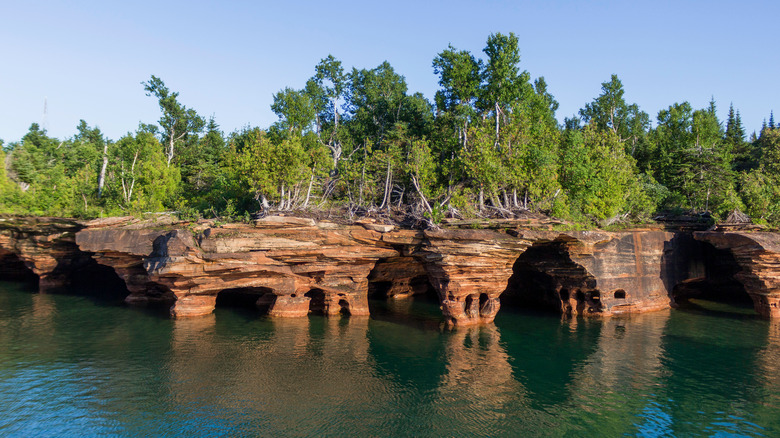 Gottography/Shutterstock
The impressive diversity of the pristine waterways, sea caves, and islands makes Apostle Islands National Lakeshore a one-of-a-kind destination for Lake Superior kayakers. Across the multitude of islands, you can paddle your way to areas where it's easy to enjoy a picnic, explore sandy beaches, stop for a swim, or tour a lighthouse. The islands are also home to more than 50 miles of hiking trails when you're looking to combine your time on the water with quality time trekking.
One of the highlights for kayakers visiting Apostle Islands National Lakeshore is the opportunity to get up close to the sea caves. Formed by waves, freezing, and thawing over centuries, sea caves add an almost magical appeal to the shorelines here. The result of red sandstone interacting with water over time has left a combination of vaulted chambers, sweeping arches, and honeycomb passages between the blue water and emerald green landscape that are particularly vivid in the summer.
When the weather turns volatile, the sea caves can only safely be enjoyed from distant shorelines. From these vantage points, guests can watch the waves pummel sea cave entrances creating impressive plumes and sprays in their wake. However, when the weather is ideal and the water is calm, kayakers are invited to paddle out and explore the interior of these unique caves at their leisure.
Customized options for kayaking adventures
There are many options available for customizing your water adventures at Apostle Islands National Lakeshore. While some prefer to head out independently, others feel more comfortable enjoying the journey as part of a guided kayak tour. In both cases, checking weather conditions ahead of time and making sure you have the right equipment in place is a must for a safe and successful outing.
If you're heading out on your own, there are two kayak launches to utilize from the mainland park during your visit. The first is found at Meyers Beach between Red Cliff and Cornucopia off Highway 13 and comes with a $5 parking fee included. The second to consider is the Little Sand Bay Visitor Center. This location offers free parking and is accessible west of the harbor at Little Sand Bay Road and Old Highway K.
For those who are looking to participate in guided kayaking trips, you'll need to organize with authorized kayak outfitters in the area as the park itself does not directly provide guided experiences. That said, several authorized guide services have partnered with the park to offer safe and exciting adventures. Lost Creek Adventures offers kayaking tours and overnight camping trips while the team at Meyers Beach Kayaking provides guided day tours exclusively.