This West Coast National Park Is The Perfect Place To Catch A Glimpse Of The Solar Eclipse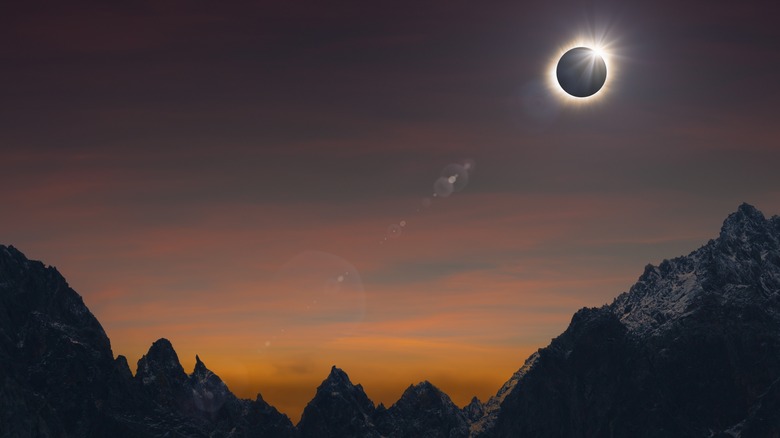 IgorZh/Shutterstock
As the Moon glides between the Earth and the Sun, it casts an awe-inspiring shadow, temporarily plunging the world into an ethereal twilight. Come Saturday, October 14, 2023, stargazers and nature enthusiasts are in for a celestial treat — an annular solar eclipse. The eclipse will be visible from seven US states and no fewer than 30 national park units. And there's one national park on the West Coast that sits directly in its path: Crater Lake in Oregon.
But before we tell you how to experience the eclipse at Crater Lake, let's explain what an annular eclipse is. It is not a total eclipse, so the Sun won't be completely covered. During an annular eclipse, the Moon is at one of its farthest points away from Earth when it passes in front of the Sun. Because the Moon appears smaller to us, it doesn't completely block the Sun. Instead, it creates what people often call a "ring of fire" as the Sun peeks out from the edges of the Moon. It's spectacular.
How to experience the eclipse at Crater Lake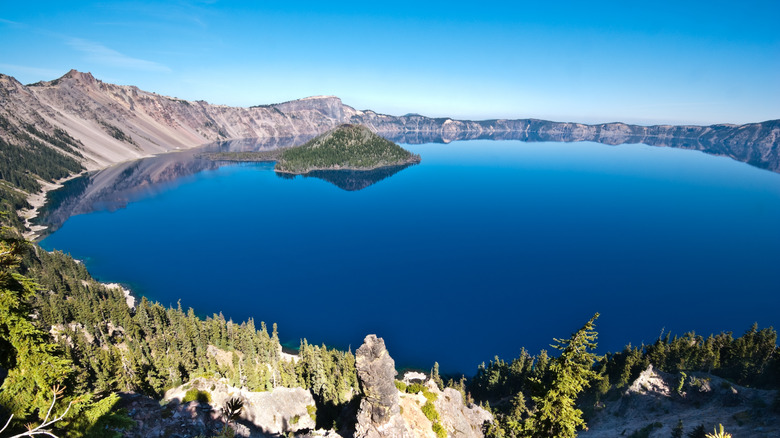 Jeffgoulden/Getty Images
Before you even get in the car, you'll want to make sure the roads in and around Crater Lake National Park are open. The park lies at a high altitude, and that can bring adverse weather conditions. The Rim Drive is at over 7,000 feet, and in recent years, the North Entrance Road and West and East Rim Drives have closed in mid-October due to snow. You can check the current status here. As of the time of writing, all roads are open, so keep your fingers crossed.
Next, plan to wake up early because the eclipse is happening in the morning at Crater Lake. The full annular eclipse will occur between 9:18 a.m. and 9:20 a.m. PDT. However, the Moon will start to pass across the Sun at 8:06 a.m., and the eclipse will finish fully at 10:39 a.m. Space.com recommends taking the West Rim Drive to Watchman Overlook, and either viewing the eclipse from there or hiking up the Watchman Trail. It's a 1.6-mile round trip with moderate elevation gain. From Watchman Peak, you'll see the eclipse over Wizard Island in the lake, a stunning setting. Space.com also recommends the Garfield Peak Trail that leaves from Rim Village Visitor Center (you will be able to see the eclipse from there, too.)
Your trip to see the eclipse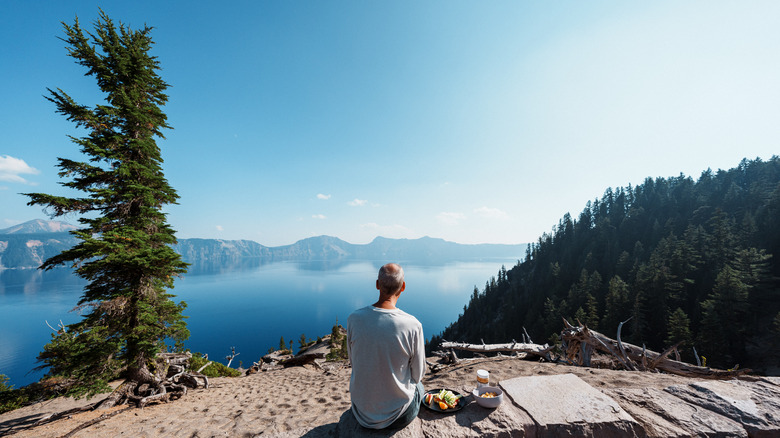 Fly View Productions/Getty Images
The National Parks Service warns visitors to plan ahead if they're coming to Crater Lake for the eclipse on October 14. There will be more traffic than normal in the park, so you should ensure you have a full tank of gas (and a ton of patience) and consider paying your entry fee in advance. Be aware that campsites in the park are closed already. If you're not local, that means you'll need to find a place to stay outside the park.
You'll also want to get some safety equipment before you come to make sure the "ring of fire" doesn't burn your eyeballs. Remember, the Moon never fully covers the Sun during an annular eclipse, so NASA warns that there's no time you should be looking at it without "eclipse glasses" or a solar viewer. Keep your eyes damage-free by buying glasses or a viewer before you go.
If you don't live near Crater Lake, don't despair. You might be able to get to another national park site in the path of October's annular eclipse. The eclipse will be visible from Nevada's Great Basin National Park, Utah's Bryce Canyon and Capitol Reef, and Colorado's Mesa Verde, as well as many other Parks Service-managed sites. The high chances of clear skies and low humidity in these areas mean there's a high chance of witnessing the eclipse at its best.