This Popular Mexico Tourist Destination Is A Great Spot For A Romantic Getaway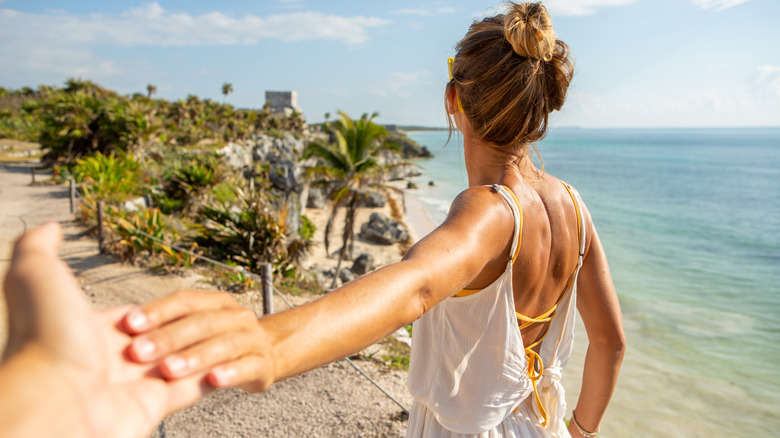 Swissmediavision/Getty Images
Set against the backdrop of the Yucatan Peninsula's sparkling Caribbean Sea, Tulum, once a modest fishing village, has transformed into one of Mexico's most coveted tourist destinations. Its unique blend of ancient Mayan ruins, pristine beaches, and vibrant bohemian culture make it a magnet for travelers seeking more than just a beach vacation. For couples looking for a romantic getaway, Tulum is the perfect place.
Tulum boasts some of Mexico's most idyllic beaches. With endless stretches of pristine shores and calm, warm waters throughout the year, couples can easily find a secluded spot to lay their blanket and bask in the sun. Playa Ruinas is situated under dramatic cliffs and the famous ancient Mayan ruins of Tulum. Playa Paraiso is paradisical, with crystal clear waters and sugar-white sands. The Tulum Reef, part of the 700-mile-long Mesoamerican Reef System, offers excellent conditions for underwater adventures. Barracudas, turtles, sea plumes, and yellow stingrays are just some of the 75 coral and 500 marine species you could see on your dives.
There's something inherently romantic about exploring ancient ruins, and Tulum's archaeological site, located on a cliff overlooking the sea, offers couples a unique chance to delve into history together. The Tulum Ruins were one of the last cities inhabited by the Maya people, built over 1,000 years ago. Couples can hand-in-hand explore these remnants of a bygone era, which includes El Castillo, the Temple of the Frescoes, and the Temple of the Descending God.
Eco-resorts, Mexican cuisine, and wellness retreats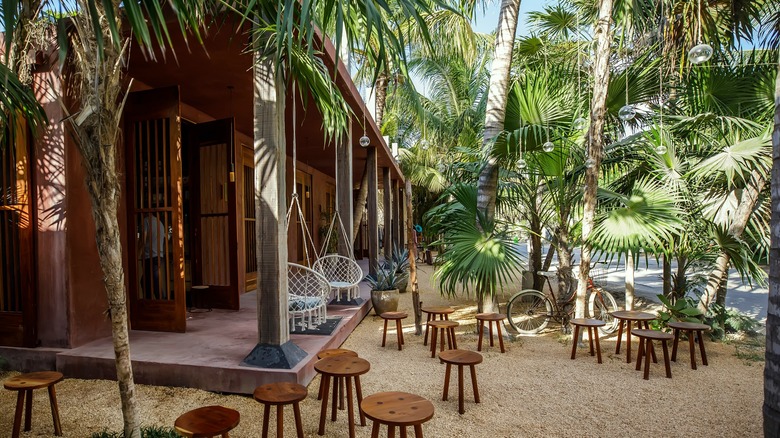 Pawel Wieloch/Shutterstock
While Tulum retains much of its natural beauty, it hasn't shied away from modern luxury. The town is home to numerous eco-resorts and boutique hotels that cater to couples looking for a romantic escape. These establishments often merge effortlessly with their surroundings, offering amenities like private plunge pools, beachfront cabanas, and spa services. The focus is sustainable luxury, ensuring visitors get the best of both worlds: comfort and an eco-conscious experience.
Romance isn't complete without some delicious food and a dash of Mexican spice. Tulum offers a culinary journey that merges traditional flavors with contemporary international dishes. From beachfront dining like Raw Love, where you can dig your toes in the sand, to jungle-ensconced off-grid eateries like Hartwood, there's no shortage of options to satiate your taste buds. Many restaurants prioritize locally sourced and organic ingredients. Don't forget to try a mezcal tasting – Go Tulum Travel offers a tour that also highlights local, fresh cuisine.
Many visitors are drawn to Tulum for its spiritual and wellness-centric experiences. The town is a hub for yoga retreats, meditation workshops, and traditional healing therapies. It's not unusual to stumble upon beachfront yoga sessions or hear the reverberating sounds of a gong bath in the distance. For couples, participating in these group sessions or opting for private classes can be a real bonding experience.
Tulum's cenotes and jungle adventures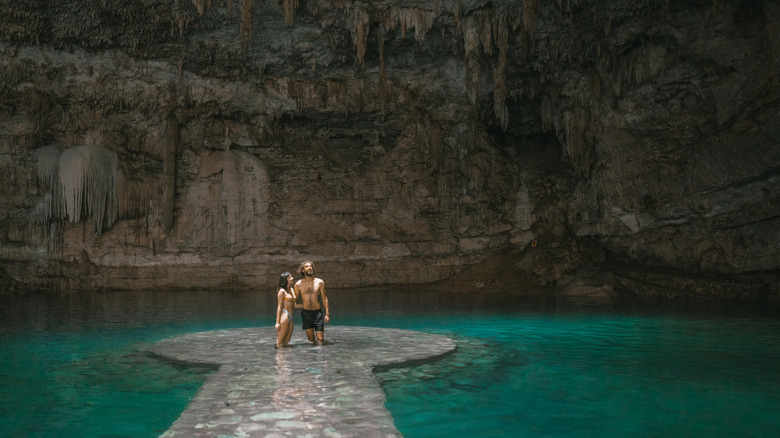 Oleh_slobodeniuk/Getty Images
For couples who crave adventure, Tulum doesn't disappoint. The region is dotted with over 6,000 cenotes, which are natural sinkholes filled with crystal-clear fresh water. Some are open-air, while others are completely encased in underground cave systems. These famous cenotes, such as the Gran Cenote and Cenote Dos Ojos, are perfect for a refreshing dip, snorkeling, or even diving. Encased in lush jungles and often adorned with stalactites and stalagmites, cenotes offer a surreal, otherworldly experience. Note that most cenotes charge an entry fee anywhere from $50 pesos to $500 pesos. 
Additionally, the dense jungles surrounding Tulum are great for hiking, bird watching, and seeking out local wildlife. There are various eco-parks and reserves where couples can zip-line, kayak, and try out other adrenaline-fueling experiences. The Sian Ka'an Biosphere Reserve ("gate of heaven" in Yucatec Mayan), a UNESCO World Heritage Site, is a must-visit for wildlife viewing and outdoor adventures. Over 850 plants, 100 mammals, 330 birds, and 40 reptile species call this 528,148-hectare ecosystem their home. You could easily spend a full day exploring this vast ecological reserve together with your partner. 
Tulum effortlessly blends the allure of its natural beauty, historical roots, and modern indulgences, making it an ideal destination for couples. Whether you wish to recline on a sun-kissed beach, delve into ancient history, or embark on a gastronomic journey, Tulum promises moments of romance at every corner. So, pack your bags and let this slice of paradise reignite the passion in your relationship. P.S. — "in k'aatech" is "I love you" in Maya.