This Mexico Beach Reserve Is A Must-Visit For Wildlife Viewing And Outdoor Adventures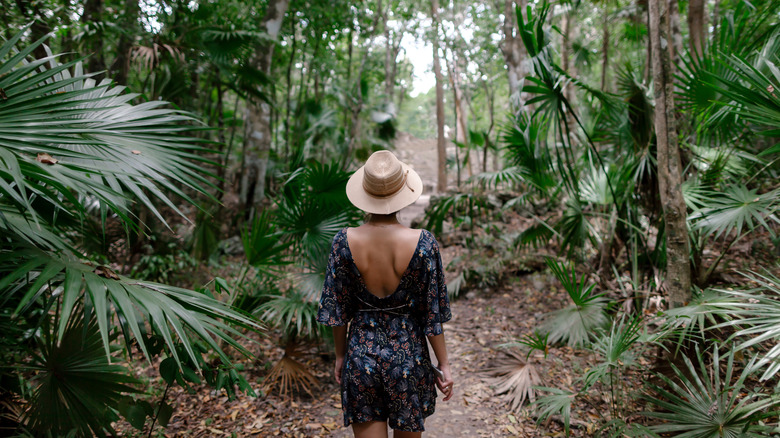 Denys Poluliakh/Shutterstock
One of the most wonderful privileges travelers have is the opportunity to learn about destinations from a multitude of perspectives. From a cultural perspective, we learn about a region's local cuisine, fashion norms, and customs. From a historical perspective, we learn about how significant events have likely shaped how a city, or even country, has evolved over time. However, today, it's more important than ever to consider an environmental perspective, too. This is especially true in places like Mexico that are being impacted by anthropogenic forces such as climate change and unchecked land development that threaten to disrupt local ecosystems.
On the coast of the Yucatan Peninsula, just south of Tulum, you can visit a UNESCO World Heritage site where you can become more well-acquainted with nature -– both on land and in the ocean — and learn why such areas are so precious and deserving of conservation. What is this place called? Sian Ka'an Biosphere Reserve. Sian Ka'an is a phrase in Mayan that means "Origin of the Sky" or "Origin of Heavens." Read on to learn why this place has earned this namesake, and how you can easily visit on your next trip to Mexico.
Sian Ka'an is more than just a preserve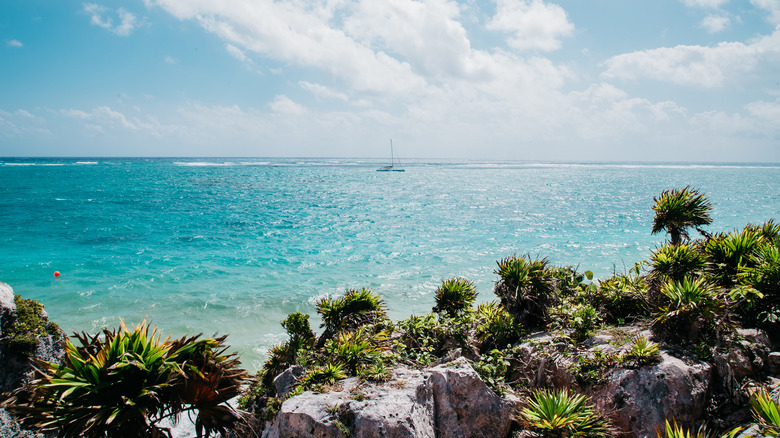 Mra/Getty Images
As the name might suggest, this stretch of coastline along the Yucatan Peninsula was held in high regard by the Mayan peoples, the indigenous community that once inhabited this area. Today, the Sian Ka'an Biosphere Reserve covers 75 miles of coastline and more than 1.3 million acres of combined terrestrial, coastal, and marine areas. This vast biosphere not only contains forests and wetlands but also cenotes, mangrove stands, palm savannahs, and dunes. It also protects a large portion of the Mesoamerican Barrier Reef, the second-largest barrier reef in the world.
Within Sian Ka'an, scientists have found more than 1,700 aquatic and terrestrial species and more than 850 species of flora, with some species only found in a single watering hole due to their isolation. This makes Sian Ka'an one of the largest and most biologically diverse preserves in Mexico. Thanks to its designation as a UNESCO World Heritage site, this small but mighty piece of Earth will remain for generations to come.
There are external forces that are impacting the preservation of Sian Ka'an, though. Impacts from the escalation in coastal urbanization in Tulum and Cancun are having residual effects. Problems such as unchecked sewage and garbage dumping, overfishing, invasive species, and climate change threaten to upset the fragile balance of this ecosystem. This is why it's so important for travelers to visit these places, become aware of the impacts of tourism, and make better choices in the future.
How to visit with and without a tour guide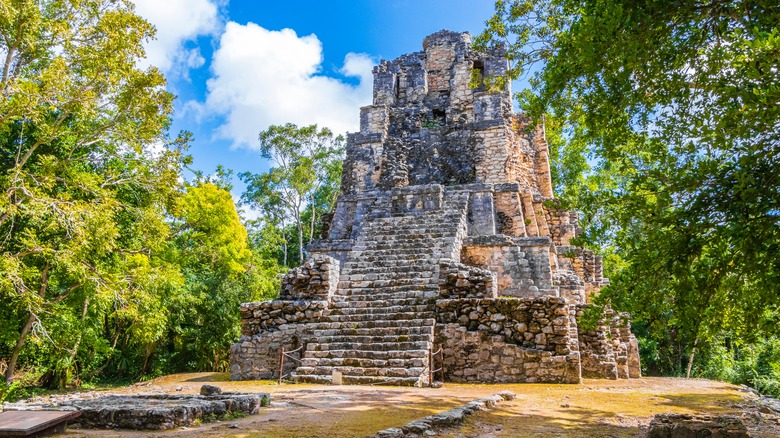 Arkadij Schell/Shutterstock
Due to how vast Sian Ka'an is, it can be intimidating to plan a visit on your own, especially considering how remote some areas are. If you want to remove the stress of planning, there are many tours from Tulum that will give you a great taste of Sian Ka'an. It's recommended to take a boat tour so you can see both the marine and coastal parts of the reserve and do some snorkeling. If you can't pass up the opportunity to see the jungle side, there are also tours that offer both guided bike rides along boardwalks throughout the tropical forest, and then it's off to the boats to see the rest of the reserve.
If you want to visit on your own, be sure to read up extensively on how to get there and what to expect. To experience the best of Sian Ka'an solo style, you should head to either Punta Allen or Muyil. From Punta Allen, a small fishing village in Sian Ka'an, you can hire a private boat that will take you out to the reef and other great snorkeling spots. In Muyil, you'll not only find beautiful tropical forests but also lagoons and Mayan ruins. This is also where you can do a river float which takes about three to four hours. Not a bad way to spend an afternoon in the most beautiful nature preserve in Mexico.