Visit One Of The Most Popular Italian Amusement Parks For Fun And Thrills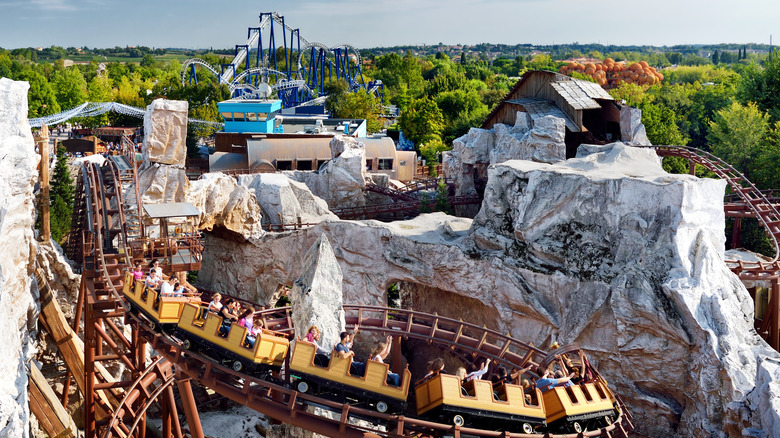 Mnstudio/Getty Images
This is a direct message to parents who are planning a family trip to Italy. Your kids are excited about going to Gardaland, even if they may not know what it is yet. Trust us, they are eagerly waiting for you to tell them that you won't be dragging them to visit 20 different ancient buildings and Italian museums they may not even remember. Instead, you'll be taking them to one of the biggest and most exciting amusement parks in Europe.
Gardaland is located on the southeastern corner of Lake Garda and offers something for everyone, from toddlers to adults. With over 40 different rides and shows, the park is divided into three categories: fantasy, adventure, and adrenaline. There are also dedicated fantasy lands for younger visitors to explore and plenty of eateries to rest and refuel. Ultimately, Gardaland is a fantastic way to break up your trip to Italy and give your kids a reprieve from the more adult-oriented activities. So, what do you need to know before you go?
Gardaland is for everyone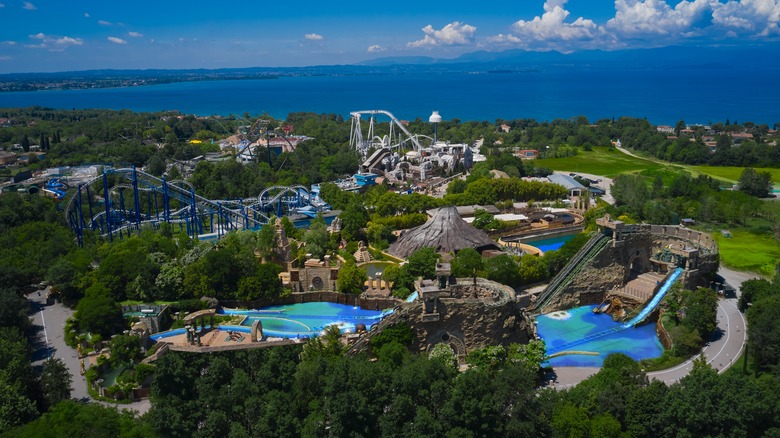 Andrea Berg/Shutterstock
"Italian amusement park" is probably not a word combination you think of when dreaming up the itinerary for your big family trip to the boot. But hear us out! The ticket prices are decent, at €39 for a day, €47 for two days, and €45 for access to both the park and the nearby Gardaland SEA LIFE aquarium. So, you won't have to spend as much as you would for a trip to Disneyland.
Gardaland is conveniently located near popular tourist destinations like Verona, Lake Como, and Milan. This makes a detour to the park quite reasonable. Additionally, Lake Garda itself is a beautiful location that we highly recommend visiting either before or after your trip to the park.
Furthermore, the park offers attractions suitable for visitors of all ages. The rides are divided into fantasy-themed areas for younger park-goers and adventurous and adrenaline-pumping rides more suitable for older kids and adults. Some rides may have height restrictions that are not suitable for the youngest family members. However, there are also areas like Peppa Pig Land, where your child can meet their favorite cartoon pig, and a medieval-themed area called Prezzemolo Land.
Tips for your visit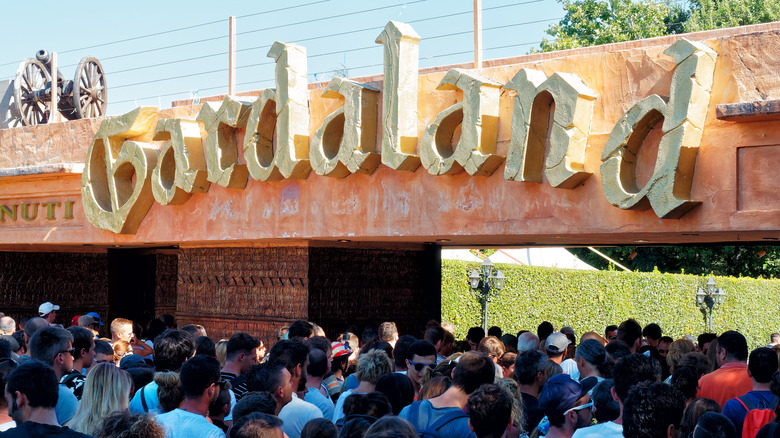 Canbedone/Getty Images
If you decide to visit, you're in for a treat. However, we have some tips to make the experience enjoyable for everyone. Firstly, the time of year you visit is crucial. This park is a popular destination for both locals and tourists, so during the summer, it can be quite crowded. August, in particular, is packed as it is when most Italians take their vacations. To have the best experience, consider visiting before schools let out in early June or when school starts again in September. If you're making the most of your child's summer vacation, arrive at the park early and think about purchasing Gardaland's version of a fast pass called the Gardaland Express (Fast Track).
While the park offers many food options, the prices and quality are similar to most amusement park concessions worldwide – expensive and not great. To save some money, you may want to bring your own food and beverages. If you're driving, grab a few sandwiches, snacks, and drinks at an Autogrill, which is the Italian equivalent of 7-11 but better.