Three Mistakes To Avoid When Visiting Lake Como, Italy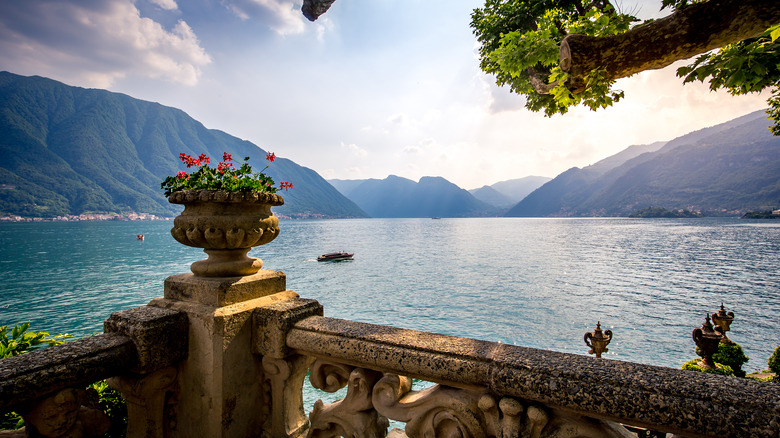 Christine944/Getty Images
Where can travelers admire the most breathtaking landscapes in Italy while also experiencing the majestic beauty of the Swiss Alps? Within the northernmost region of Lombardy, Italy near the Swiss border. Approximately 44 miles north of Milan, lies the romantic village of Bellagio, Italy. It is here, where Italy's greatest (and third-largest) lake expands beyond the eye before it forks off in either direction on opposite sides of Bellagio; Its Y-shaped formation meets the city of Como on the western branch and the city of Lecco on the eastern branch.
Lake Como has been described as the playground for the rich and famous. From its opulent, romantic villas, and charming villages with ancient, cobblestone streets to the dramatic mountains of the Swiss Alps that frame this stunning body of water, it's a popular tourist destination year-round, and one that should not be missed when traveling to Italy. That being said, before you book your reservations to this captivating lake, there are three mistakes you'll want to avoid when visiting the great, Lake Como.
Don't stay outside Lake Como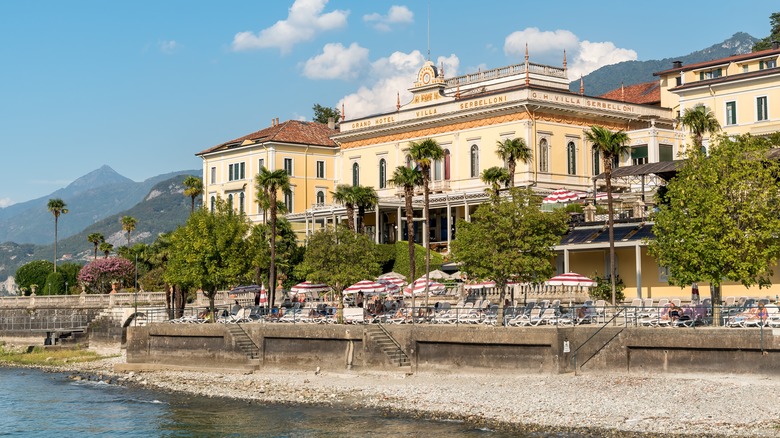 elesi/Shutterstock
The first and second mistakes travelers interested in visiting Lake Como make are poor planning and booking accommodations outside of the area. Because there is so much to see and experience in Lake Como, planning your visit thoroughly is essential. Peak season (summer) bears witness to soaring temperatures, fully booked accommodations, and an overcrowded lake filled with boats and swimmers. Your stay should include visiting the great lake for several days, as a minimum. If you think booking accommodations outside of Lake Como will save on costs, you'll spend more on gas driving back and forth to get from your hotel to the lake each day. You'll also be wasting precious vacation time making your way to and fro.
In order to experience a more relaxed vacation, and immerse yourself fully in everything Lake Como and its surrounding environment offers, booking budget-friendly stays in the city of Lecco (the eastern branch of Lake Como), is a great start. Or, if you prefer to splurge and live it up as the stars do, there are many exceptional 5-star hotels around the lake that beckon travelers to their doors to partake in a luxury stay unlike any other.
Avoid booking boat tours for a full day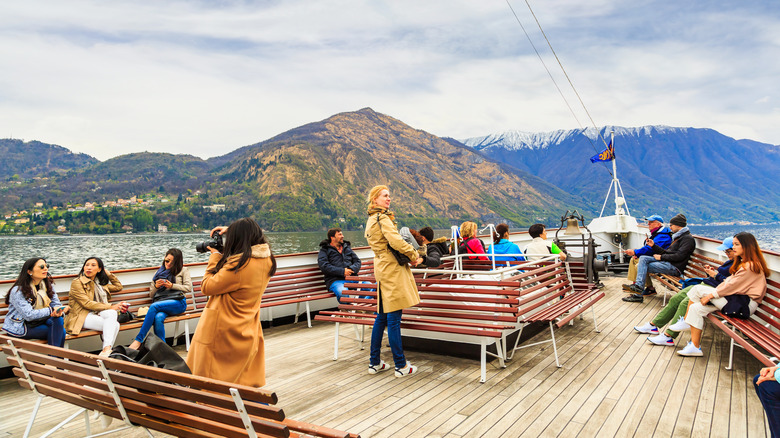 Matee Nuserm/Shutterstock
The third and final mistake travelers will want to avoid is those day-long boat tours. Yes, the most popular way to see Lake Como is on the water, especially during the summer season when boats are out on the lake en mass. However, that doesn't mean that you need to spend full days on the water to experience everything about the area. There are numerous boat tour companies, and ferries that make their way around the lake each day that actually make stops for visitors to experience the surrounding villages and towns for one to a few hours.
Spending minimum time on the lake and more time on the land around it will provide you with a broader perspective of what Lake Como affords, as well as a variety of amazing things to see and do. From its adventurous outdoor activities to the historic and cultural exploration Lake Como affords, one can't help but be captivated by this place of serene and exquisite beauty when visiting.