The Most Filmed Sports Stadium In The US Is In This Popular City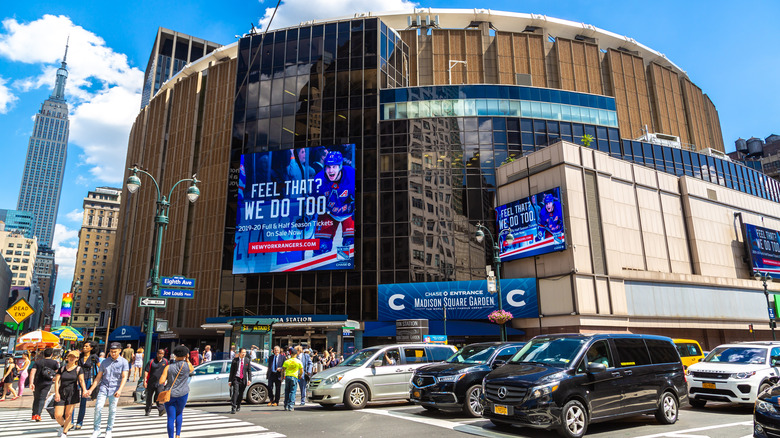 Sergii Figurnyi/ Shutterstock
If you had to guess the most filmed location in the world, we wouldn't blame you if you assumed it's somewhere in Hollywood. After all, Los Angeles is the land of glamour, celebrities, and film. However, the popular spot is actually in New York City, at the world-renowned Central Park. An extraordinarily romantic place to stroll, it makes sense that cinematographers have taken advantage of the park's beautiful environment. Coincidently, just about half an hour's walk away is the most filmed sports stadium in the nation: Madison Square Garden.
While Los Angeles as a whole is a more filmed-in city than New York, in terms of specific places, New York City seems to contain all the hot spots. Since opening in 1879, Madison Square Garden has served as a venue for some of the most iconic, history-making moments in sports and entertainment — most of which have, of course, been documented on film.
The history of Madison Square Garden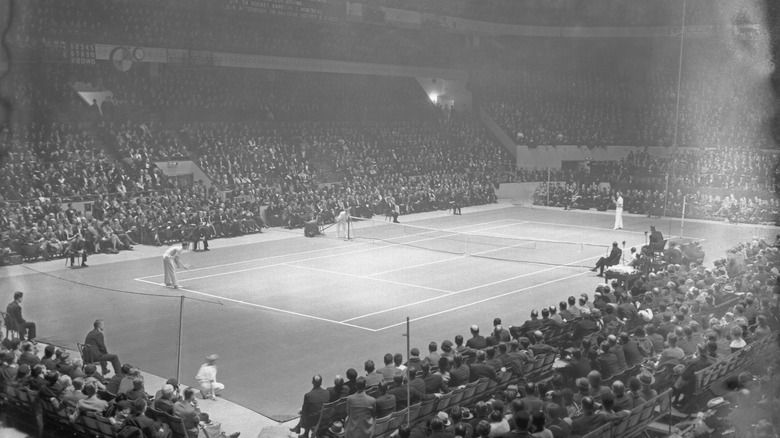 Bettmann/ Getty Images
Madison Square Garden is definitely a must for history buffs to add to their bucket lists. Originally constructed as a boxing ring, this stadium has witnessed some of the most incredible moments known in United States history (and they don't all have to do with sports, either). In the modern world, when there's a groundbreaking event, everyone wants to see it. For that reason, many of these moments were filmed and broadcast for the nation to see.   
For instance, Madison Square Garden hosted "The Fight of the Century" between Muhammad Ali and Joe Frazier. Just on ESPN alone, 300 million viewers were said to have tuned in to watch this fight. Other legendary sporting events like the 1970 NBA Championship featuring the Knicks and the 1994 Stanley Cup with the Rangers were also located at Madison Square Garden, and viewed from TVs around the world. 
Madison Square Garden has also hosted a long list of memorable moments by iconic performers, celebrities, and world leaders. In fact, it's where Marilyn Monroe sang her infamous rendition of "Happy Birthday" to President JFK. It's also where John Lennon held his final live performance, as well as where the world's top artists gathered to perform for The Concert for New York City following 9/11. 
Madison Square Garden's film credits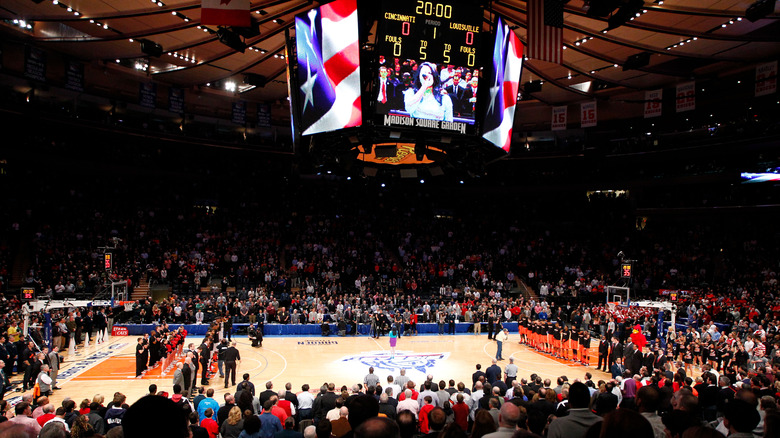 Debby Wong/ Shutterstock
Apart from the real-life cinematic moments caught on camera, there are also a handful of movies and shows that have been filmed at Madison Square Garden. In total, about 93 film features and clips have been set at the arena. The most famous of which include "The Other Guys" (2010), "American Gangster" (2007), and "Space Jam" (1996). The oldest of this long list of films is considered the sports documentary "Young Griffo v. Battling Charles Barnett," which debuted way back in 1895. More recently, you might have seen the arena make an appearance in films like "Bohemian Rhapsody" (2019) or "Spider-Man: Far from Home" (2019). 
Major directors like Judd Apatow, Nicholas Stoller, Adam McKay, and more have all made their movie magic in this iconic location. So, the next time you visit New York City, it's worth it to step into Madison Square Garden. If not to see an actual game or performance, you can at least know you stood in the same place where countless pieces of art and moments of history — both real and fictional — have been made.