Visit One Of The Largest Nature Museums In The World At This Canadian Tourist Spot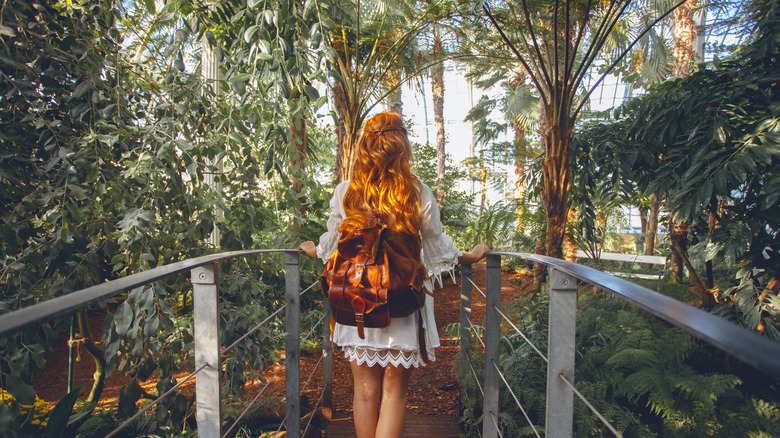 Jasmina007/Getty Images
Our neighbor to the north, Canada, is world-renown for its vastness (it's the second largest country in the world by land mass!), and its natural beauty. With the world's largest coastline and boasting more lakes than all of the other countries in the world combined , Canada loves its mountains, valleys, pastures, wildlife, and nature. So much so that the country has launched a national program where doctors can literally write prescriptions for their patients to spend time outdoors as part of their healing, per NPR. If that sounds like something right up your alley, you are going to want to visit the fantastic Botanical Gardens in Montreal. Doctor's orders!
Montreal's Botanical Garden has been in operation for more than 80 years with over 22,000 plant species, a feat so impressive that Time Out named it one of the best botanical gardens in the entire world. And seeing as how Canada loves all things vast, the Botanical Garden is of course huge, clocking in at 190 acres. Here's why you should brush up on your French, grab your passport, and head north to Montreal, Quebec for one of the best botanical experiences in the world.
The Garden of Light festival is hugely popular
Anne Charpentier, director for the Montreal Botanical Garden, told Global News that, "what we care about is nature. Everything we do is about reconnecting with nature, so each garden here is focusing on the relationship of this culture towards nature." Case in point: The space includes several differently themed gardens, including a Japanese garden where visitors can enjoy a tea ceremony, and a First Nations garden where visitors can engage in conversations with Canada's Indigenous community around a fire and learn about the sacred tree.
The Botanical Garden also holds an annual Garden of Light festival that has delighted visitors since 1992. The evening light show illuminates different gardens, and each year centers around a different theme. Event organizers told The Daily Hive that the fest "combines art, science, technology, and emotion." It's also a particular favorite of TikTok, where user @sarahnitea's video of the evening light show garnered over 16,000 likes. User @mtl_stories' TikTok of the fest left people gushing, with users commenting, "it was so pretty !! Definitely recommend," and "oh so beautiful! I was there last year."
On top of flora and fauna, there are also live insects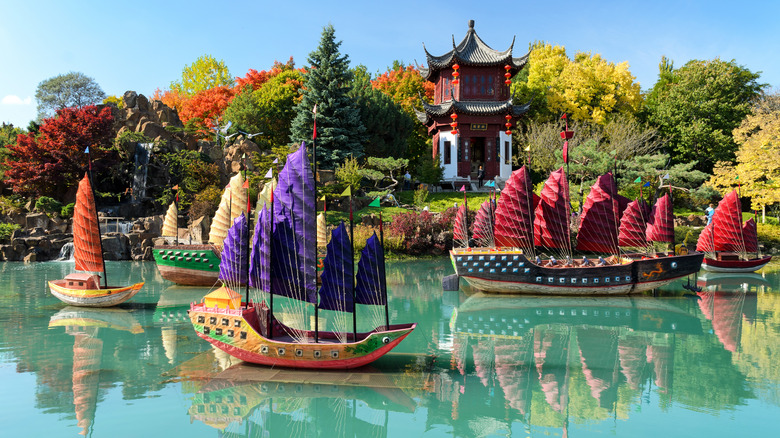 Tommy Larey/Shutterstock
The Botanical Garden in Montreal is a must-see destination for upwards of 900,000 visitors a year, so you know their collections are drawing in crowds. Tripsavvy reports that on top of the themed gardens, it's also home to over 200 species of birds and shares location with the Montreal Insectarium. Yes, if you've ever wanted to thoroughly gross out your kids by subjecting them to beetles, tarantulas, scorpions, and scarabs that are still alive (!!!), now's your chance.
Getting to Montreal's Botanical Garden is actually a lot easier than you may think. If you're traveling by car, there are highways that connect New York City directly to Montreal so you could even make it a day trip. Make sure you cross at the Saint-Bernard-de-Lacolle point of entry, because then you're only 60 miles and a mere 45 minutes from downtown Montreal. If you'd prefer to park your car once you're in La Belle Province, the Botanical Garden is located conveniently close to a Metro station, specifically the Pie IX stop. Emerging from the metro, you're probably going to recognize the famous landmark directly across the street from the Botanical Garden: Montreal's Olympic Stadium which hosted the infamous 1976 summer Olympics. Those are the games where Caitlyn Jenner (née Bruce) won the gold medal in the decathlon.