This East Coast Spot Is Considered One Of The Most Underrated Wine Destinations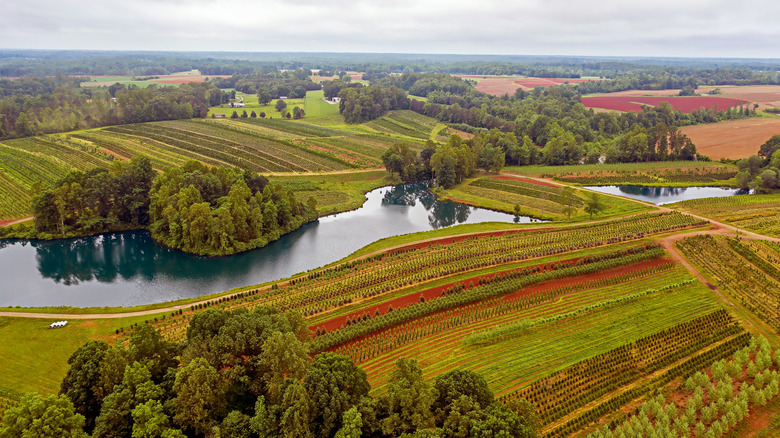 John Couture/Shutterstock
Few things are more delightful than perusing the aisles of a manicured vineyard while sipping on a glass of nature's candy. While California may be the obvious first choice for where to spend a weekend wine tasting, consider the small, peaceful region of Yadkin Valley. While California regions such as Napa Valley and Sonoma are responsible for producing more than 80% of America's wine, North Carolina is home to one of the world's most overlooked wine destinations in America. Located an hour and a half from Charlotte, Yadkin Valley exhibits a small-town hospitality you won't find in larger cities.
The word "Yadkin" is derived from the Siouan Native American language, which is believed to translate to "place of big trees." This region lives up to its name with acres of dense forest area covered in maple trees. While famous for its pioneering winery scene, Yadkin also offers plenty of activities for outdoor enthusiasts. The towering Blue Ridge Mountains set the stage for a wilderness playground with stunning backdrops and picturesque vineyards stretching for miles. The backcountry consists of rivers, lakes, forests, and cascading waterfalls within nearby Pilot Mountain State Park and Mount Mitchell State Park. As the first designated American Viticultural Area in North Carolina, Yadkin Valley holds a special place in the hearts of local vintners. The thriving viticulture scene means Yadkin Valley is emerging from it's place as a hidden local gem to a popular wine tasting destination for oenophiles.
Visit Yadkin Valley's beautiful wineries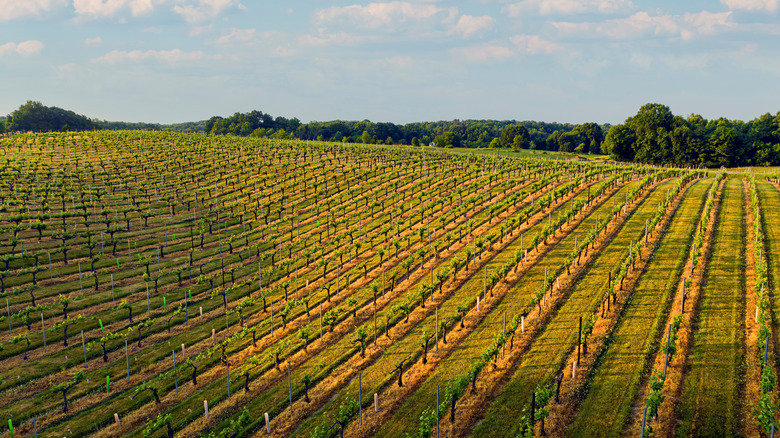 John Couture/Shutterstock
Yadkin Valley's viticulture region spans more than a million acres, with dozens of unique wineries throughout. Start your trip with a visit to Raffaldini Vineyards. The estate's rolling hillsides and Italian-style architecture parallel the iconic beauty of Tuscan wine country. The winery specializes in five distinct varieties of grapes, each one carrying a bold, unique flavor profile. From Vermentino white grapes native to the Mediterranean, to red Montepulciano, Raffaldini offers an exciting and diverse wine experience.
Set out for Dobson to visit the birthplace of Yadkin Valley as a winemaking hub and home of Shelton Vineyards, the largest wine estate in North Carolina. Located in the heart of Yadkin, this family-owned vineyard uses sustainable farming practices to ensure visitors receive only the highest quality wine. All the grapes are harvested and crushed by hand, a testament to the family's passion for winemaking. While Shelton Vineyard's roots are steeped in its Southeastern heritage, its grape harvest is reminiscent of European wine country. The vineyard is famous for producing several varieties of Vitis vinifera grapes, a species native to Central Europe. Enjoy reserve tastings and tours of the property, showcasing Yadkin's cultural heritage as a distinguished wine region.
In the mood for wine sampling and gourmet, wood-fired pizza? Elkin Creek Vineyard is a treat for those who enjoy sipping fine wine alongside hand-crafted cuisine. Elkin Creek is unique in that it functions as an active vineyard, an event venue, and a full-service restaurant. Merlot and Cabernet are just a few varieties of grapes grown on the four acres of land. Between its homemade cuisine and aisles of vines, Elkin Creek is a testament to what makes Yadkin Valley a treasured region within North Carolina.