The Best Time To Book Your Hotel For Your Holiday Travel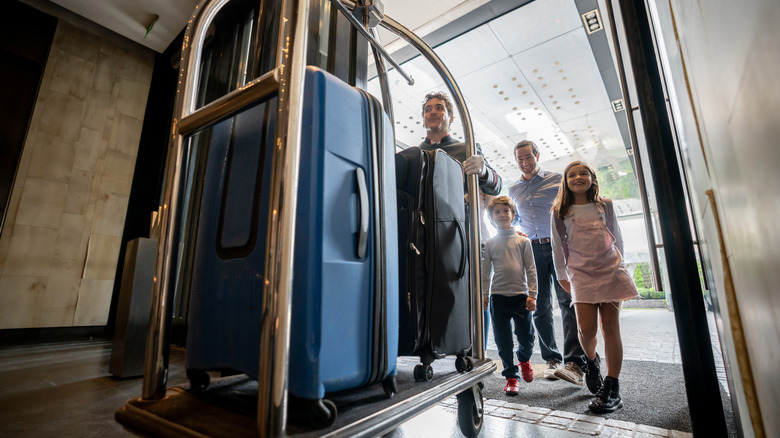 Hispanolistic/Getty Images
With summer travel fading away in the rearview mirror and the holidays just around the corner, it's time to start thinking about your next big adventure. Whether you're traveling across the country to see friends and loved ones or planning an epic trip abroad for a non-traditional holiday celebration, you're likely beginning to consider how to get the best deals on your accommodations.
Each year, the winter holidays mark some of the busiest travel days in the United States, and this holiday season will be no exception. According to the PricewaterhouseCoopers (PwC) 2023 Holiday Outlook report, spending on travel is predicted to increase 12% from 2022. Around 47% of consumers plan on some sort of holiday travel. 
With continued concerns about inflation prices for pretty much everything on the rise, it's more important than ever to find the best deal when booking a hotel for your holiday travel. If you're on a budget and looking for the best possible price in a big city with multiple hotels, last-minute holiday hotel bookings may save you some serious cash.
The best time to book a hotel for holiday travel to save money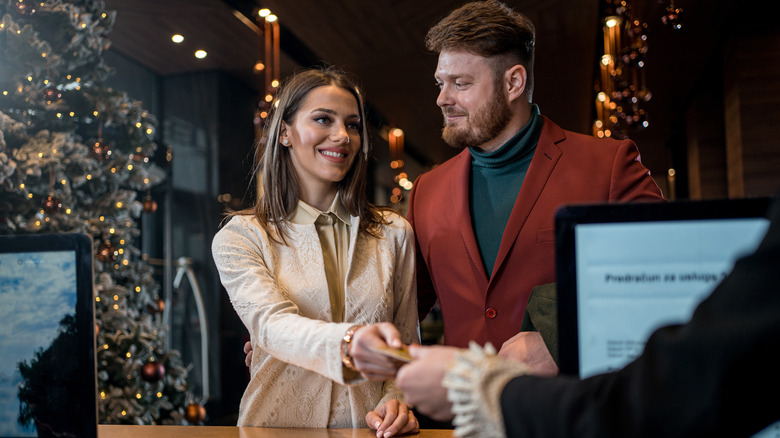 Fluxfactory/Getty Images
To find the best deal on a hotel stay this holiday season, consider your travel plans carefully. The best time to book depends on a few factors: budget, flexibility, and destination. If you plan to travel to a major city with multiple hotel options, waiting for price drops might help you score a great deal, as hotels often lower rates for unsold rooms.
NerdWallet found that hotels are often cheaper when booked 15 days before the scheduled arrival date, and the average discount when you wait to book your room is around 13%. While that doesn't seem like much, it can add up if you stay in a hotel for multiple nights during the holidays. If your travel plans are flexible and you're willing to live life on the edge and wait until the very last minute, you may save up to 25%, according to Hopper.
Since hotels begin to lower the prices of unsold rooms about a month before check-in, consider waiting until the first few days of November to book hotels for Thanksgiving if you're traveling domestically to a major city with plenty of accommodation options. For Christmas and New Year travel, the first week of December is an excellent time to check for price drops.
When not to wait on booking your holiday hotel stay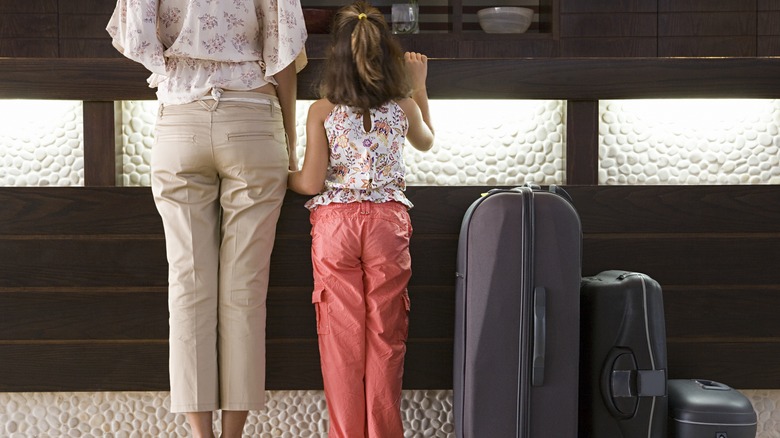 Image Source/Getty Images
While it may be tempting to score a great deal on your holiday stay, you must be willing to be flexible with your travel plans. Booking your hotel last-minute may be cheaper, but is it worth the stress? If you have a specific hotel in mind, or your heart is set on having particular amenities during your stay, it's best to book as soon as you find a price you consider fair that fits comfortably in your budget. This is especially true if you're heading to a small-town or mid-size city with limited options likely to fill up with other out-of-towners during the holiday season.
When you wait to book for the best deal, you'll choose between the leftover rooms. The best hotels often fill up fast, and waiting might cause you to lose the room of your dreams at your favorite hotel — or even run out of options altogether in places lacking a variety of accommodations. If you're planning a getaway to a vacation destination, waiting until the last minute won't help as much because most rooms are booked during the holidays. Hotels in popular tourist spots like Cancun should be booked at least three weeks in advance, and any last-minute price drops will be minimal.