Kick Off Spooky Season With This Perfect Fall Day Trip From New York City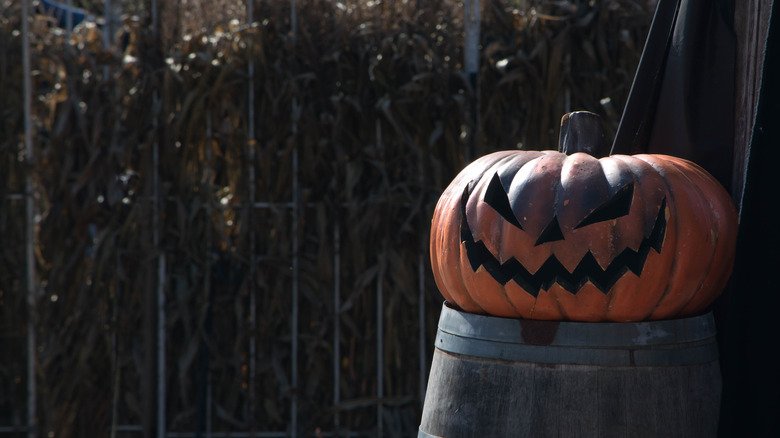 Tom Henesy/Shutterstock
October is upon us, and we're in full fall mode here at Explore. Our sweaters are out, we're warming our hands on our pumpkin spice lattes, and we're planning our Halloween costumes. Because, of course, October means more than crunching through red and gold leaves and eating pumpkin pies — it's spooky season!
And where better to kick off spooky season than in the legendary village of Sleepy Hollow? There's great news for New Yorkers: Sleepy Hollow is just 45 minutes by car or 1 hour on a Metro-North train from Grand Central. (We highly recommend taking the train — 45 minutes is without traffic, and there's always traffic!) Sleepy Hollow was made famous by author Washington Irving in his creepy short story, "The Legend of Sleepy Hollow." In the village and in neighboring Tarrytown, where Irving lived for many years, you can visit some of the chilling locations from the story and indulge in some more lighthearted fall pursuits, too.
History and haunts in Sleepy Hollow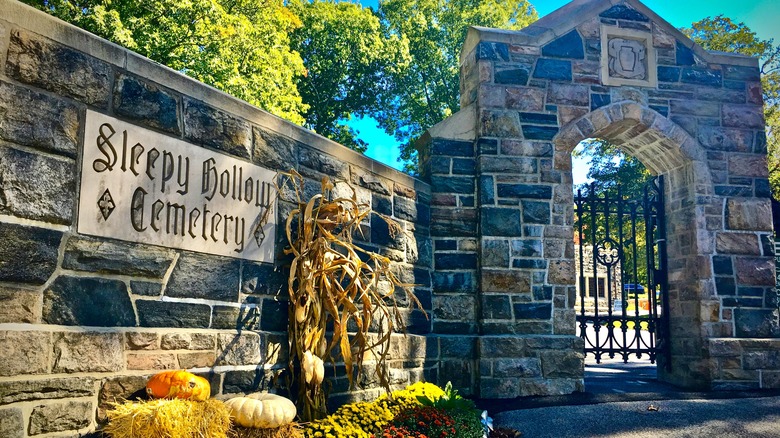 Bri_Adventures/Shutterstock
There is no better time to visit Sleepy Hollow and Tarrytown than in October, when the villages go all-out to celebrate their connection to Irving's story. Don't miss the Old Dutch Church and the Sleepy Hollow Cemetery. The church and its burying ground feature in Irving's story as one of the stomping grounds of the headless horseman, and there are graves of people who inspired some of his characters. The nearby Sleepy Hollow Cemetery is where Irving is buried.
Cemetery tours are available during the day and night — to get your scare on, choose the Murder and Mayhem evening tour. Visitors on Tripadvisor loved the tours but warned that there is lots of walking involved, including uphill treks. Please also remember that people will be visiting the burial sites of their loved ones here — they're not places to goof around and take selfies. The Headless Horseman Bridge is nearby, but as bloggers Bobo & ChiChi explain, it's been modernized and doesn't appear as it's described in the story (some even believe the actual bridge from Irving's story is located on Route 9).
Other spooky offerings include The Horsemen, an immersive haunted house experience in Sleepy Hollow, and the more child-friendly Home of the Legend, which allows you to explore the grounds of Irving's house in Tarrytown and participate in a scavenger hunt. As you stroll around the area, you'll also see places from the story, like the Van Tassel homestead — where the character Ichabod Crane fled from the horseman — and the Headless Horseman Statue, the perfect place to take that selfie.
Autumnal activities
If you're looking for more family-friendly attractions, don't miss The Great Jack O'Lantern Blaze, just north of Sleepy Hollow in Croton-on-Hudson. (You can also get here by train in about 10 minutes.) On the grounds of the lovely Van Cortlandt Manor, you'll find 7,000 intricately carved jack-o'lanterns ablaze. Facebook reviewers who visited in 2022 loved how creative the pumpkins were and said the event was perfect for kids.
The annual Haunted Hayride also runs through Sleepy Hollow on two evenings — October 20 and 21 in 2023 — and there's the Tarrytown Halloween Parade on October 28, 2023. You can watch from the sidelines or participate in the parade if you wish. There's a full calendar of events in the area available here.
Finally, you might be wondering why we're pushing for you to get on the train when you visit here. If you're just day-tripping from New York, it'd be a shame to miss out on indulging in the "spirit" of Halloween when visiting some of the area's haunted bars and taverns. Ghostly apparitions have appeared in the Set Back Inn in Tarrytown (best for beers) and J. P. Doyle's in Sleepy Hollow (good for whiskey). Finally, for a seasonal cocktail with a side of spook, Tarrytown's Goosefeather has a wandering ghost.