Why You Should Visit This Popular Midwest Summer Vacation Destination In The Fall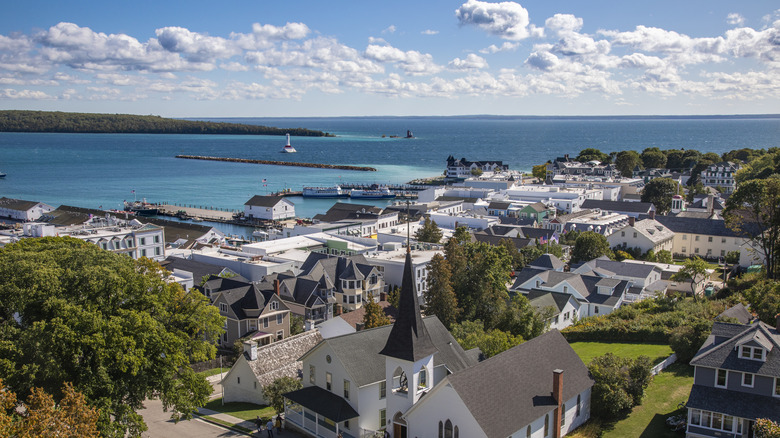 Wiltser/ Getty Images
Northern Michigan's historic Mackinac Island is one of the most popular islands in the country for Americans to spend their summer vacation. Located between the lower and upper peninsulas of the Wolverine State, Mackinac Island is situated in the brilliant blue Lake Huron. During the summer, vacation-goers flock to the island for its adorable main street district, golfing opportunities, outdoor recreation, and crystal-clear waters.
Among the island's 2,200 acres, more than 80% of it is protected as a historic state park. Dense forests and natural formations like Arch Rock and Skull Cave cover the landscape. With this beautiful scenery, it's a no-brainer why travelers love to spend their summer months here. While the peak season to visit Mackinac Island is the summertime, many people don't realize how incredible this destination is in the fall. If you're looking for a place where you can take in the beauty of Midwestern fall foliage, the island is the perfect getaway.
Enjoy stunning fall foliage on Mackinac Island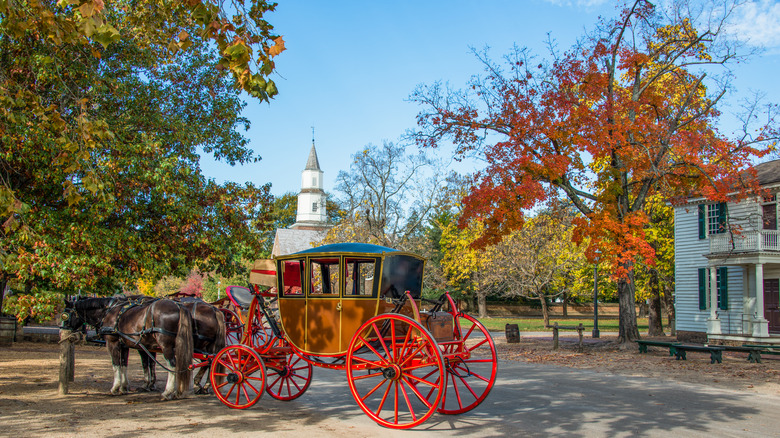 Greg Meland/Getty Images
There is nothing like the magic of fall in this region of the Midwest. Come September, Mackinac Island begins to display that magic across the branches and shrubs of its dense coniferous forests. With maple, red oak, and hemlock trees stretching across the area, the island quickly transforms from its green summer coat into an array of burnt oranges, vibrant yellows, and bold red hues. Perhaps what is most magnificent about this autumnal landscape is that it's often reflected in the surrounding water from Lake Huron.
Not only is the island an outdoorsy getaway because of its natural beauty, but it's also an escape from modern life in other ways. The island has a strict no-automobile rule, meaning you'll get around via bicycle, walking, and horse-drawn carriages. Can you imagine a more romantic way to embrace fall than to be pulled by a horse-drawn carriage around idyllic Mackinac Island?
Fall activities on Mackinac Island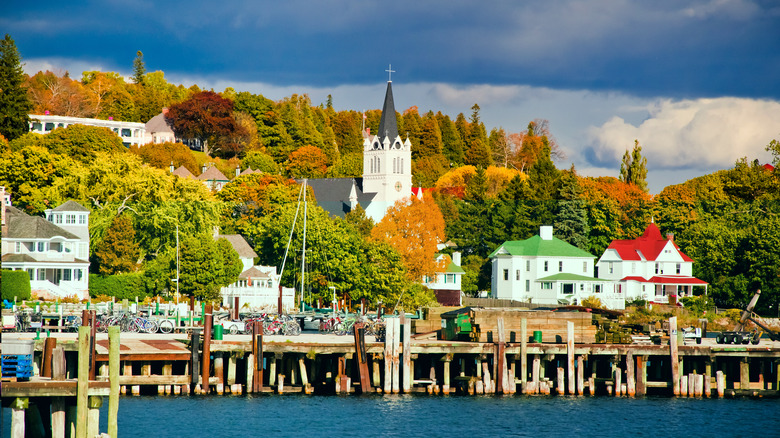 Sidhu50/Shutterstock
From the end of September to the end of October, you can find a few fall-themed, community-wide events being hosted in downtown Mackinac Island. There's the culinary festival Cork & Fork, the Great Turtle half-marathon, and a Halloween weekend lined up with trick-or-treating and costume parties. In addition to attending these festivities, you can spend your time visiting some of the island's historic sights, getting your hiking fix on its 70 miles of trails, and munching on the island's famous chocolate fudge.
Considering the busiest time of year at Mackinac Island is the summer, you will likely get to enjoy a more mellow, laidback ambiance during the fall months. Another bonus to visiting in the fall is that you might be able to score some end-of-the-season savings on your accommodations and shopping. Mackinac Island State Park is open all year long for visitors to explore its natural beauty. However, you'll want to note that many stores and restaurants close their doors for the off-season starting at the end of October and early November.