This Hawaiian Beach Is A Must-Visit For Snorkeling And Swimming Adventures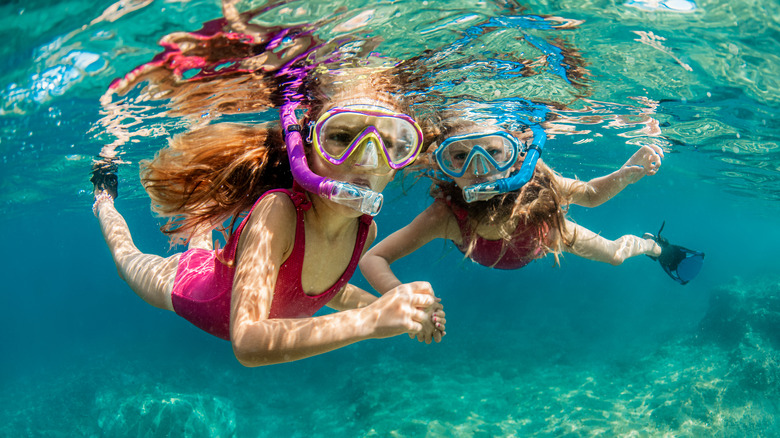 Extreme-photographer/Getty Images
Kauai, Hawaii, is known for its breathtaking views, vibrant culture, and diverse flora and fauna. It's a must-see for tourists looking for somewhere both relaxing and beautiful, and its beaches are some of the most popular in the state, with Lydgate Beach Park among its most family-friendly beaches. One large factor contributing to this status is its play structure, the Kamalani Playground, which features slides, climbing areas, and more for kids of all ages.
At Kamalani Beach, you can participate in a variety of water sports. Kayaking, paddleboarding, jet skiing, and others are all options that'll take you out into the beautiful blue waves. This park, however, is best known for swimming and snorkeling in its protected pools — one of which is particularly shallow and calm, making it ideal for children to swim, wade, and play. Lydgate Beach Park's claim-to-fame is its two saltwater pools that are protected from the large waves by a barrier of rocks. Lifeguards are also present, making the area even safer for swimmers.
What makes swimming unique here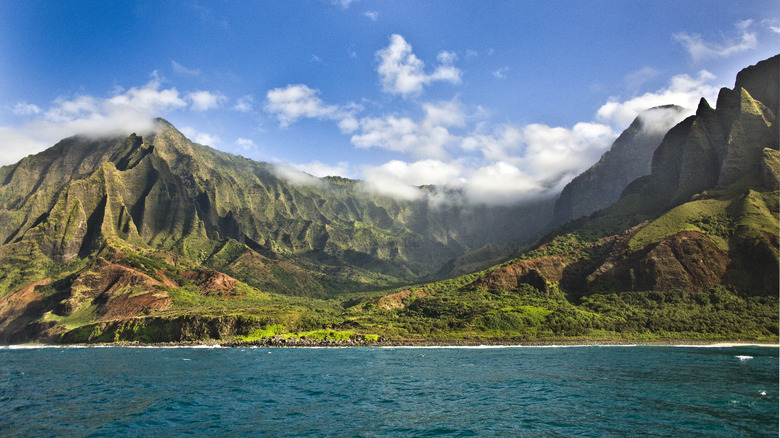 Imgorthand/Getty Images
Lydgate Beach Park has a shallow inner pool and an outer pool that's phenomenal for snorkeling, with its safe, expansive, and colorful underwater kingdom. In addition to snorkeling, swimming, and the Kamalani Playground, you can camp, picnic, fish, or bike. Plus, the waters beyond the pool are great for surfing.
The beach itself stretches beyond the pools for two miles. Both the pools and the beach can get busy, but if you time it right by going in the morning, you can avoid the crowds for the most part. If you're an early bird, arrive at dawn to catch the sunrise. If that's not for you, an evening trip can allow you to witness the sunset. Both are spectacular. 
Kauai tends to have the most visitors during the summer and winter months, so expect packed pools and beaches if you visit then. Lydgate Beach Park is open year-round. You can expect more rain from November to March and hotter weather from April through October, so you can decide for yourself the best time of year to visit Hawaii according to your preferences. Overall, Lydgate Beach Park makes for a family-friendly adventure filled with all the best outdoor activities. Its beautiful water, swimming pools, and lush scenery make it feel like a slice of paradise; just don't forget to pack the essentials for your beach vacation. Next time you're thinking of where to take the family, consider Kauai.