Park Your RV Right Across From The Beautiful Pacific Ocean At This Campground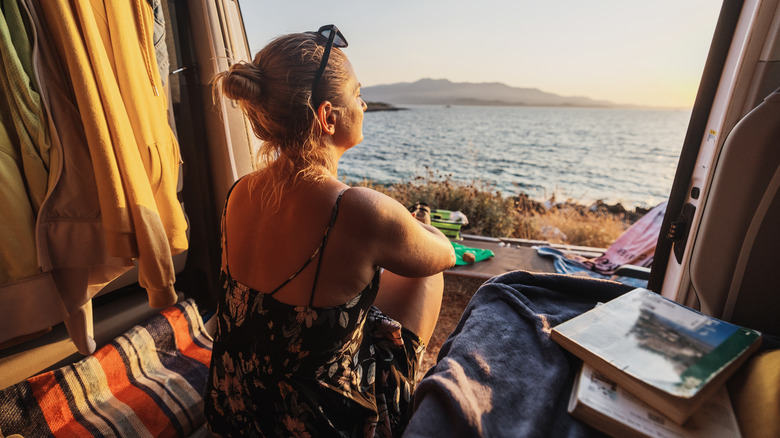 Simonskafar/Getty Images
An RV adventure is an experience that vastly appeals to many travelers. According to the RV Industry Association, over 11 million U.S. households own an RV. This is a number that's continued to rise steadily over the past decade as more explorers than ever are seeking out travel that's flexible, comfortable, and convenient to their lifestyle. Once you have the right RV ready to go, picking the picture-perfect campground is the next important step in making the very most of your RV adventure.
Narrowing down the options can be the trickiest part — as IBISWorld reports, well over 15,000 RV parks and campgrounds are available to travelers across the country. That makes looking at specifics like the vistas you'll find upon arrival important in the decision-making process. If you happen to be someone who finds themselves inspired by Pacific Ocean views, then the Malibu Beach RV Park could be exactly the right place for you.
Located right on the scenic Pacific Coast Highway, Malibu Beach RV Park has tent camping, van parking, and 142 RV and trailer sites. To stay here, you'll need to book your spot for at least three nights. The good news is those three nights can be scheduled for any time it's most convenient because Malibu Beach RV Park operates oceanside all year round.
Savor the view and amenities at Malibu Beach RV Park
Malibu Beach RV Park has been welcoming guests to its location overlooking the Pacific Ocean since the 1970s. Today, it remains a popular place among RV enthusiasts for many reasons, with the view being one of the biggest draws. When you make a reservation here, every site comes with a fantastic view — whether it's the Pacific Ocean or the mountains. These sweeping vistas are easily accessible to campers thanks to the RV park's location on a coastal bluff.
If it's a Pacific Ocean view you're after exclusively, and you don't want to risk missing out, you can book a premium site in advance. This type of RV site is located on the second level of the RV park in what's known as the Point Dume Ocean View area. Guests who book a premium stay will find that in addition to their view, sites are often larger and come with full hookups and back-in options too.
While it's hard to overlook the appeal of being able to wake up each day of your stay to the sight and sound of Pacific Ocean waves hitting the shoreline, this RV park also has great additional amenities for guests to enjoy. Booking your stay at Malibu Beach RV Park means having access to complimentary Wi-Fi and cable hookups for the duration of your visit. The park is also happy to provide campers with easy access to a laundry room, on-site bathrooms, and showers as an added convenience.
Enjoy local activities and on-site extras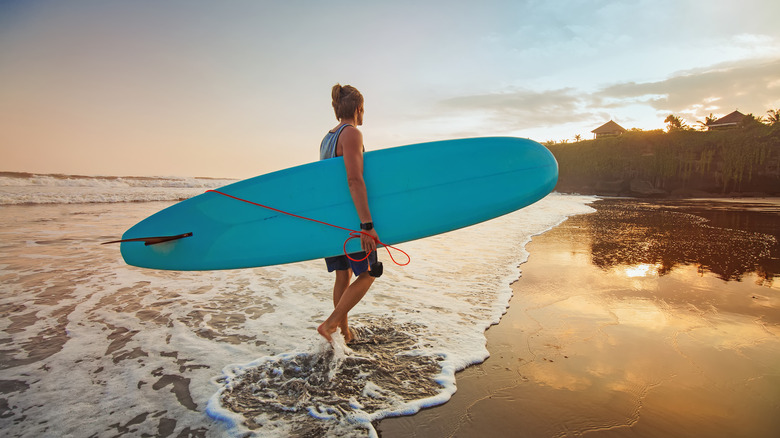 Mila Supinskaya Glashchenko/Shutterstock
RV campers of all kinds find Malibu Beach RV Park a scenic and welcoming place to settle in. While some arrive for the oceanside digital nomad experience, others come for an extended vacation at a leisurely pace. Either way, campers enjoy the added benefit of easy access to ocean fun. Malibu is loved by surfers for its tantalizing waves. When you book your RV campsite at Malibu Beach RV Park, you're always within reach of surf outings.
There are also opportunities to catch a glimpse of dolphins, comb the beach for shells, and hike nearby trails. Options to enjoy biking, explore coastal caves, and spend time at nearby Malibu vineyards also enhance the appeal of a stay here. When you return to your campsite, everything you might need to elevate your RV getaway is at your fingertips. The Malibu Beach RV Park has a convenience store where campers can purchase toiletries, camping supplies, and beer and wine.
Every campsite enjoys water, electric, and sewer services alongside 30/50 amp power. RV campers can set propane fires at Malibu Beach RV Park alongside the seven total guests each site is allowed to host. If you're traveling to the coast with furry friends, up to three pets can accompany you to this oceanside RV park. When you're ready to reserve your place here, do keep in mind that rates vary depending on the season, the duration of your stay, and whether you intend to stay in a tent, van, or RV. It's always worth checking on availability well in advance of your trip.