14 Of The Best Stops To Make On Your Trip Along The Pacific Coast Highway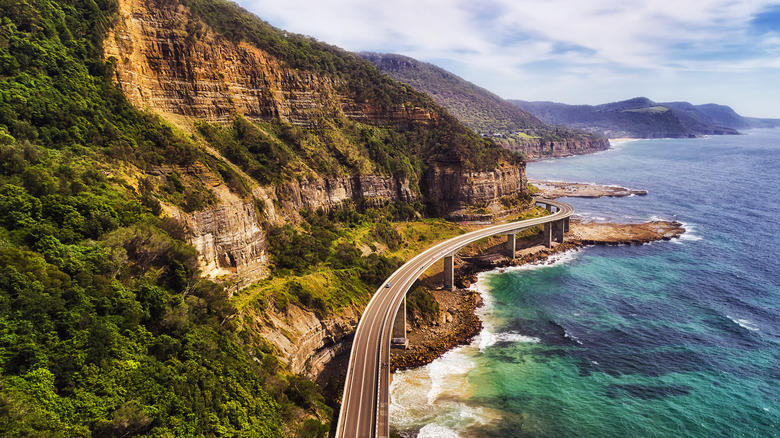 Taras Vyshnya/Shutterstock
The Pacific Coast Highway (PCH) is an iconic road trip that most travelers dream of, but it can be difficult to decide where to stop along the trek. There's so much to see on this stretch of road, from major Californian cities to gorgeous beaches, charming towns, and interesting relics of history. When planning a PCH trip, it's important to remember that this specific freeway is called California State Route 1. It frequently overlaps with Interstate Route 101, which goes all the way up to Oregon and Washington, but they are not the same.
This itinerary focuses on Highway 1, which runs exclusively through the state of California. We've picked 14 of the best stops from north of the Bay Area all the way down to SoCal to help you plan your trip. The large cities, San Francisco, Los Angeles, and San Diego haven't been included as we wanted to provide unique recommendations beyond what stands out as obvious on a map. Feel free to pick and choose to create the best road trip for your preferences!
Glass Beach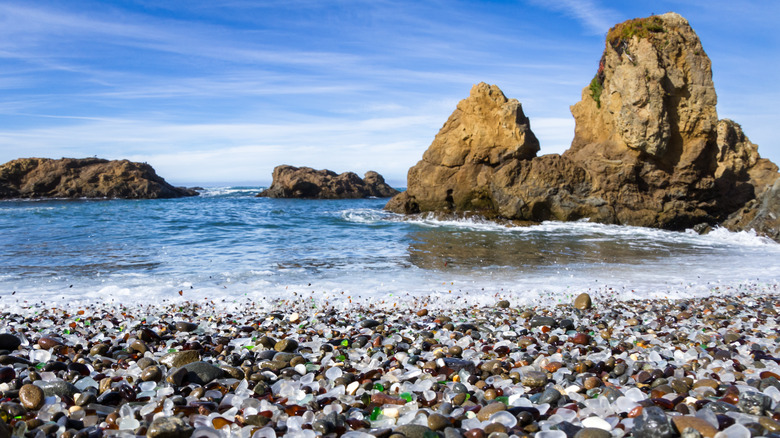 Wollertz/Shutterstock
Our first recommended stop is Glass Beach, just 170 miles north of San Francisco in MacKerricher State Park. The beach is famous and named for the smooth and multicolor sea glass that frequently washes ashore! The phenomenon is mainly due to the fact that Fort Bragg residents used to use the coastline as a garbage dump. And in the past few decades, we've realized as a society how bad this is for the environment, and numerous efforts have been made to clean up the ocean and beaches in the area. However, it's difficult to undo years of mistreatment and thus, the waste has been broken down into the now famous sea glass.
Beyond admiring the novelty of worn debris replacing sand on the shores, there's plenty to do at Glass Beach. Hike the many trails that take you beyond the main beach to others in the area to get a full view of where you are. It's also a fantastic place to tide pool or just stroll at low tide and see what else comes in with the waves.
Mendocino & the Northern Coast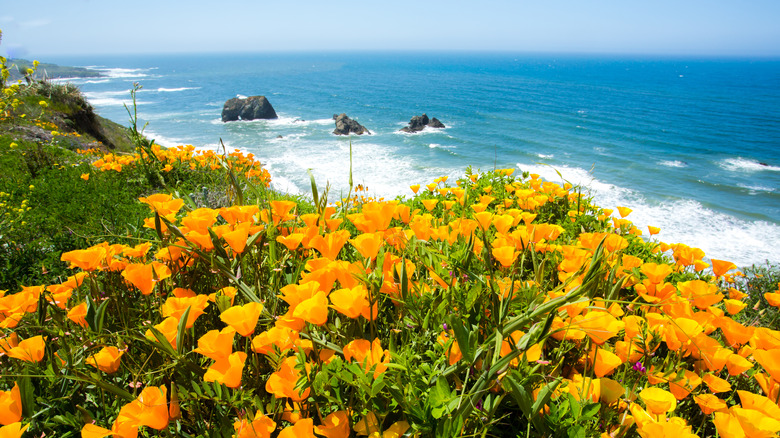 Bob Pool/Shutterstock
This coastal town looks more like a New England village than a California beach town due to original settlers hailing from Maine. Mendocino's look is thus quite unique and full of hidden gardens, towers, and Victorian buildings. You can peruse the local galleries, bookshops, and cafes, and then snap a photo at the Mendocino Bay Viewpoint — one of the best views in the state. And don't forget to go wine tasting, Napa may be the most famous, but there are plenty of wineries in Mendocino County.
Nearby, Mendocino Headlands State Park is the perfect place to hike cliffside paths with sweeping views of the ocean. You'll likely encounter some wildlife such as mountain lions, bears, osprey, beavers, and more who call the park home. It's also a fantastic place to whale watch from November to April — that's one way to take the edge off of a long road trip!
Stinson Beach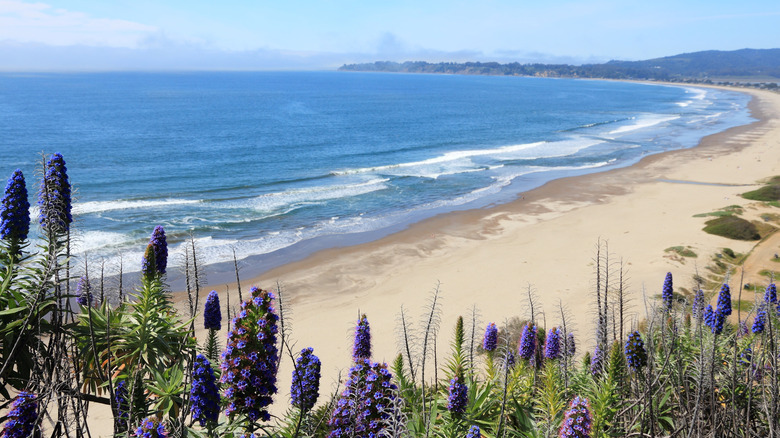 Tupungato/Shutterstock
One of the best places in Northern California to swim, Stinson is just an hour north of San Francisco. It's popular, especially with families, thanks to sandy shores and shallow waters, and it's also open year-round. But depending on what you plan to do, some seasons are better to visit than others. The winter and spring are when surfing conditions are ideal. The summer into early fall is usually the best time to swim, bodyboard, and windsurf in California. Hiking can be done in most conditions — provided you are prepared with appropriate attire. And for safety reasons, remember lifeguards and amenities such as snack bars are only available during the high season from July through early September.
The beach can really fill up on hot and sunny days, with residents from all over the Bay Area looking to enjoy nice weather. For the best experience (and a shot at a parking spot), arrive early, bring plenty of water and snacks, and bring some shade.
Muir Woods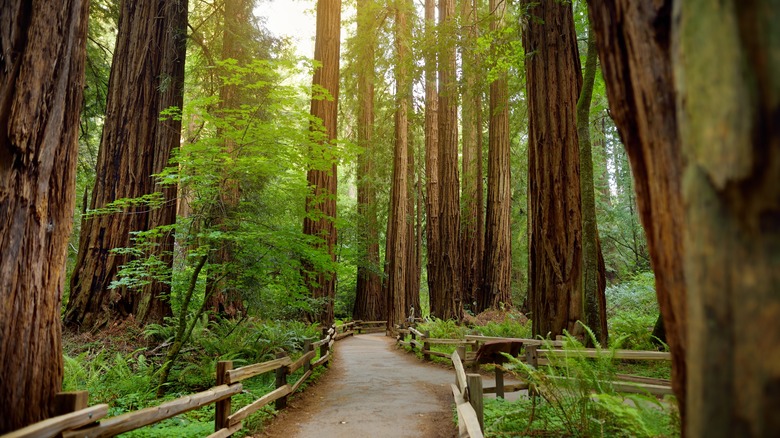 MNStudio/Shutterstock
Not far from the city lies the Muir Woods National Monument, an incredible redwood forest just 20 minutes from Stinson Beach. A hiker's paradise, you won't regret stopping by for some restorative time outdoors. The main path branches into multiple trails, most of which are short and not too strenuous. You also have the option of hiking out of the park and meeting up with others in the area.
The forest can become crowded in the peak summer months with fellow out-of-town road trippers and locals looking to escape the city for the day. So for the best time, try and visit on weekdays and either early morning or later in the day. Don't forget to book a parking spot in advance, it's required and there's no service in the forest so it'd be impossible to do it on the spot. There are also shuttle and transport options should you not want to hassle with your car or prefer to park in an overflow lot.
Half Moon Bay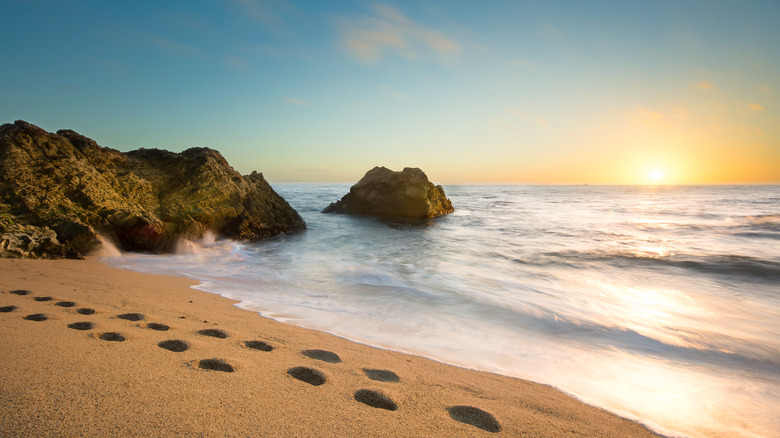 Bryan Huber/Shutterstock
Located not far from San Francisco are some of the best beaches on the coast, and that's saying something! Half Moon Bay is an adorable town just 30 miles from the city. Drive along bluffs that are unlike anywhere else in the state of California. You won't necessarily escape the fog that blankets most of the Bay Area and beyond, but the landscape here makes it so much more magical. Stroll the main street, shop the cute boutiques and galleries, and visit the numerous historic sites. If you're a beer drinker, don't forget to visit the Half Moon Bay Brewing Company.
The gorgeous Fitzgerald Marine Reserve is also a must-visit, especially if you're into tide pooling. The stretch of the coast is home to starfish, urchins, crabs, and more. However, in order to make sure you have the best viewing experience, check the tides on the reserve's website for the day of your visit. Additionally, if you'll be in a group that's larger than 15 or just want a guided tour, make sure to book in advance!
Santa Cruz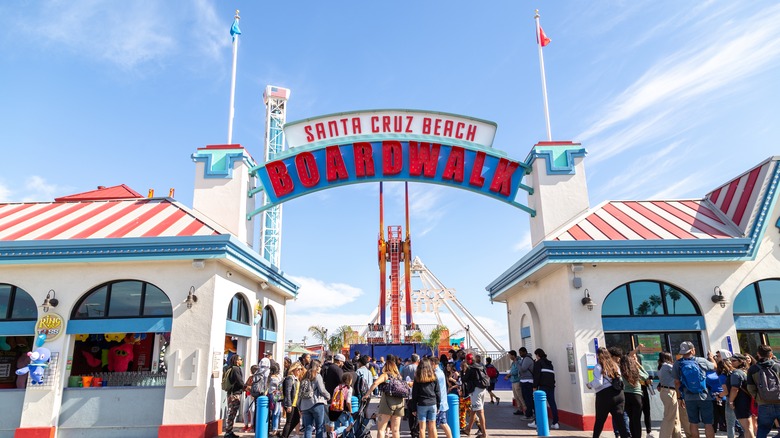 Wirestock Creators/Shutterstock
Known as a quintessential laid-back hippie surf town, Santa Cruz has plenty to offer beyond the beach. Remember, it's a college town, so there's always something going on and it's blissfully low on chain stores, making you feel like you've stepped into a whole new world. Make sure to visit the famous boardwalk complete with the early 1900s rollercoaster and carousel — both still in use today. Ride the trolleys reminiscent of those in San Francisco (but much cuter) and stop by the Santa Cruz Surfing Museum.
If you're more into nature-oriented activities, there are plenty of hikes in the surrounding area. From coastal walks to redwood forests, there's something for everyone. If you're up for a bit of a trip, the Santa Cruz mountains are just over an hour away. For animal lovers, you can spot whales among the waves from April to November. Additionally, the annual butterfly migration goes on from October and February everywhere, which is a truly spectacular experience to see. 
Pigeon Point Lighthouse & Point Arena Lighthouse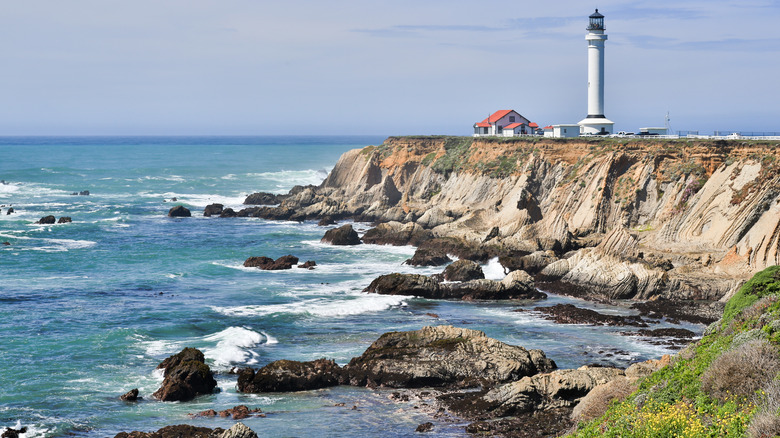 yhelfman/Shutterstock
A coastal road trip is never complete until you visit a lighthouse, or two! Both of these are located not too far from San Francisco and will absolutely blow you away. Point Arena is about 35 miles south of Mendocino and a very easy stop along Highway 1. It has the bragging rights as the tallest lighthouse on the West Coast that visitors are allowed to climb. After climbing 145 steps, you will be rewarded with panoramic views of the Pacific and you can even book evening tours to enjoy a view of the stars.
Pigeon Point Lighthouse is about halfway between Half Moon Bay and Santa Cruz and is much more than just a point of interest. The surrounding grounds are home to amazing views, local plants, tide pools, and seals. There are even on-site accommodations, should you want to explore the area for more than just a few hours. Hike the plentiful trails, explore the galaxy in the dark sky reserve, or just bask in the company of the ocean.
Monterey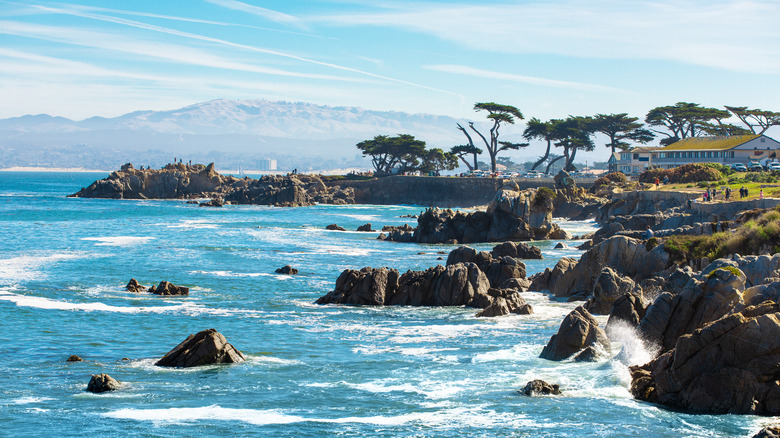 Nikolas_jkd/Shutterstock
This former sardine-industry capital is now a thriving coastal town that should be on any Pacific Coast Highway itinerary. Make sure to stop by Fisherman's Wharf (a smaller, better version of the one in San Francisco) and have a wander, browse the slightly tacky shops and feel like a kid at the fair. Then, walk the Monterey Coastal Trail, a beautiful path along the water with great views and opportunities to spot sea lions, otters, dolphins, and more. If you can, go the entire two miles to Lover's Point Beach and enjoy a swim or suntan before returning to town.
Back in Monterey, explore Cannery Row, where the sardine business used to run. It's now been repurposed for tourism purposes from hotels to boutiques and bars. However, the old ambiance has mostly been maintained, making for an interesting stop. In other parts of town, there are numerous cafes and restaurants to refresh at after a day of exploring. If you have more time, explore further out of town via bike, kayak, or foot!
Carmel-by-the-Sea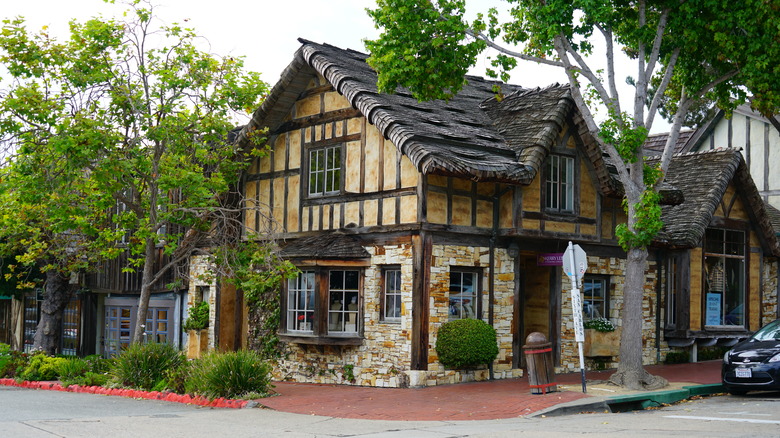 EQRoy/Shutterstock
A bit different from neighboring towns, Carmel-by-the-Sea feels like a fairytale village on the coast, but very upscale. Full of gorgeous white sand beaches where you could spend a day in deep relaxation, it's the perfect place to hide away for a bit. Most homes don't have number addresses, but rather names for the cottages, which adds to the enchantment of the town. Wander the boutiques, enjoy fine dining, and stay in one of the cottages straight out of a storybook! It's a bit different from other coastal towns, as it's set back in the forest that leads to the ocean.
Fun fact — you can pay $10 and take the 17-mile drive from Monterey to Carmel. It's a once-in-a-lifetime experience that passes through the famous Pebble Beach Golf Club and Pacific Grove, where you can peak mansions that look straight out of Beverly Hills. There are numerous vistas to take in the view along the way, as well as a stop for a picnic. For the best weather (no fog), try and go in the late morning or afternoon.
Big Sur & Bixby Creek Bridge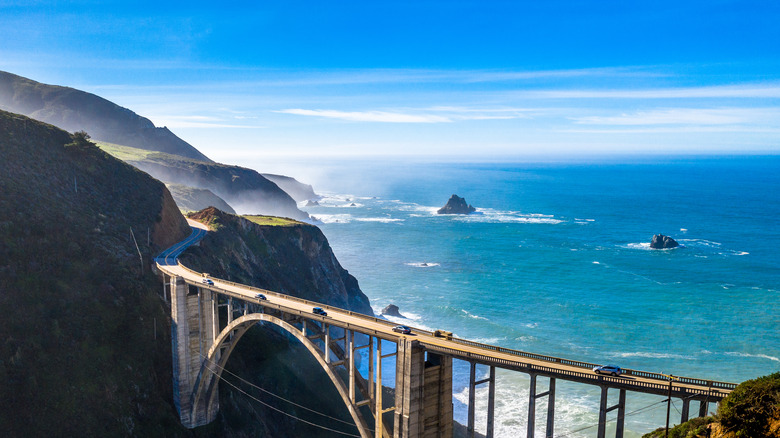 Nuria Kreuser/Shutterstock
The town of Big Sur is cute, but the real star is the stretch of coast between there and Carmel-by-the-Sea. These views are the stereotypical ones that often come to mind when you picture the Pacific Coast Highway. However, the ocean isn't the only reason to drive this iconic stretch of freeway. There are cliffs that look like they belong in Ireland, beaches that rival any in the tropics, towering redwood forests, and wildflowers that blossom every spring. Since Big Sur is so well-known, it can get quite crowded, no matter the time of the year, so it's best to drive this stretch during the week. It's also a highway that can feel quite remote and a GPS signal isn't always guaranteed, so make sure to download offline maps or bring a paper one.
And of course, you can't forget to stop by Insta-famous Bixby Creek Bridge and enjoy the lovely hikes along the way. If you want to visit Big Sur village, it's located about 25 miles south of Carmel. However, keep in mind that, beyond snacks and a few shops, there isn't much to do or see here.
Hearst Castle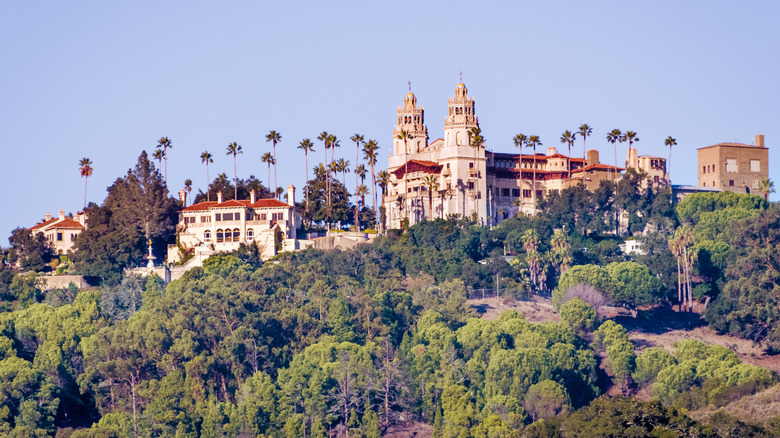 Sundry Photography/Shutterstock
Not far from Big Sur and Carmel lies this relic of publishing mogul, William Randolph Hearst's life and the glamour of 1920s and '30s Hollywood. A true McMansion overlooking the pristine California coast, a visit to Hearst Castle is a must on any Pacific Coast Highway trip. The estate was originally purchased by his father, George Hearst. However, it wasn't until his parents' death and William took over the family home that Hearst Castle as it stands today came to be. The architect Julia Morgan helped Hearst transform what grew to be a 250,000-acre plot and 165-room house into a structure that can only be called a castle.
The rooms rival the likes of royal palaces, the pools are modeled after ancient baths (where most parties hosting famous guests took place), and there's even a Prohibition-era wine cellar. Additionally, the estate used to house the largest private zoo in the world, with numerous animal types from bison to zebra to birds. Most animals were eventually given away to other zoos or shelters, but some descendants remain to this day. As you drive along Highway 1 or the road up to the house, you'll likely catch a glimpse of a zebra or deer. There are also impressive gardens and an old airport that used to fly Hearst and his famous guests directly to the estate.
Morro Bay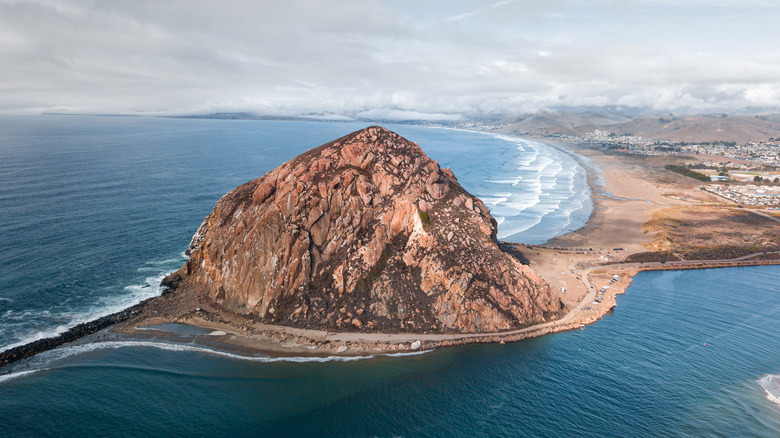 Magargee Films/Shutterstock
Another coastal gem, Morro Bay is a bit different from others on this list. What it lacks in white sandy beaches (although there are some nearby) it makes up for in other unique features. The crown jewel is of course Morro Rock, the volcanic structure that is located in the middle of Morro Bay State Park. 
The park has plenty to offer in activities — you can hike the trails to great viewpoints, such as Black Hill, or take paths that lead to hidden lagoons. Additionally, the beaches are home to numerous tidepools and boardwalks to enjoy. You can also rent kayaks or paddleboards to explore the protected bay and watch the fishermen come and go. Keep your eyes open as well for local sea otters and many birds! Other activities include surfing, kiteboarding, and camping.  Then, at the end of the day, fuel up in town at one of the tasty restaurants or local breweries.
San Luis Obispo & Montaña de Oro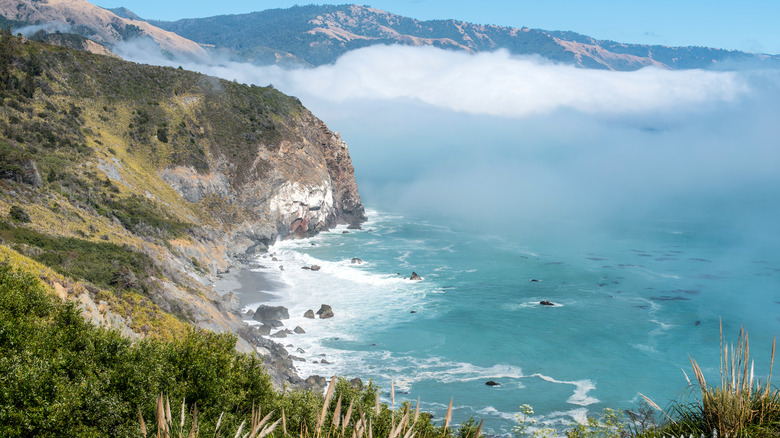 AntonioFernandez/Shutterstock
San Luis Obispo, or SLO as it's known, is a true Central Coast gem of a college town with plenty to offer all types of travelers. The small city is jam-packed with cute coffee shops, restaurants, bars, and shops that could easily fill a day. The little streets are charmingly named after food and flora of the area: almond, cider, elm, fern, and more. Make sure to visit the Mission, one of the most impressive in the state, hit up the drive-in theater, and check out the Farmer's Market if you happen to be around on a Thursday. There are also plenty of museums, from the art museum to the railroad museum and more to keep you busy for an entire day. Additionally, the Cal Poly Architecture Graveyard is a must-visit. Browse the creations of America's future architectures under the Californian sun!
If you're an active person, hike the surrounding hills, climb Bishop's Peak for amazing views, or explore the neighboring vineyards. There are also numerous beaches close by. You can even beach camp at Montaña de Oro State Park!
Santa Barbara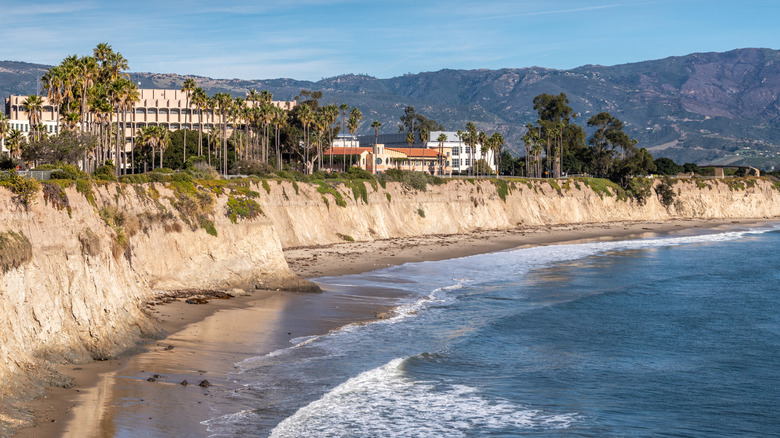 Claudine Van Massenhove/Shutterstock
One of the most famous stops on this list, you have to make it a point to visit beautiful Santa Barbara. Just 100 miles northwest of L.A., the small town has been nicknamed the "American Riveria" thanks to pristine beaches and near-perfect weather year-round. It is still plenty lively thanks to the University of California campus housed there. However, it's also a perfect beach town for lounging and suntanning — with some of the best beaches in Southern California. If you're looking for a more active experience, hike in the nearby Santa Ynez Mountains or Los Padres National Forest. Alternatively, rent bikes on the boardwalk and explore the city on two wheels!
And don't miss the Santa Barbara Mission, right up there with the most impressive in the state! At the end of the day, unwind with a wine tasting at one of the many wineries on Santa Barbara's Urban Wine Trail. No matter what you decided to do, it's the perfect last stop on any trip along the Pacific Coast Highway.