Your Guide For Choosing The Right Maldives Island For Your Vacation Style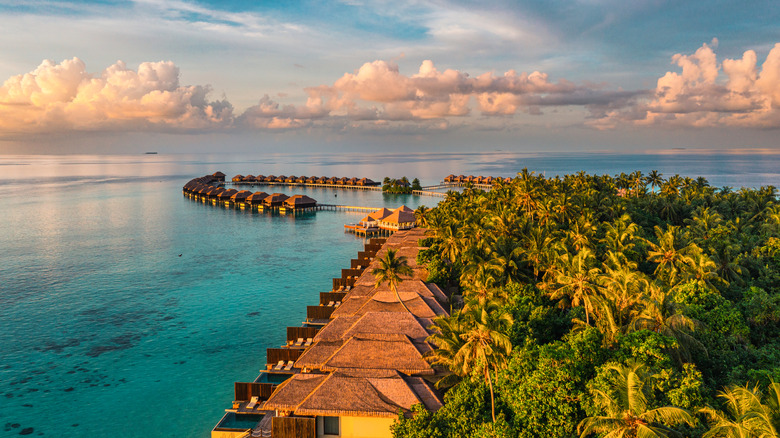 Graphixel/Getty Images
This island nation in the Indian Ocean often fulfills the image of the archetypal luxury, tropical paradise escape, one where days are filled with blue skies, sugary white sand, and gorgeous turquoise waters. Visit the Maldives, and this mental mock-up won't disappoint — the thousands of islands here really are like that. The water is warm, often calm, improbably soft and welcoming, and always a delightful medium to float or swim. 
And yet, tourism in the Maldives is a relatively recent phenomenon, with the first resort opening in the early 1970s, a little more than 50 years ago. Since then, tourism has mushroomed, from less than 400,000 visitors in 1995 to 1 million in 2021, and the Maldives has perfected the concept of the one-island-one-resort model. Many of those resorts skew toward the luxury end, but the islands of the Maldives don't just appeal to rich sun-seekers. This is where to find backpackers, surfers, and families on a budget; to see which islands might be best for you, read on.
The lay of the islands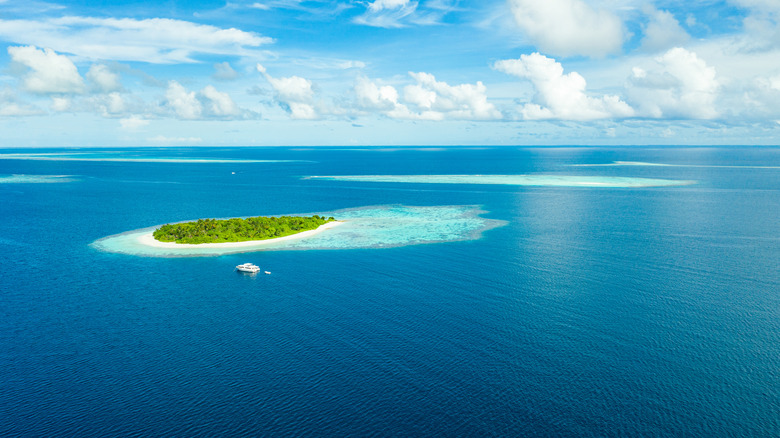 Graphixel/Getty Images
For any passenger flying above the Maldives, excitement will bubble up when looking out the plane window. The color of the sea, sometimes deep blue and brooding or slowly morphing to clear turquoise when approaching an island, instills a sense of calm in the viewer. The islands seem to appear randomly as if dropped from the sky, yet there is some order to them, cast as giant rings of coral that sit across the Indian Ocean. 
The Maldives' statistics are, indeed, awe-inspiring — almost 1,200 islands divided across 26 atolls, arrayed like coral necklaces against a backdrop of thousands of square miles of endless cobalt water. Only ⅙ of those islands are inhabited, and the total land mass of the country is little more than 115 square miles (about the same size as Fresno, California). Yet, despite its seemingly Lilliputian proportions, the Maldives loom large as an idyllic, aspirational getaway that beach lovers dream of visiting at least once.
Time traveler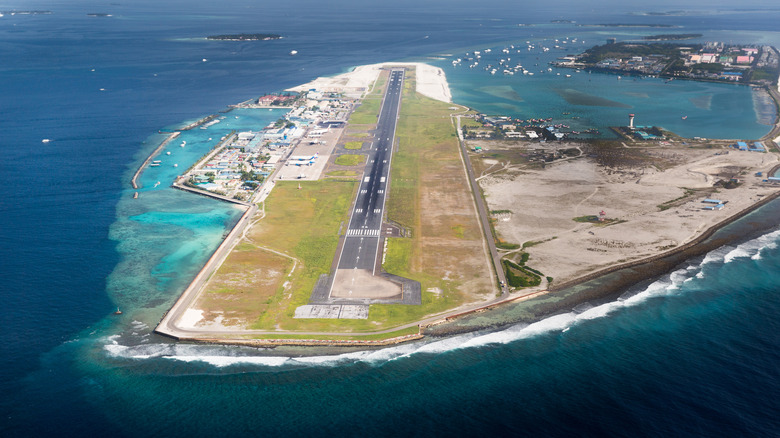 Klemenr/Getty Images
What is quite remarkable is the number of airlines that fly to Malé, the capital of the Maldives, a sign of its importance as a tourism magnet. Carriers from Europe, Asia, and the Middle East serve the country's main airport — Velana International Airport — which sits on an island just across from the capital Malé. Alas, there are no direct routes from anywhere in the United States to the country, and flights from the U.S., with connections, take about 20 hours.
There is a hotel on this airport island, formally known as Hulhulé, but this is mainly for passengers transiting from one flight to another. The reality is that the Maldives' scintillating resorts are neither on Hulhulé nor the main island of Malé but lie on other islands. What this means is that passengers arriving at Velana airport should expect to take a boat or another flight (or even both) to reach their final destination.
Urban escape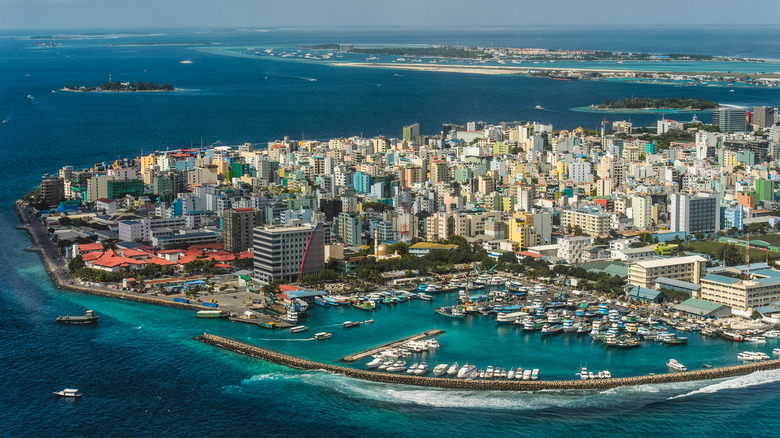 Niromaks/Getty Images
While most tourists come to the Maldives to hit the beach, the island of Malé is a fascinating place to visit. From the air, Malé is a crazy sight, filled to the edges with buildings, like a cityscape crammed with giant LEGO pieces. The Maldives is an Islamic nation, and that will be more evident on Malé than at the resorts where alcohol flows and guests wander around in swimwear. 
Malé is small, less than 4 square miles, and can easily be explored on foot in a couple of days. Visitors will find touristy souvenir shops, but there are also local markets, places to get Maldivian cuisine, and some interesting landmarks. The streets are often alleys, narrow, windy, and great to wander. Be sure to stop by the Grand Friday Mosque, a gleaming white structure that is one of the most attractive manmade sights in the country. On the north part of the island, the fish and vegetable markets are a visual and olfactory adventure.
Ease of access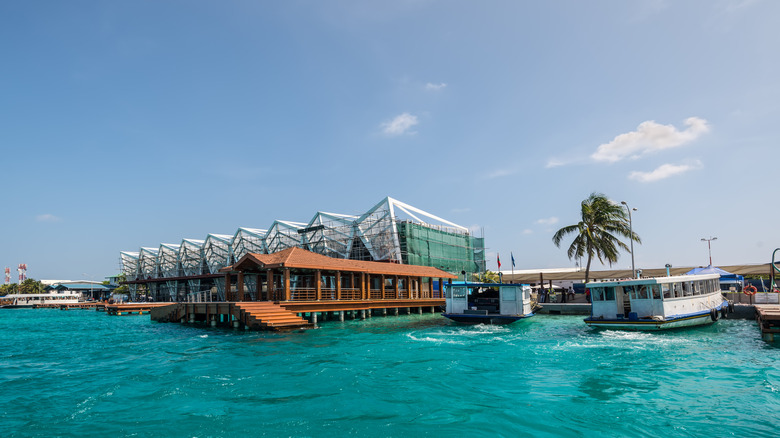 Vale_t/Getty Images
For visitors on a tight schedule, getting to their resort as quickly as possible is a key part of their holiday plan. Obviously, the resorts in the atolls closest to the airport are the ones that a tourist can reach more expediently, as the transfer to them is via speedboat. As well as being quicker, speedboat transfers are substantially cheaper than seaplane transfers and can even be done at night when the latter can't fly.
Many atolls near the airport have resorts, including, as the names suggest, North Malé Atoll and South Malé Atoll. Taj Exotica Resort & Spa, Maldives, is a property that sits in the latter of those two atolls and can be reached in about 15 minutes by speedboat directly from the airport. That boat ride is an experience that will make a traveler feel like a billionaire being whisked away to a secret haven.
Marine moments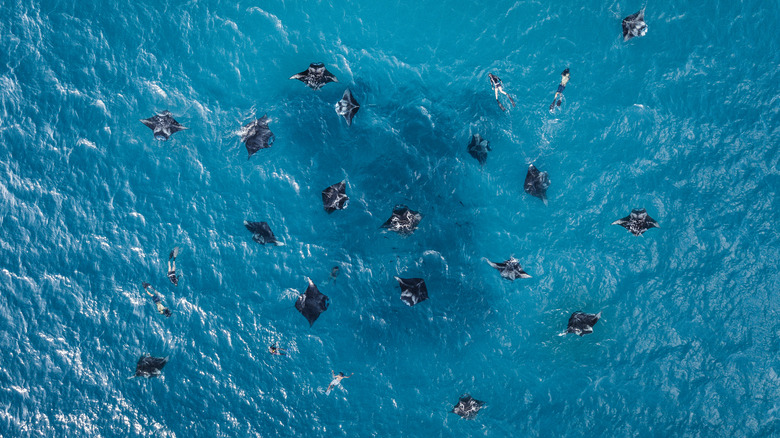 Filippobacci/Getty Images
A UNESCO-recognized natural area, the Baa Atoll Biosphere Reserve is a marine wonderland with lagoons, deep channels, and other aquatic features like seagrass beds and mangroves. The reefs constitute one-twentieth of the reefs in the world, with more than 250 species of coral visited by more than 1,000 types of fish. Larger marine life includes the elegant, sweeping manta ray, the grand, effortlessly nonchalant whale shark, and endangered turtles. 
There are 75 islands in the reserve, though a little more than 10 have people living on them, making nature the real draw here. For snorkeling and diving, this is the best place in the country to explore the water, located in the middle of the country, just below the northern band of atolls. Luxury resorts in Baa Atoll aren't hard to find — Anantara Kihavah, Nautilus, Soneva Fushi, Milaidhoo Island, Avani+ Fares Resort, and Vakkaru are among the top choices.
Board meeting
It may surprise some readers to learn that the Maldives has reliable surfing. That shouldn't be a shock since the nation sits amid an ocean. The surfing here is definitely agreeable, with warm water all year round ensuring that visitors don't need a wetsuit, and the season runs for most of the year. However, a couple of windows stand out for optimal conditions, specifically from March through May and September to November. 
Near the airport, North Malé Atoll pioneered surfing, and it still draws many surfers for its regular waves, smooth, drawn-out rides, and undeniable convenience. For more committed wave riders, Huvhadhoo Atoll, in the south, has some of the best breaks, but there aren't many lodging options. In this case, visitors tend to stay on a nearby island and charter a boat to get out to the surf. Among the top sites are Beacons, Five Islands, and Tiger Stripes.
Table matters
Resorts all across the Maldives promise visitors a plethora of food, with at least one restaurant specializing in buffet-style meals. Since most properties are destination resorts, guests will spend almost all their time on the island, and room rates that include meals are often the simplest booking option. Travelers seeking plenty of dining choices should consider the Waldorf Astoria Maldives Ithaafushi, which opened in the summer of 2019. 
With 11 restaurants on site (pretty impressive considering only 119 rooms here), the food choices span the globe. Glow focuses on health-driven menus, with organic produce from the resort's gardens, natural wines, and cleansing drinks. Delectable Middle Eastern dishes like hummus, fatoush, kebeh akrass (beef with pine seeds), and grilled seafood lure diners to Yasmeen, while Shanghainese is the specialty at Li Long. The most unique experience might be at Terra, where guests are served inside bamboo-framed orbs that sit among the tree canopy.
A fully rounded experience
While most resorts occupy their own island, like a grand castle surrounded by a moat of the most gorgeous water you will ever see, Fari Islands gives that idea a novel twist. This concept marries four islands with three resorts and presents them as one branded destination. This allows guests to enjoy a wealth of varied experiences — multiple dining outlets, more extensive shopping than on most islands, and the rarity of choice. Two properties are currently open — Ritz-Carlton Maldives and Patina Maldives — with the Capella Maldives still to come. 
The development includes a central Marina Village with dining, a beach club, a full marina where yachts can berth, and two homes that act as shopping boutiques. The location in North Malé Atoll allows guests to be at the extravagant property in less than an hour after leaving the airport aboard one of the destination's luxury speedboats.
Family fun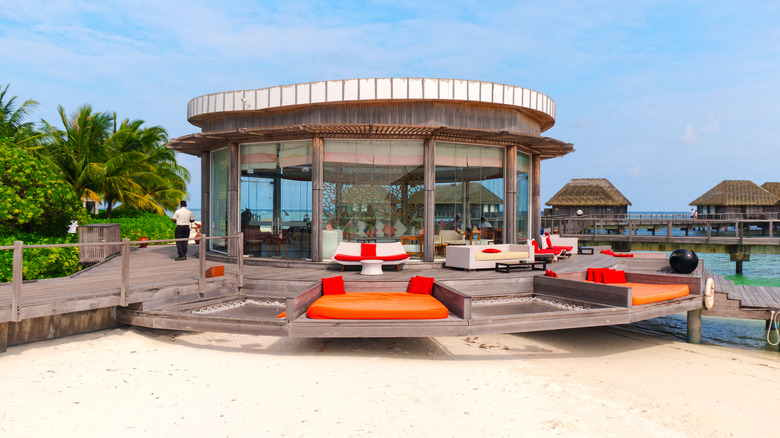 yasuspade/Shutterstock
Even if the Maldives seems like a place primed for couples, with romantic strolls on the beach and candlelit dinners among the highlights, the conditions here are ideal for families. It's an incredibly safe country, with annual crime rates of less than 10 incidents per 100,000 population, against a comparable figure of almost 400 in the U.S. However, the U.S. Department of State warns of possible terrorist attacks in popular tourist locations and remote islands. 
Of the Maldives' resorts, the Club Med Kani stands out for its all-ages offerings. It's a convenient property reachable from Malé's airport by speedboat. Youngsters can spend time at the kids' club, play games and activities with their peers, or learn to master the flying trapeze or sailing. There are singing and dance performances and talent shows, all staged by the children, while treasure hunts and competitions to build sand castles allow the entire family to join in on the fun.
Wellness wonder
Since a large part of any trip to the Maldives involves spending time outdoors, this is a great place to focus on health and well-being. Resorts often have spas that offer body treatments, facial rituals, and healing journeys, but the overarching concept of wellness is a central component of any stay at Como Cocoa Island. Located in South Malé Atoll, the property often hosts renowned healing practitioners who carry out treatments, workshops, and wellness discussions. These health-focused itineraries help guests on their journey to a better life with therapies such as trigger point yoga and massage, body realignment, and pain management. 
These all occur at Como Shambhala, the wellness center at the property. It's a calming sanctuary spread over two floors with hydrotherapy pools, a yoga studio, and carefully designed menus with healthy, nutritious food. The views of the water from each treatment room are restorative in their own right.
Local living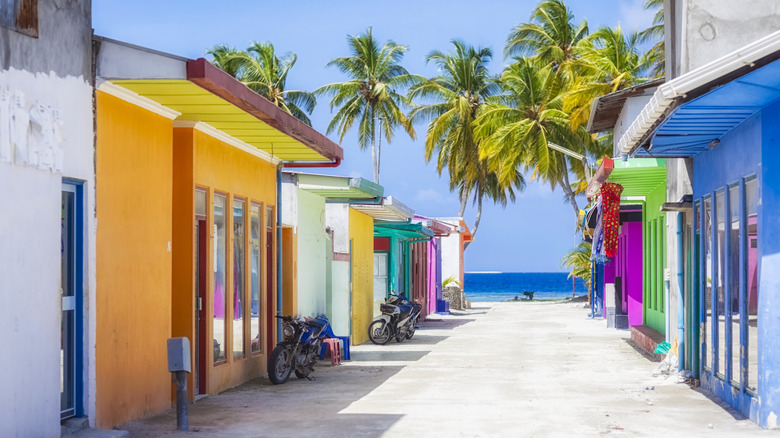 Cinoby/Getty Images
Many islands host tourists not looking for a private island resort, and these have gorgeous beaches and ambiance. On a local island, lodging will be cheaper, and you can see how Maldivians live. Among them are Fulhidhoo and Thoddoo, islands with hotels and guest houses that won't have the kind of plush facilities that resort islands promise. 
These islands have typical Islamic country restrictions, as Maldives is one. This means no alcohol available, no pork products, people are expected to be modestly dressed, and beachwear is permitted only on specific sections of sand. In addition, individuals who are not Muslim and openly express their religious beliefs can face punishment under the country's laws. For marine enthusiasts, Dharavandhoo is a local island in Baa Atoll with whale sharks, manta rays, and a plethora of fish species. The island also has its own airport, with many daily flights from Velana Airport.
Private life
For the ultimate, self-initiated, Robinson Crusoe-style castaway escape, the Four Seasons Private Island Maldives at Voavah is hard to top. Situated in Baa Atoll, it unfurls across five acres of land and comes with its own 60-foot yacht, a spa, a dive center, seven bedrooms (which can sleep up to 21 guests), and even dolphins that regularly visit the waters. 
Visitors here will want nothing — staff on call include doctors specializing in Ayurvedic treatments, hairdressers, and spa therapists. However, guests can just as easily unwind by lazing on a hammock suspended above the ocean. For adrenaline junkies that like to get their kicks while wet, there are plenty of water toys at hand — X-Jetblades, jet skis, kitesurfing rigs, Seabobs, and more. Located north of Malé and south of Maafaru International Airport, getting here requires a trip on a seaplane, but the effort is worth the sense of complete mastery of your domain.
Golf getaway
While the island resort with the only golf course in the country (Shangri-La's Villingili Resort & Spa) shuttered due to the pandemic, golfers visiting the multi-island paradise of the Maldives don't have to lose all hope. Velaa Private Island has a golf institute — the Velaa Golf Academy, the handiwork of the Spanish golfer José María Olazábal, who won two U.S. Masters titles. 
The academy uses state-of-the-art technology to analyze a player's swing, and coupled with professionals on staff who provide instruction and tips on how to improve in all aspects of golf and outdoor play areas; it adds an element to a Maldives vacation that isn't available elsewhere on the islands. Golf isn't the only active option here, and the property has a covered tennis court, another unusual amenity in the Maldives. Guests will also enjoy water gadgets like hydrofoil electric surfboards, flyboards, and the seated water-powered contraption known as the Jetovator.
High rollers
Part of the luxury house LVMH, Cheval Blanc Randheli, has regularly attracted the moneyed and celebrity sets. It's a gorgeous place with artful design and dreamy accommodations that a traveler would never want to leave. Take the Lagoon Garden Villa, which marries two typical accommodation categories — one in a garden and one suspended over the water. It comes with two bedrooms that have ensuite bathrooms, high cathedral ceilings, a clean, whitewashed palate, and an extreme level of privacy. 
Artwork suffuses all spaces, from large bold sculptures to subtle injections of the color yellow. Of course, there is an achingly beautiful spa, fantastic beaches, and a ubiquitous sense of escape here. But Cheval Blanc Randheli is likely to make a hefty dent in most travelers' budgets — rooms typically cost more than $1,500 per night — with posts online balking at the hefty price of a burger. But if you can afford to stay here, an $85 burger shouldn't be an issue. 
Budget conscious
Despite the previous highlight, a trip to the Maldives doesn't have to decimate your bank balance, and a number of properties offer full-board stays for about $200 or less per night. These, however, might not fully recreate the popular fantasy of the Maldivian island idyll. Still, they will allow travelers to enjoy the sensational water that is, to be honest, the biggest draw of this bucket-list island nation. 
Kuredu Resort, in Lhaviyani Atoll (a grouping north of Malé), has tastefully furnished rooms set in gardens and features overwater lodgings. While the amenities and furnishings might not be as plush as in the five-star resorts, the prices can easily be a quarter of those in the more polished properties. At Malahini Kuda Bandos, accessible from Velana airport via a boat transfer, a Garden Room sleeps up to three people, has bright linens, and can cost less than $180 a night.
Party animals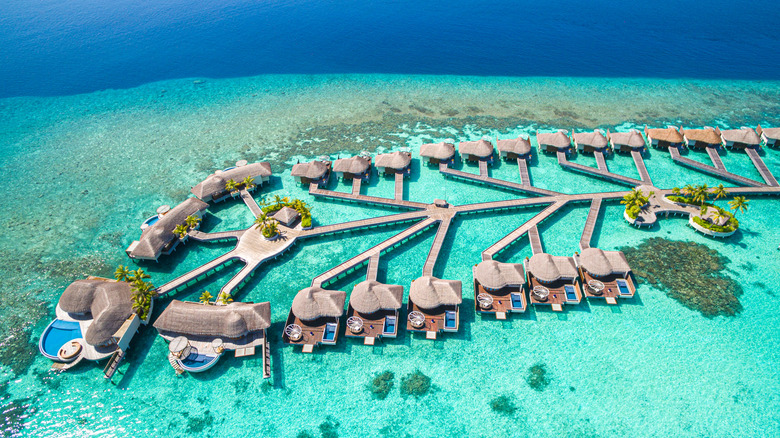 Firushan numaan/Shutterstock
W Hotels has long carved out a niche for itself as the party hotel brand, the kind of place where young, beautiful people congregate, sipping drinks while DJs spin under the glow of neon. For travelers that like the sound of that melange, the W Maldives is the place to book a room. The island is shaped a little like a heart, making it a hit with honeymooners, and offshore, the reef teems with marine life. 
Back on land, the fire pit is the focal point at Fire, and meats and seafood are grilled using a number of methods, including a tandoor oven. Sip is where the action heats up even more, an outdoor lounge that serves oysters, caviar, champagne, and cocktails to the beats of a DJ. The property also holds seasonal bashes, like a foam pool party to mark the new year, and parades where staff and guests dress up.
Sleep underwater
While sleeping with the fishes is used as a euphemism to describe a person who has met an unexpected demise, guests of the Muraka, the underwater villa at the Conrad Maldives Rangali Island, can sleep among the fishes without concern. The residence, set at the end of its own jetty and spread over two levels, is a world first. It is a fully functioning underwater accommodation with a bathroom that sits below sea level and a bedroom encased in arched acrylic panels that offer unimpeded views of the sea life. 
This engineering wonder is like living within your own aquarium but with the comfort derived from a plush bed and incredibly soft linens. Better yet, the room comes with 24-hour butler service, so if you need, for instance, some popcorn to nibble on in the middle of the night, all it takes is the press of a button.
Land unlocked
Since the Maldives' territory is mostly sea, with little slashes of land in between, why be constrained to spending time on terra firma? Liveaboards that ply the country's sumptuous waters let tourists enjoy the astounding sea without being confined to a single island. However, as with liveaboard in general, they are geared more toward visitors for whom the water is the burning focus of the trip. That said, these boats offer outstanding comfort. 
The "Adora," for example, has rooms and a dining area with gleaming wood floors, Wi-Fi, room service, and a broad top deck perfect for catching some rays. On the "Honors Legacy," popular with groups that go fishing or surfing, meals can be gourmet, and islands that are uninhabited can be easily explored. A liveaboard is a smart solution for any visitor to the Maldives who likes the idea of freedom to roam and the chance to see many parts of the country.