Best Travel Apps To Download Before Your Next Overseas Trip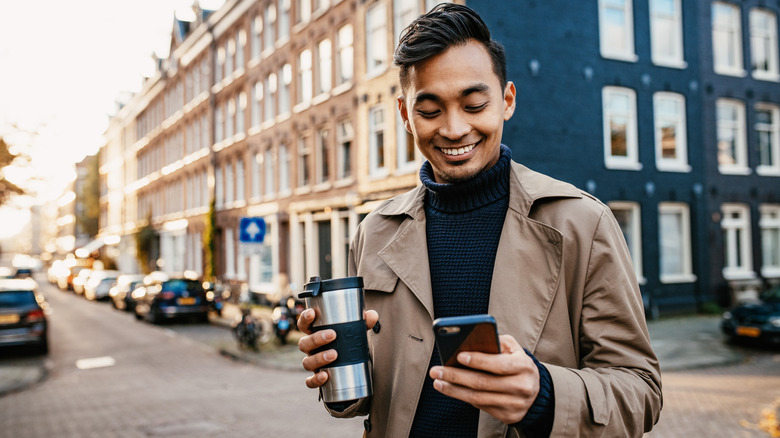 Drazen_/Getty Images
Americans embark on approximately 93 million trips overseas each year, which would normally entail a lot of intense planning to ensure everything runs smoothly before diving into the unfamiliar. After all, there are so many things to consider before embarking on an international trip. You'll need to tackle how to communicate in a foreign language, how to calculate different currency values, and even just how to get around in a new place on a trip abroad. That's only the beginning, too.
Luckily, the international travel game was changed for the better forever with the emergence of smartphones. Travel preparations that once took months of planning can now be handled swiftly by hitting a few buttons and downloading an easy-to-use app. Planning for an international trip can feel daunting, but downloading the following convenient travel apps for your next overseas trip will make your adventure way easier, safer, and more efficient.
DeepL
Peopleimages/Getty Images
One of the most immediate hurdles of traveling overseas is not speaking the local language. From the moment your plane touches the ground in a foreign country with a different language, you'll need to figure out a way to communicate. While it's smart to learn a couple of key phrases in your destination's language, you won't become fluent overnight unless you're a bona fide prodigy. That's why you need a good translator ready on your phone.
Many people will turn to Google Translate to help with translating on an overseas vacation, but the truth is that it's a pretty inaccurate translator with accuracy rates as low as 55% in some languages. That could lead to a lot of confused looks on an overseas trip. Instead, download the free app DeepL for more accurate translations in more than 25 languages. With DeepL, you can do things like save certain phrases to refer back to and use your camera to translate text. It's also been found to be more accurate than other translators out there.
Rome2Rio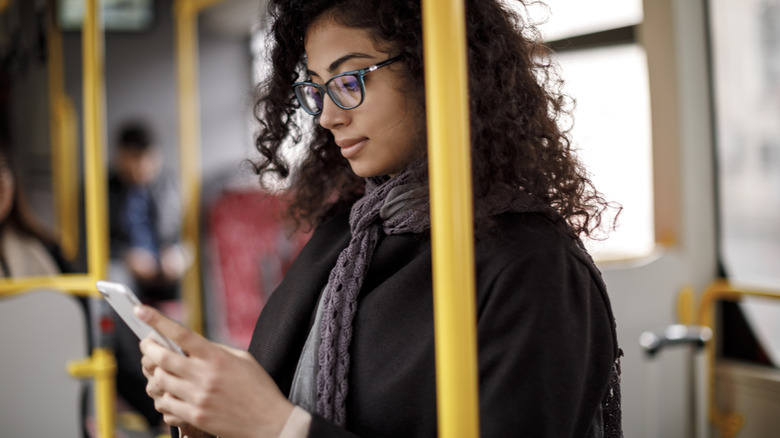 Damircudic/Getty Images
Figuring out the best way to get from point A to B in a foreign country can be a little scary and confusing, but it's been made a whole lot easier with Rome2Rio. This handy little app allows you to input two different places, and it shows you every single way you can make the trip. You can input locations like countries, cities, tourist attractions, and addresses.
Rome2Rio will give you walking, train, bus, ferry, or plane directions depending on what's available for the route, so you'll know all your options and how much they cost. It'll tell you which route is the cheapest, quickest, and overall best choice for transportation. The app even provides a direct link to buy the tickets when you decide on a route and want to commit. You can plan out your entire route on an international trip with the assistance of Rome2Rio.
Hopper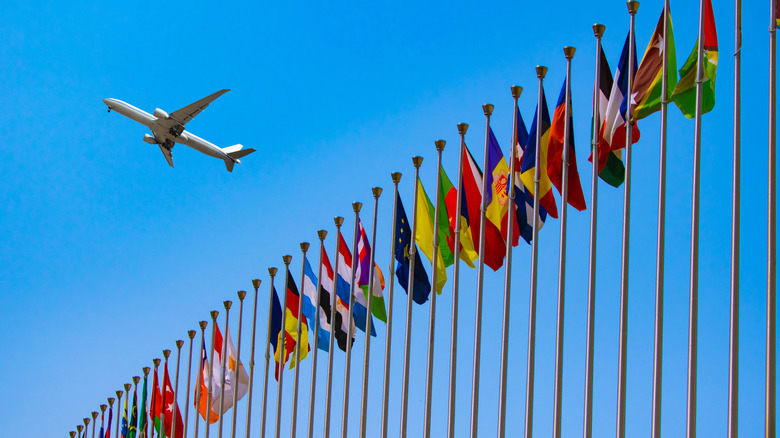 Honglouwawa/Getty Images
The biggest expenses of an overseas trip are usually booking flights, accommodations, and rental cars. It's a drag to shell out all that cash, but Hopper can save you a lot of money on these necessary travel expenses. Hopper is an app that tracks the price of flights, cars, and hotels across multiple providers, and lets you know exactly when to buy for the best price.

When you find a good deal on the trip of your dreams, Hopper lets you freeze the price for up to seven days to get the funds in order. The most noteworthy Hopper feature is its predictability model, which can tell you exactly when a flight, accommodation, or rental car is about to increase in price. Its predictions are said to be 95% accurate, too. Hopper is the smartest and cheapest way to make these big travel purchases and never fall victim to the price skyrocketing randomly.
WhatsApp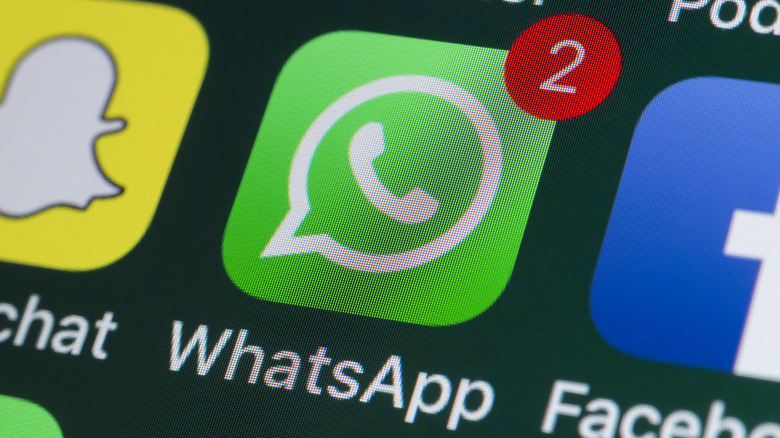 Stockcam/Getty Images
WhatsApp is the third most-downloaded application in the entire world, with an insane 424 million downloads in 2022. There is a good reason that there are 2.78 billion active users on WhatsApp, and that number is growing every year. It's one of the most reliable encrypted messaging apps out there and allows anyone with an internet connection to send a message or make a call from anywhere in the world, making it perfect for an international trip where your provider from home might charge you an arm and a leg in roaming fees.

WhatsApp lets users securely message, call, and share media with anyone from around the world no matter where they go. It's no wonder that travelers have been downloading WhatsApp religiously for years. Users can adopt their regular phone number from home to sign up and even sync up the app with their contacts list. As long as you have Wi-Fi, WhatsApp is a free phone alternative that you can always count on overseas.

TimeShifter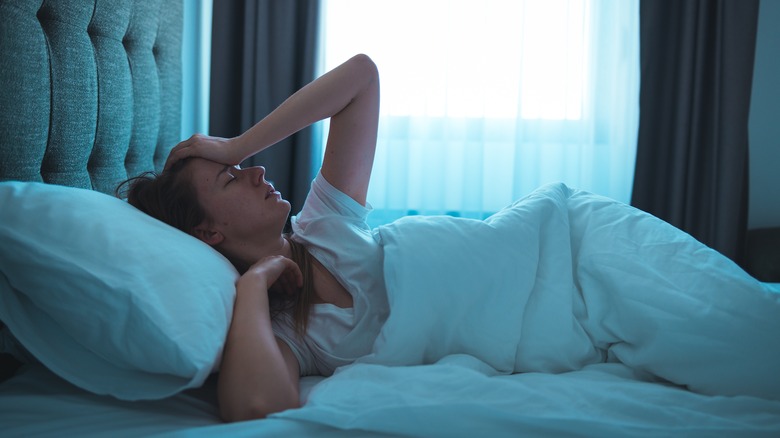 Dragana Gordic/Shutterstock
Jet lag is that groggy exhaustion that comes with switching time zones, and when you're traveling overseas, it's practically inevitable. There is nothing worse than losing out on days of your short overseas vacation because you're too jet-lagged to do anything fun. Luckily, you don't have to worry about jet lag ruining your limited vacation time anymore thanks to the TimeShifter app.
TimeShifter uses the power of light exposure to shift your circadian clock and eliminate jet lag all by simply putting you on a timed schedule. It sounds simple, but it can completely transform your vacation experience, especially if you're only going away for a week or two. The TimeShifter app sends you prompt alerts of exactly when to sleep and when to wake up to get on the new country's time as fast as possible. It's actually a technique that's been used by NASA astronauts in space, and it's incredibly effective.
Google Maps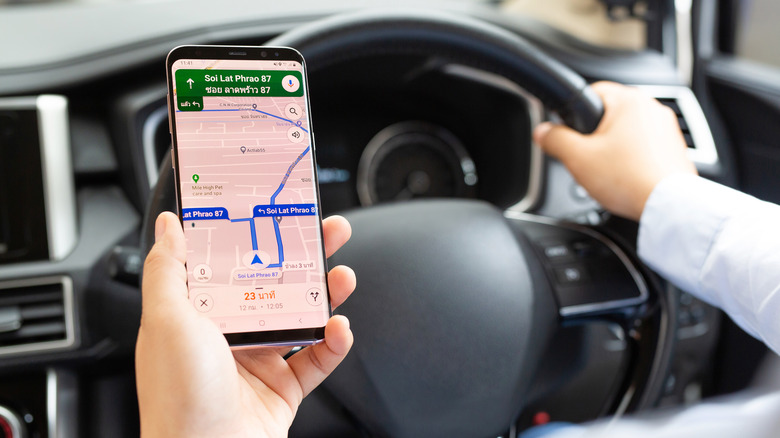 Kamonwan Wankaew/Shutterstock
No matter which country you're visiting on an overseas trip, you'll likely need a little help to find your way around. Enter your new best friend: Google Maps. Google Maps is by far the most popular navigation app in America with 24 million downloads in 2022 alone, but it's just as useful internationally.
You don't want to be wandering aimlessly without Google Maps on your side to help you figure out where you're going. It's quite easy to get lost when you're exploring a new place, even if you're good with directions normally. Google Maps can keep you on track or save you with a quick reroute if you do end up getting turned around.
Google Maps has a ton of lesser-known features to help you on a trip, too. For example, it is a great way to remember the places you visit on your travels by dropping pins on the locations. You can also use this feature to remind you where you parked or where your accommodations are.
XE Currency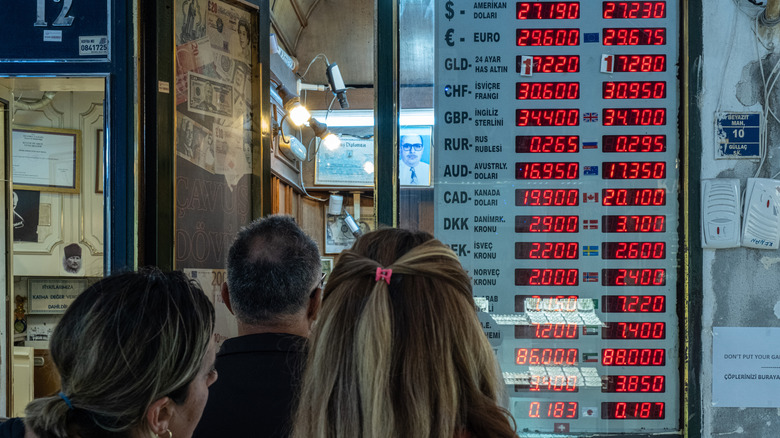 Bloomberg/Getty Images
There are so many different things to get used to when you're traveling overseas to a foreign country, like using an entirely new system of currency to buy stuff. The currency rate is an important thing to consider before you start spending money. Otherwise, you could be easily ripped off because you don't know how much your money is worth in your vacation destination.

It can get extremely confusing to learn a new currency on a trip and figure out exactly how much you're spending every day. Instead of doing mad Google searches to figure out the daily exchange rate, download XE Currency and let it do the work for you. This is a very simple app that allows you to see the live currency exchange rates for 170 different currencies. Every second and cent the rate changes, it will be immediately updated in XE Currency for you to see.
Tripcoin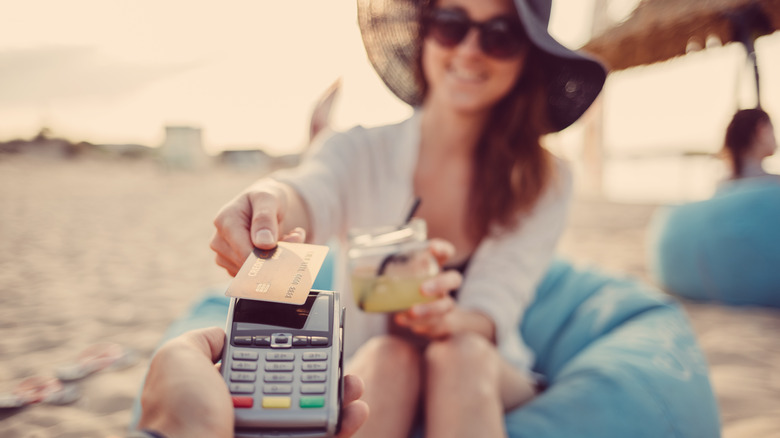 Martin-dm/Getty Images
When you're out in the allure of a foreign country, it's tempting to treat yourself to everything and go over budget if you're not careful. One good way to at least make an attempt at avoiding this, is by using the Tripcoin app. Tripcoin is a travel budget tracker that you can use to hold yourself accountable on a trip on the go. All you have to do is log your expenses into the app during your adventures and Tripcoin will do the rest from there.
The goal is to help you keep track of your spending habits and make sure you don't exceed your hard budget limit. Tripcoin allows you to track expenses in more than 150 currencies and doesn't require an internet connection. It lets you understand your spending habits while traveling so you can be on top of your budget and organize your finances, no matter what currency you're using.
PackPoint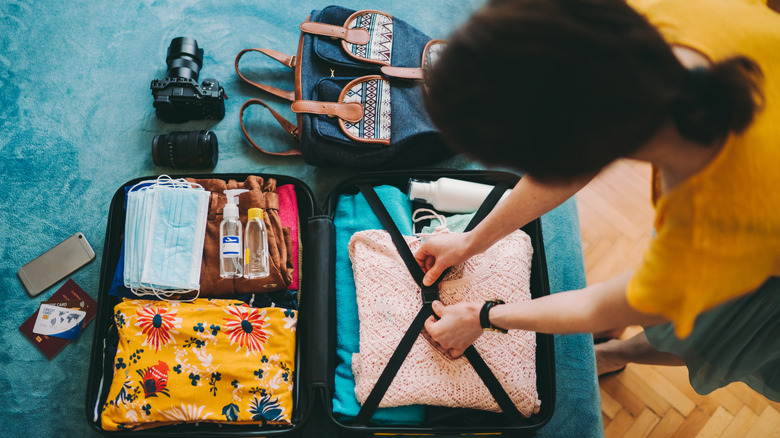 Martin-dm/Getty Images
It can be a struggle to remember everything on your packing list for a trip overseas. With electronics, clothes, toiletries, medications, travel documents, and more — there is just so much stuff to think about before you head off to a foreign country. If just one crucial item slips your mind during the packing process, it can be a complete disaster before your trip even gets going. That's where PackPoint comes to the rescue.
PackPoint helps you build a comprehensive packing list based on what type of traveling you're doing, where you're going, the activities you're planning on, the weather, and more. Based on PackPoint's recommendations, you can add or remove things until you create the ideal packing list for your trip. As you put each item away into your luggage, you can easily check off each thing until the whole list is completed, which makes it a great solution for visual people. PackPoint is the only app you'll need to make sure you never forget something important in your suitcase again.
TripIt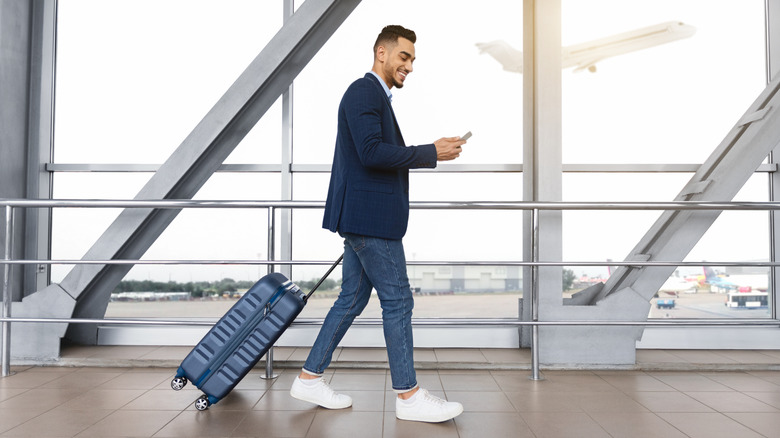 Prostock-studio/Shutterstock
When you're going on an international trip, you usually have to juggle several different emails or websites to find all of your travel information. Think about it — you have confirmations for your flight, hotel, your pre-booked tours, your rental car, and they're all randomly floating around in your emails somewhere. It can be pretty annoying to juggle between all these confirmations in the midst of a big travel day.
However, all of that stress is a thing of the past when you download the app TripIt. The premise of this app is pretty simple. It lets you effortlessly organize all your travel plans in one place, so you can just open the app and have your entire itinerary in front of you. All you have to do is email your confirmations to plans@tripit.com every time you book something new. That's all there is to it, and from there, TripIt will develop an itinerary for your whole trip to keep everything tidy.
NordVPN or similar VPN service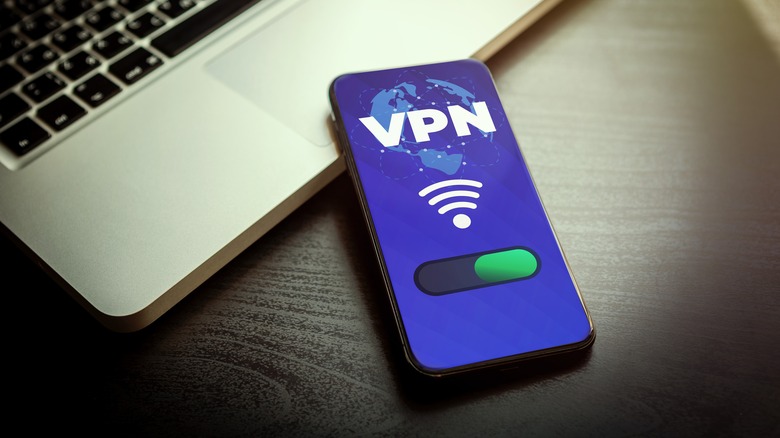 BestForBest/Shutterstock
Most people don't really think about how vulnerable connecting to an unknown Wi-Fi network makes them. All it takes is one wrong click and you could be giving up all of your digital information. That's why connecting your devices to random Wi-Fi networks on a trip abroad is so sketchy. It can lead you to get your information stolen or way worse.
That's why it's so crucial to use a solid VPN. VPN stands for virtual private network, and it keeps your info protected on the World Wide Web by doing things like hiding your IP address and encrypting your data. It makes it way safer to connect to public Wi-Fi networks.
There are a lot of different VPN options out there, but one of the best is NordVPN. With NordVPN, you can use up to six devices at once, and it has some of the strongest encryption services with 5,000 servers from 60 countries. The other big benefit of having a VPN app while traveling abroad is that it'll allow you to watch streaming service content from other countries.
Uber, Grab, Cabify, or similar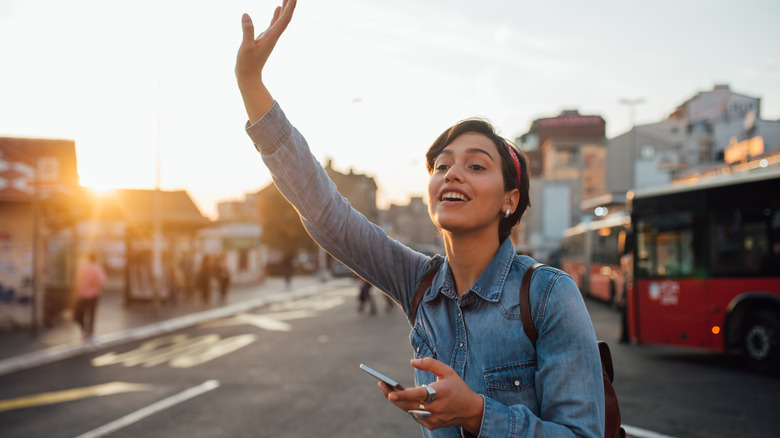 Brothers91/Getty Images
Every region in the world has its own variation of a rideshare app, and you'll need to rely on it at some point during an overseas trip. Uber is the largest rideshare app in the world right now with 130 million monthly users and 7.6 billion trips carried out (and counting). It's also available in 72 countries, so if you're not sure which rideshare app to use, it's a safe bet that Uber will have your needs covered on a trip abroad.
However, there are also a few other options if Uber isn't available in the country you're visiting. For example, Grab is a popular rideshare app in Asia; Cabify is widely used in Latin America; and FreeNow is useful in many parts of Europe. Just make sure you figure out which rideshare app is the most widely used in your destination and download it before you arrive because it'll likely be very helpful at the airport.
AccuWeather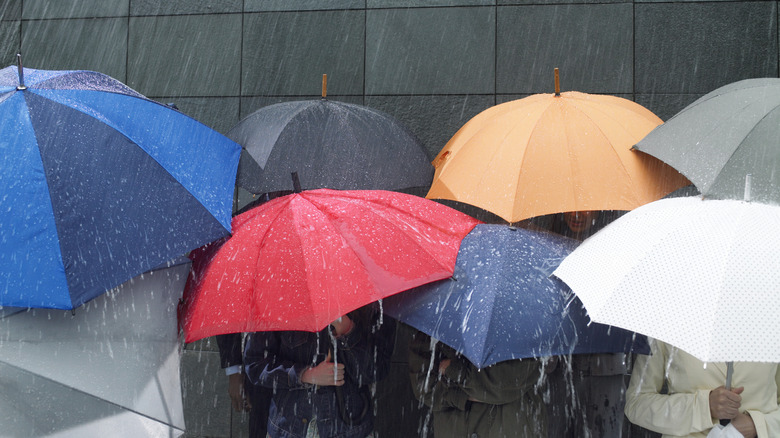 Michael Blann/Getty Images
Weather can make or break your international trip, and you always want the most accurate information on the go. Lots of people just rely on their phone's weather app or just Google it every time they need an update, but downloading the AccuWeather app is a way better choice. There is real science backing up AccuWeather. More than 100 expert meteorologists work at AccuWeather to provide the most reliable results, and it's been proven that they're doing a really good job.
A study of 120 million weather forecasts over the past four years proved that AccuWeather was the most accurate out of all of them. The app's interface is neatly organized, and it offers a bunch of features you won't get on other weather websites or apps. AccuWeather even shows you when certain weather conditions are expected to stop or start down to the minute. So, you can plan to leave your hotel 10 minutes later to avoid a random rain shower.
Flush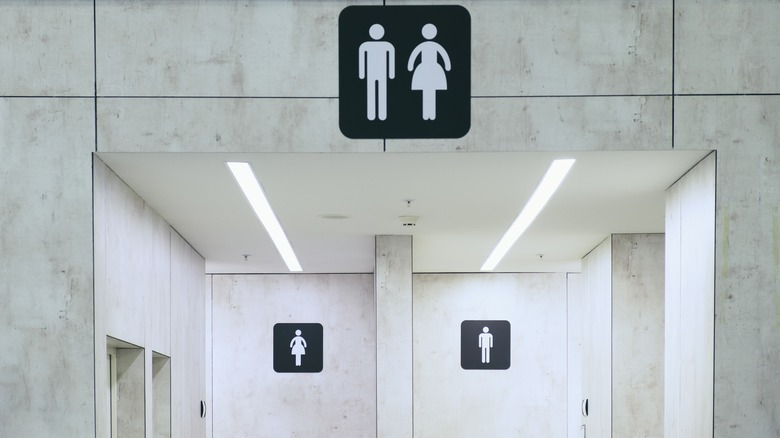 Galina-Photo/Shutterstock
It seems inconsequential, but the Flush app can completely save the day when you're traveling abroad and don't really know the terrain yet. Imagine how stressful it would be to try and find a bathroom in a new country overseas without speaking the language or knowing where to look on the streets. With the Flush app, though, you can pinpoint all the public bathrooms around you based on your exact location.
The app features more than 200,000 public toilets listed all over the world. Additionally, it includes important info about the restrooms, like if they have disability access, whether you need to pick up a key to use them, or if you'll need to pay a fee to use the bathroom. When you're out in the middle of a foreign city and desperate to find a bathroom fast, you'll be thankful that the Flush app is downloaded on your phone.
Transit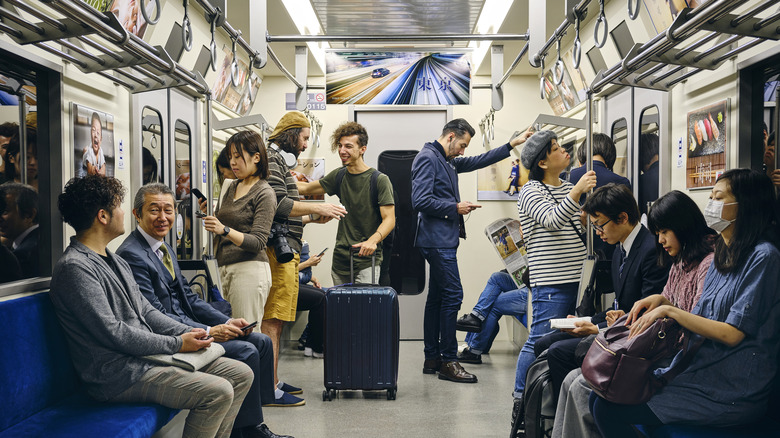 Richlegg/Getty Images
Getting familiar with a new country's public transportation system can be extremely confusing, especially if you're trying to navigate maps and routes in a foreign language you don't understand. The journey is a lot less daunting when you have the Transit app on your phone, though. Transit shows you exactly how to use a city's various public transportation options to get from where you are to your chosen destination.
The directions on Transit are very detailed, including information like how long you'll have to wait between stops, when the next train/bus/etc. is arriving, and telling you exactly when you need to get off at your stop. The app is updated live with incoming trains, so you always know exactly when you need to be ready at the platform or station, too. You'll even be alerted if your train or bus is delayed by a bit or if there are any route closures along your journey. Transit is already available in more than 300 cities across 18 countries so far and counting.
Airalo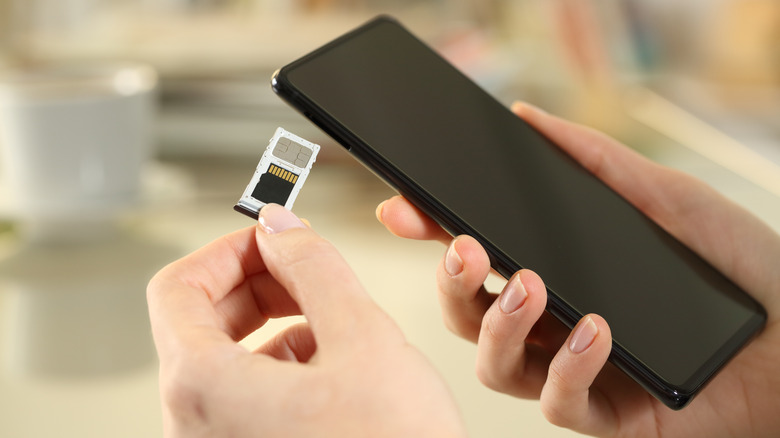 Pheelings media/Shutterstock
Phone companies charge insane amounts of money for using your phone overseas, but one way to get around those fees is by purchasing a local SIM card for cheap. The main drawback of this solution is that getting a SIM card and understanding the details in a foreign country isn't very fun on a vacation. Instead, opt for Airalo.
Airalo allows you to purchase a local eSIM card through their easy-to-use app without ever having to visit a store in person. The best part is it's super affordable. First, you choose the country you're visiting, then you pick a plan that fits your needs, and then you're good to go. Airalo offers eSIM cards for more than 200 different countries, and it's already used by more than 5 million people around the globe. You can even get a global eSIM that works in more than 130 different countries if you're a full-time traveler.