This UK Destination Is Perfect For Wildlife-Watching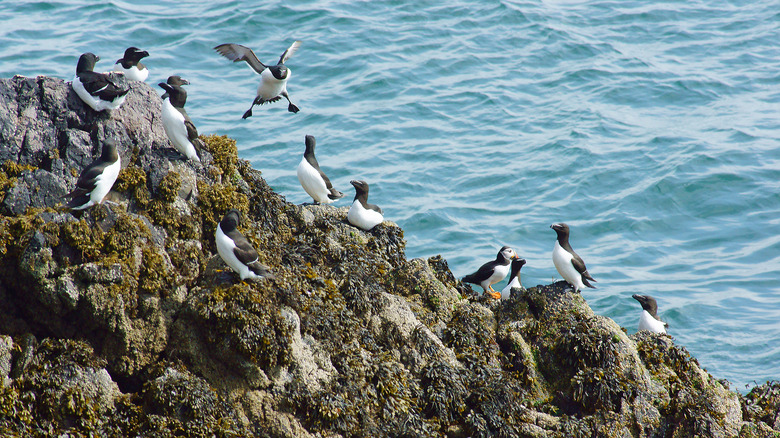 PJ photography/Shutterstock
It is a quite remarkable statistic that almost 85% of Brits live in cities and other densely populated urban areas, far greater than anywhere else in the world. Correspondingly, most of the nation's most popular tourist destinations are also found in cities, with nine of 2022's  top 10 attractions located in London. With statistics like that, the British Isles don't exactly sound like the ideal destination for people who are obsessed with wildlife, but the figures don't tell the whole story. The United Kingdom has hundreds of nature reserves, national parks, and areas of outstanding national beauty, and Pembrokeshire in Wales is home to a wonderful array of wildlife.
Thanks to the relatively small size of Britain (the state of Texas is almost three times larger), even the nation's most isolated scenic spots are usually within easy reach of major towns or cities. The same goes for the spectacularly rugged Pembrokeshire Coast National Park; while the region is sparsely populated, it's only a two-hour drive from Cardiff, the capital of Wales. The area's remoteness makes some of its craggy islands the perfect layover for avian visitors in the summer months.
Why Wales is great for wildlife and nature lovers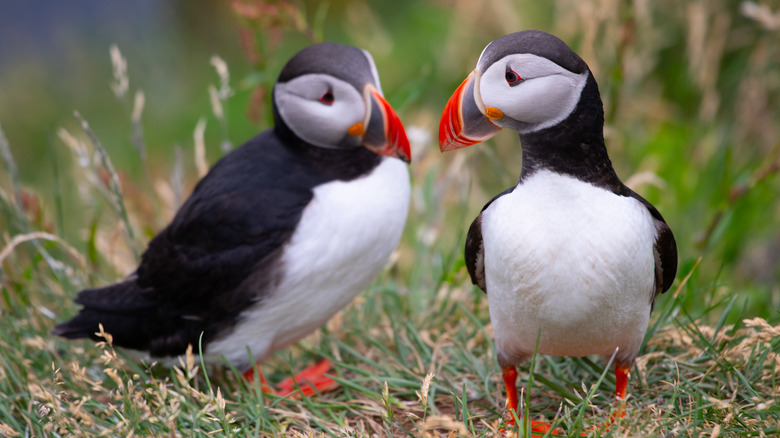 Mantaphoto/Getty Images
Wales, or Cymru in Welsh, is a beautiful country of dramatic mountain ranges, sweeping valleys, and well over 1,000 miles of gorgeous coastline. With its distinctive culture, traditions, and Celtic language that is prominent on all road signs, you know you're in a different country from the moment you cross the border. Wales has a population of just over 3 million people, with a large percentage of them living in coastal cities in the southern part of the country. That means you are more likely to bump into a sheep than another person in vast swathes of the interior.
Although Wales is around six times smaller than neighboring England, it is home to a comparatively large number of nature reserves: 76 compared to England's 221. One of the most majestic is the Pembrokeshire Coast National Park. With a rugged coastline dotted with coves, wide sandy beaches, and lighthouses, it's a great place to get away from the rat race. Dolphins, porpoises, and seals can be spotted offshore and twitchers (British slang for birdwatchers) will delight in a trip to Skomer Island, where a large colony of Atlantic puffins makes their home from April to July each year. During puffin season, regular boats run from Martin's Haven every day apart from Mondays and must be booked in advance. If you find Skomer a bit too touristy, you can always book a visit to Skokholm, an even more remote island to the south.
Other things to see and do in Pembrokeshire
Wldavies/Getty Images
Pembrokeshire is a hiker's paradise with almost 190 miles of the Pembrokeshire Coast Path to explore. More adventurous visitors can brave the cold waters for a range of activities including surfing, fishing, kayaking, and coasteering, which involves climbing cliffs and swimming through sea caves. For fans of manmade monuments, Pembrokeshire is also home to a fine range of castles. Medieval Pembroke Castle dominates a bend in the river and the charming small town beneath it while the towers of Cilgerran Castle loom over a steep gorge. For those who prefer their Norman keeps with a sea view, Manorbier Castle overlooks a secluded beach. To take a journey even further back in time, visit the Neolithic Pentre Ifan Burial Chamber, made from the same local rock as Stonehenge.
Pembrokeshire also has plenty to offer in terms of art, culture, music, and foodie events like the Narberth Food Festival and the Milford Fish Festival. The region's towns and villages are small but have plenty of history and personality, cozy hotels, boutique shopping, ancient pubs, and an increasing number of fine eateries, cafes, and farmer's markets. Some highlights include the county's largest town, Haverfordwest, with its old Norman castle and lively riverside scene; Tenby, showcasing a quaint harbor full of colorful fishing boats and four golden beaches; and St. Davids, Britain's smallest city, where picturesque shops and houses are contrasted by its grand cathedral and ruins.