This Popular Magic Kingdom Attraction Is Finally Getting An Update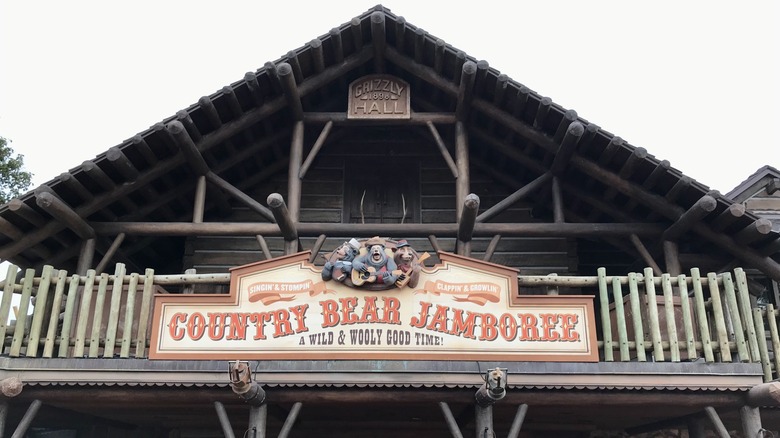 Joshua Meyer/Static Media
For more than 50 years, the Country Bear Jamboree has been a fixture of the Magic Kingdom at Disney World. Every day, guests file into Grizzly Hall to see the show's Audio-Animatronic bears banter and sing country songs. In 2012, the bears got a makeover, with new fur and a shortened show, but now, they're set to receive their biggest update ever. At the Destination D23 event, livestreamed on Sept. 9, 2023, Disney announced that the Country Bear Jamboree will undergo a revamp in 2024.
Chris Beatty, creative portfolio executive at Walt Disney Imagineering, said of the bears, "They're going to be learning some new songs, and performing a whole new act." Beatty also told the crowd that Imagineers are "envisioning this new take on the classic Jamboree as an homage to the classic musical revues of Nashville." Currently, the bears perform songs like "Mama, Don't Whup Little Buford," "Blood on the Saddle," and "The Ballad of Davy Crockett." Now, they'll get a different set list.
In a behind-the-scenes video shared onstage, musicians could be heard recording a countrified version of "The Bare Necessities," originally sung by the bear Baloo in the animated film "The Jungle Book." "When the new show debuts," Beatty explained, "the [Country Bears] will reinterpret their favorite Disney songs in different genres of country music. Think: rockabilly, bluegrass, pop country, and a lot more. And we're working with some fantastic Nashville musicians to get that authentic sound just right."
The Country Bear Musical Jamboree
Above, you can see the new attraction poster that Disney unveiled for the Country Bear Musical Jamboree. It features well-known characters like Big Al, Trixie, and the bear MC, Henry. Eagle-eyed fans noticed that one other bear, "Liver Lips McGrowl," appears to be reimagined with a new name and blond pompadour as "Romeo McGrowl." The change seems designed to weed out racial stereotypes across Disney rides — an ongoing process that has also worked to retheme the Splash Mountain attraction as well. Though the announcement slated the update for 2024, an exact timeline for reopening has not yet been specified.
The original Country Bear Jamboree was intoduced as an attraction at the Magic Kingdom back in October 1971. Before his death in 1966, Walt Disney originally helped develop the show as part of a California ski resort that never came to fruition. Upon its debut, the show was so popular that it became the first major Disney attraction to be cloned across multiple parks. In 1972, Disneyland opened its own California version of the show, which ran for almost 30 years. The only surviving version of the original show will continue to run, partly in Japanese, at Tokyo Disneyland's Country Bear Theater.