The Absolute Best Places To Spend Thanksgiving In The U.S.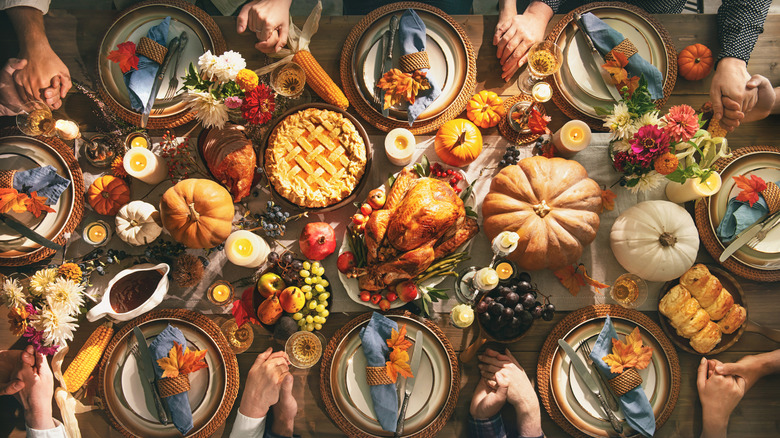 Alexander Raths/Shutterstock
The Thanksgiving holiday in the U.S. is right around the corner, but it's not too late to make travel plans. Whether you're looking for an escape with your family or to escape from them, it may be time to start thinking outside the usual spots when planning for Thanksgiving. According to the Transportation Security Administration (TSA), over 2 million passengers passed through TSA checkpoints daily in the week before and after Thanksgiving in 2022. It's safe to say that the November holiday is one of the busiest times of year to be on the go.
November also brings cooler weather across the United States. While some travelers embrace the colder temperatures, others stretch their snowbird feathers and flock south for the winter. Our list of the best places to spend Thanksgiving in the U.S. offers a variety of destinations and activities — and some might surprise you.
Solitude, Utah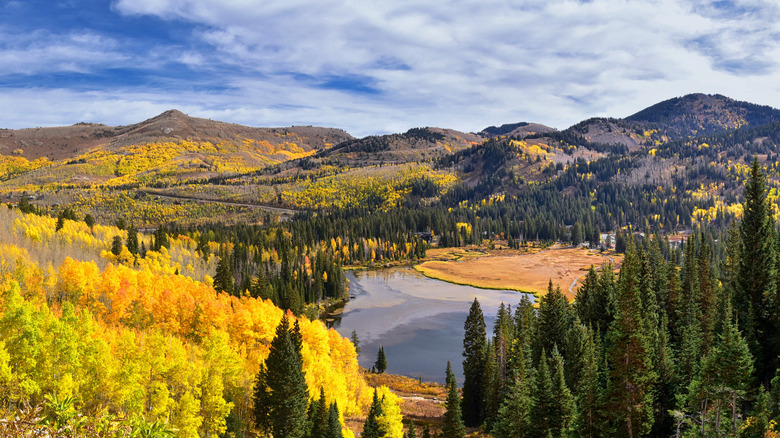 Jeremy Christensen/Shutterstock
Utah locals know what an incredible ski location Solitude is, but it's still under the radar for many. Located just 30 minutes from Salt Lake City, Solitude Mountain Ski Resort boasts over 1,200 acres of prime skiing real estate. While ski season may not be in full swing during Thanksgiving, this scenic mountain destination is anything but boring. In fact, because the mountain may not be fully open, the crowds might be lower, and hotels may be offering deals to fill their vacancies.
Solitude offers visitors plenty of activities that don't involve skiing. From restaurants to spas to trail hikes and more, the town's slower pace can be an appealing change from the hectic holiday season. However, according to Solitude Mountain Resort's Instagram account, the 2023-2024 season will open on November 17, so it might not be too much of a stretch to imagine yourself at least seeing some snow on your Thanksgiving visit.
Arcadia, California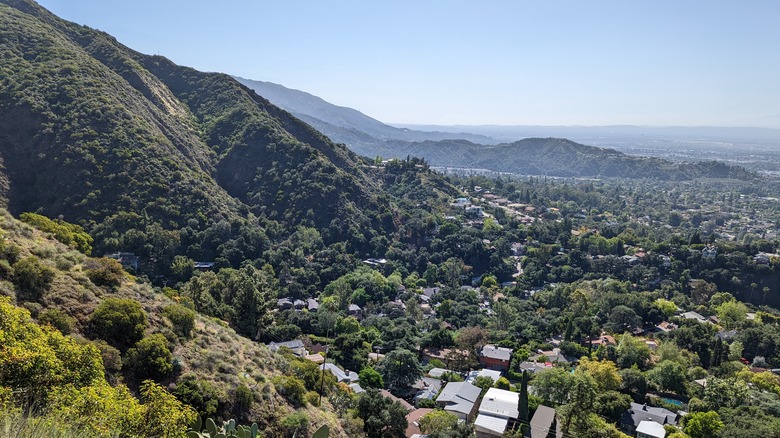 Noah Sauve/Shutterstock
California has a diverse ecosystem as well as a large overall population. The Golden State has everything from northern ski towns to southern beaches, and its biggest cities are often bustling with locals and travelers alike. Outdoor enthusiasts love visiting Southern California because of its mild, year-round temperatures, making hiking and enjoying the outdoors easier. Arcadia, California, located in Los Angeles County, is closer to the mountains than the city of Los Angeles. This makes Arcadia the perfect place to escape from the crowds and enjoy a more peaceful holiday. 
Popular hiking trails near Arcadia include Santa Anita Canyon, Sturtevant Falls, and Jones Peak. Some of these well-known hiking trails tend to be overcrowded, but the crowds dissipate as the Thanksgiving weekend draws near. If hiking and biking get to be too much, you can always hop back over to Los Angeles and hit the tourist spots, which may be a bit less crowded around the holiday. 
Willamette Valley, Oregon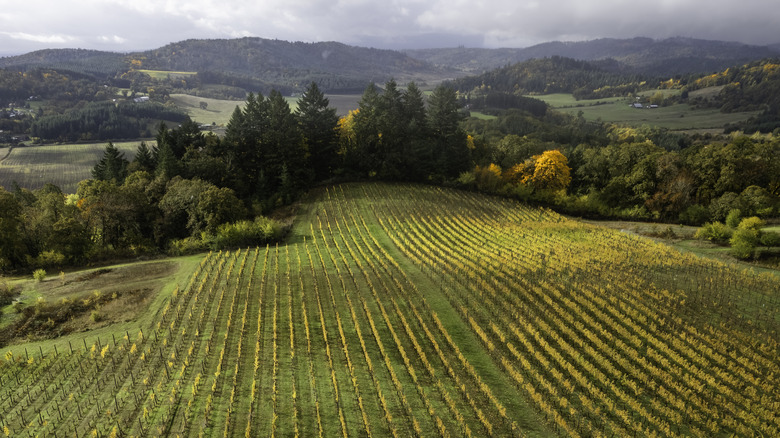 Bobbushphoto/Getty Images
Skip the crowded wine regions of California and head to Willamette Valley, Oregon. Book your hotel or rental property in Portland and make a convenient day trip to nearby Willamette Valley to visit their vineyards and enjoy the scenery. With over 700 different wineries to choose from, it doesn't matter if you prefer red or white because there is a winery in the region that's right for you. The regions of the valley are divided into the North Willamette Valley, South Willamette Valley, Mid Willamette Valley, and West Cascades.
For something a little more family-friendly, check out the Albany Historic Carousel and Museum. Admission and tours are always free; carousel rides are currently $2 per person. Families may also enjoy the Oregon Film Trail. The trail covers movies filmed throughout Oregon, but in Willamette Valley, you'll be able to see the setting of "Stand By Me" and "Twilight," which were filmed in the area.
New Orleans, Louisiana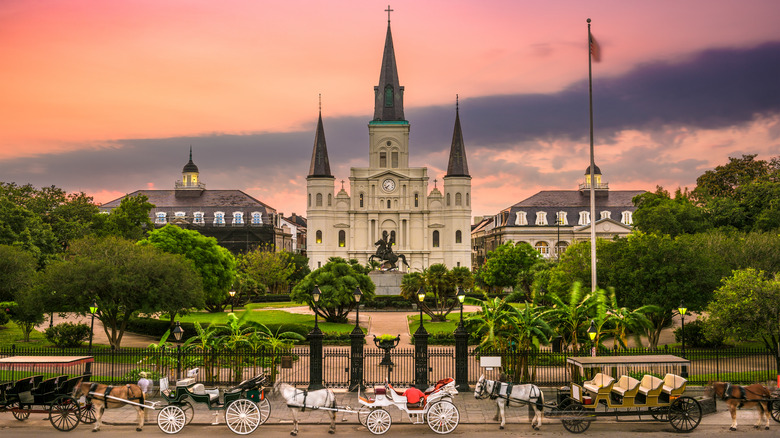 Sean Pavone/Shutterstock
Home to festivals for every occasion, New Orleans, Louisiana, is an excellent option for a Thanksgiving getaway. The temperatures hover around the mid-70s during the day, and the nights are cool rather than cold. Crowds will be thinner between Halloween and Christmas, but don't count on the festive city being empty. Even in November, there are plenty of activities to choose from, including the days leading up to Thanksgiving. Several holiday markets will be open to help you get ahead on your Christmas list, and the Oak Street Po'Boy Festival promises to keep you full until Turkey Day.
Don't settle for a boring turkey dinner on Thanksgiving Day. Instead, try a "turducken," which is a Cajun creation. The unique main dish, created by cooking chicken breasts inside a duck breast inside a turkey, is offered at several of the restaurants that stay open on the holiday. Enjoyable activities and someone else cooking? That sounds like an excellent Thanksgiving.
Hudson Valley, New York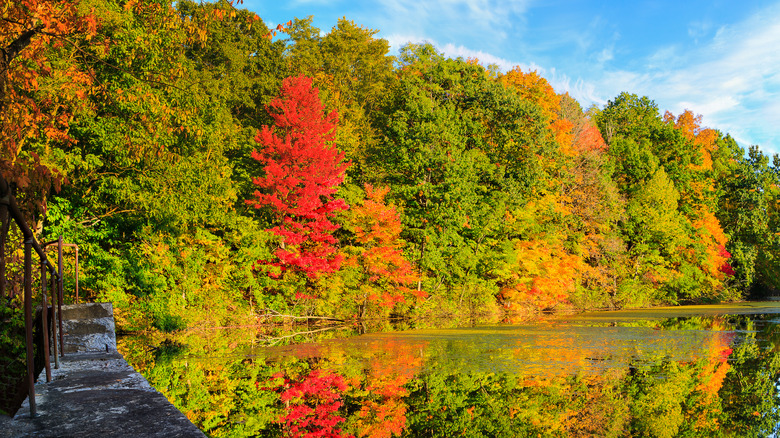 Carol Bell/Shutterstock
New York sounds like a fun place to be, especially in the city that never sleeps during the Macy's Thanksgiving Day Parade. However, due to its popularity, the parade can become unpleasantly crowded. Instead, escape to the Hudson Valley area to take in the stunning fall foliage and beautiful views of the Catskills. Along with offering plenty of hiking trails, Hudson Valley is also a great destination for history buffs, and guided tours of historic sites, such as Kykuit, the Rockefeller Estate, Philipsburg Manor, and Union Church of Pocantico Hills, are given throughout November (before closing for the winter season). 
Families may also enjoy catching the last weekend of the Great Jack O'Lantern Blaze, which is held at Van Cortlandt Manor. Running until November 19, the event is a walking experience through thousands of hand-carved pumpkins on display in all shapes and sizes. The Hudson Valley location also employs synchronized lights throughout the displays, adding a unique ambiance to the family-friendly event.
Charleston, South Carolina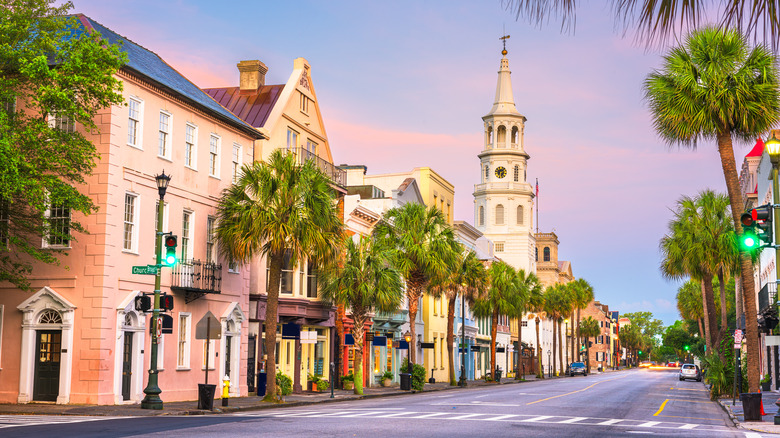 Sean Pavone/Shutterstock
Charleston is charming, colorful, and a wonderful place to visit during Thanksgiving. Like New Orleans, Charleston is a foodie destination with milder temperatures in November, allowing you to enjoy everything the city offers outdoors. The Charleston City Market is a must-visit location for shopping, as it offers wares from over 300 unique artists and craftsmen. It is a great place to shop locally for Christmas gifts while supporting Charleston-based businesses.
Kids and adults alike will be entertained by activities in The Charleston Museum, the South Carolina Aquarium, and the Children's Museum of the Low Country. Walking tours of every kind are a must-do to dive deeper into Charleston's rich history, but if you want to elevate the ordinary, consider taking a carriage tour. An old-fashioned horse and carriage tour takes your group around downtown Charleston and regales you with the history of the city.
Gulf Shores and Orange Beach, Alabama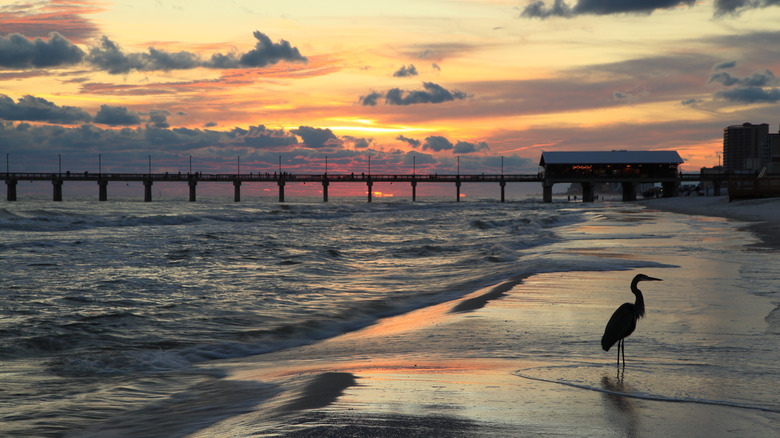 Veni/Getty Images
Alabama's beaches are hidden gems in the state, even though they're in plain sight. Travelers often skip right by Gulf Shores and Orange Beach in favor of Florida's beaches. During shoulder season and into low season, the crowds disperse, and hotels and rentals offer great deals for travelers looking to escape the impending winter weather. Gulf Shores and Orange Beach are separate towns, but they're close enough to explore both. 
Seafood may not be a traditional Thanksgiving meal, but it should be at the beach. Restaurants like Lucy Buffett's LuLu's, the Original Oyster House, and The Gulf have similar menus with slight differences in their specialties and locations, but all serve seafood local to Alabama's Gulf Coast. While you may not want to swim in the ocean in November, the pleasant weather is a great time to build sandcastles with family or take a sunset stroll along the area's scenic beaches. 
Lake Tahoe, Nevada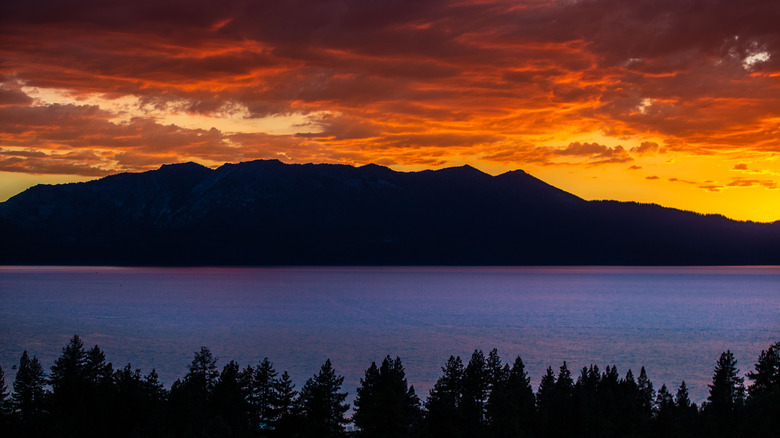 George Rose/Getty Images
Another location known for its skiing, Lake Tahoe is a luxurious choice for Thanksgiving. Driving the Lake Tahoe Loop will give you a great view of the gorgeous lake. Stop along the way and stroll along some public beaches, or dip your toes in the clear, cold water if you're feeling bold. In the community of South Lake Tahoe, Zephyr Cove houses the M.S. Dixie II, a paddlewheel-style boat that offers daytime and dinner cruises around the lake. Even if you're not skiing, Heavenly Mountain Resort has a gondola that takes visitors up the mountain to the observation deck, so you can still take in the beautiful views.
North Lake Tahoe is less developed than its southern counterpart, but that doesn't mean it lacks personality. The northern part of the lake offers ski runs and trails, but there are also mountain biking trails, incredible hikes, and fishing opportunities to satisfy every outdoor adventurer.
Ocala, Florida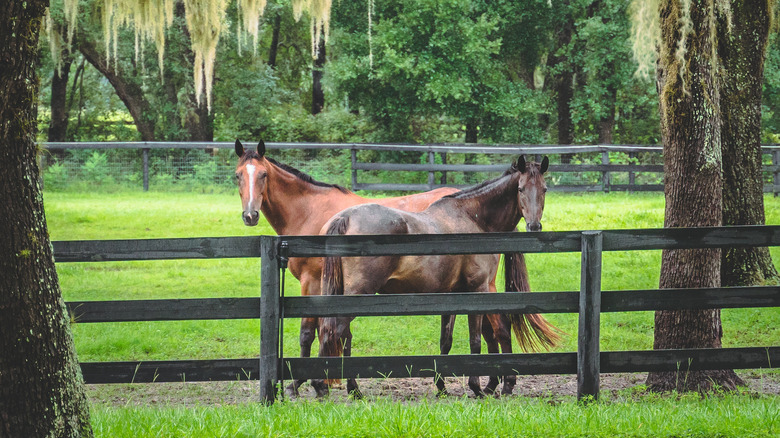 Kurt Wehde/Shutterstock
The self-proclaimed "Horse Capital of the World," Ocala is known for its competitive horse-owning community. However, you don't have to be knowledgeable about horses or their competitions to enjoy the luxury and ambiance of the world-class World Equestrian Center (WEC) and its hotel, The Equestrian Hotel. Visitors to the WEC can enjoy its on-site lounges and restaurants, and the center hosts plenty of non-horse activities like music concerts, theatrical performances, and trade shows. If you plan a visit a few days before Thanksgiving, you can attend the Premier Hunter/Level 6 Jumper event or the Ocala Holiday Craft Show.
On Thanksgiving Day, Stirrups, one of the hotel restaurants, hosts a Thanksgiving Day buffet, so you can spend more time with your family and less time cooking and cleaning. Also, the day after Thanksgiving, the WEC Winter Wonderland kicks off the Christmas season with a display of holiday lights and entertainment. 
Hot Springs, Arkansas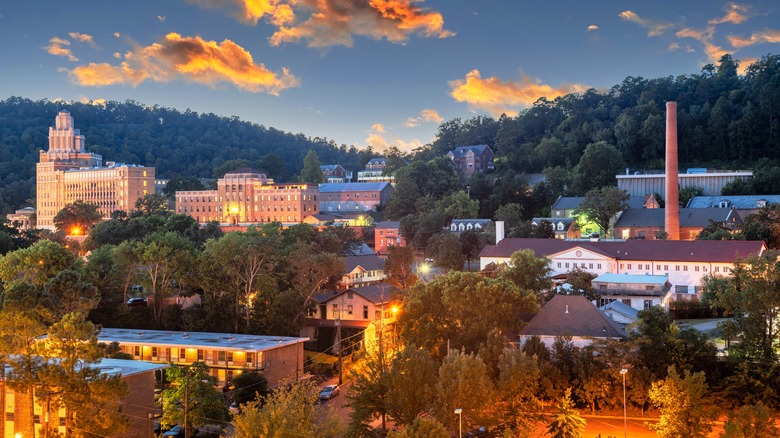 Sean Pavone/Shutterstock
The town of Hot Springs is a growingly popular destination, especially among camping enthusiasts. If you'd consider "roughing it" instead of staying in a hotel for Thanksgiving, popular campgrounds like Catherine's Landing are a five-minute drive from the city proper, so you could blend your outdoor adventure with city amenities. At Catherine's Landing, you can choose from cottage rentals, yurts, RV sites, or tent camping, depending on your "roughing it" comfort level. 
Hiking and biking are obvious activity choices, but you can also rent kayaks, canoes, and pontoon boats from Catherine's Landing to enjoy water activities. To add a thrill-seeking adventure to your Thanksgiving holiday, consider a zipline canopy tour at Hot Springs Adventure Park, which is also located at Catherine's Landing, and the zipline tours run year-round. Back in Hot Springs, shopping and dining choices are plentiful, as are family-friendly activities like playing mini-golf, visiting a petting zoo, and exploring the Mid-America Science Museum. 
Williamsburg, Virginia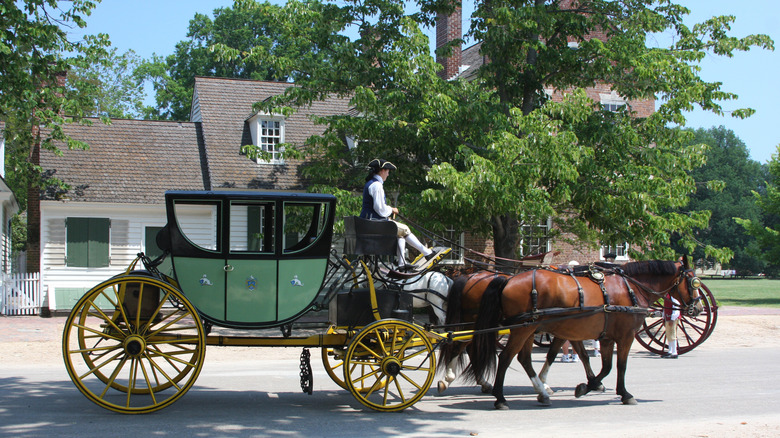 Vgoodrich/Getty Images
Williamsburg is a place where the past and present collide. Colonial Williamsburg could take all week to explore if you wanted it to. Incredibly immersive, it's the largest living history museum in the world. In addition to the historical value of a visit, the areas around Williamsburg boast championship golf courses, incredible spas, and Busch Gardens Williamsburg, one of the best theme parks in the Northeast. Busch Gardens Williamsburg is uniquely themed to 17th-century Europe, and it has over 50 rides and attractions, including the world's fastest multi-launch coaster, Pantheon.
Save some room for the Foods and Feasts of Colonial Virginia event that occurs on the Friday and Saturday after Thanksgiving in the Jamestown Settlement. Here, you can learn cooking techniques before refrigeration and electricity were invented. Also, visitors who return to the museum on Sunday can take advantage of discounts on store purchases made on Museum Store Sunday. 
Lampe, Missouri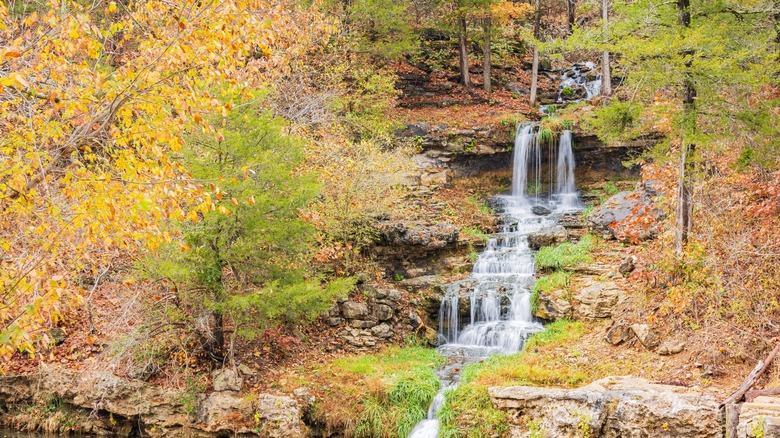 Kit Leong/Shutterstock
Dogwood Canyon Nature Park is the crown jewel of Lampe, Missouri, and offers group and private tours of the expansive area for those who appreciate the outdoors. Wildlife Tram Tours gives narrated, guided tours past waterfalls, bluffs, and other scenic stops along the way. Private tours are also available for a more intimate, personalized experience. While the tours are extra, park admission does grant access to other park attractions, including a treehouse built by the team from the Animal Planet television show "Treehouse Masters."
If camping in the Ozarks isn't your thing, there are other options for places to stay on your visit. Because of the park's proximity to the Arkansas border, you could choose to stay in nearby Eureka Springs, which features a historic and artsy downtown area, or drive a little over 30 miles to Branson, Missouri, where you'll find plenty of entertainment options and restaurants serving Thanksgiving meals. 
Amelia Island, Florida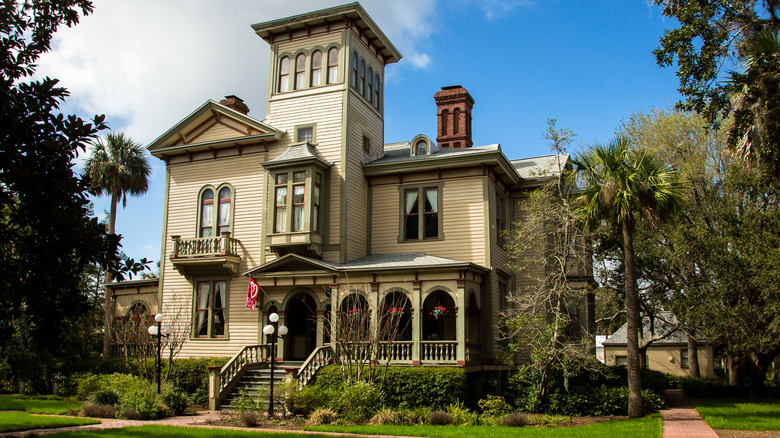 Bob Pool/Shutterstock
Beaches stretch as far as the eye can see in Amelia Island, Florida. Fortunately, they remain mostly uncrowded, especially during Thanksgiving. You'll also find world-class golfing on multiple island golf courses. While there are plenty of amenities, the small-town feeling of Amelia Island encourages a more relaxed pace during your visit. If you need a little more activity, kayaking, biking, and fishing tours are plentiful, and the island's parks feature historic sites, playgrounds, and nature trails.
Rental homes are a great option for a large gathering, but the island also boasts luxurious hotels and bed and breakfast options. If you're looking for a luxurious Thanksgiving experience, the Ritz-Carlton Amelia Island is a beachfront property that includes a spa, restaurant, and a pool on-site. For a more intimate experience, choose one of the bed and breakfasts on the island. Many of these are located in historic homes updated with modern amenities.
Macon, Georgia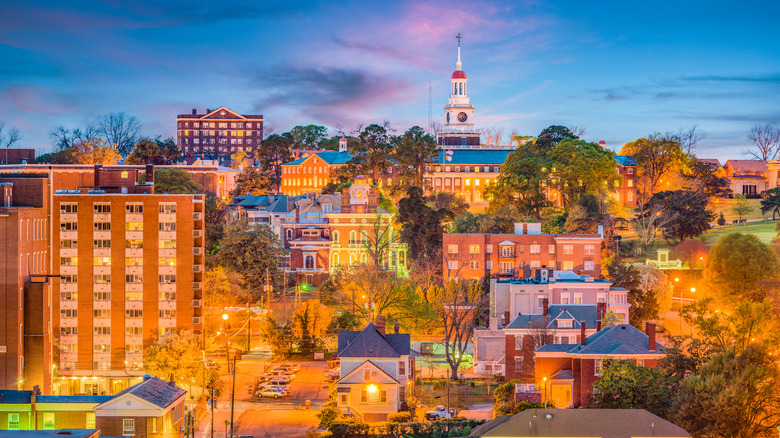 Sean Pavone/Getty Images
Southern Georgia is home to Macon, which is on its way to becoming as popular as Nashville for up-and-coming musicians. The music city of Macon will celebrate the upcoming holiday season with a performance by the Macon Pops Orchestra the Saturday after Thanksgiving, and the Holiday Light Show Extravaganza displays over 500,000 lights that synchronize to the music. During the week of Thanksgiving, visitors can also get hands-on with craft workshops at Startup Studios, making snowman lanterns or glass ornaments. 
If you're looking for inexpensive fun, Macon has a host of farmer's markets and craft markets that open at various times throughout the month. The Museum of Aviation is a short drive from town, and free admission makes it a great option for families and history buffs. If you are interested in the outdoors or Native American history and culture, consider visiting Ocmulgee Mounds National Historic Park, one of Macon's most popular tourist destinations.