Music Fans Need To Put Macon, Georgia On Their Must-Visit Lists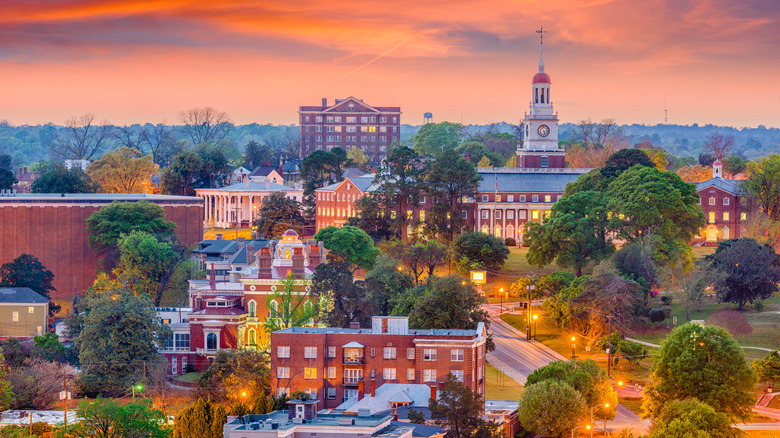 Sean Pavone/Getty Images
Abbey Road in London. Electric Lady Land in New York City. Graceland in Memphis. There are plenty of places that avid music enthusiasts and historians should visit. Due to their sheer iconic statuses, Elvis, Jimi Hendrix, and The Beatles all transformed their old stomping grounds into must-visit destinations. In our opinion, melomaniacs should also include Macon, Georgia in their music destinations setlist.
If America is the birthplace of rock 'n' roll, then Macon could be considered a southern cradle that helped nurture American music. According to MaconGa, the musical heritage of the town runs deep, birthing traditions of soul, R&B, and Southern rock.
Legendary artists Little Richard, Otis Redding, and James Brown all used Macon as a launchpad into music stardom. Soon after, Macon became the epicenter of Southern Rock in the 70s, welcoming iconic artists like the Allman Brothers Band and The Marshall Tucker Band. This music tradition continues today in Macon, making it a beckoning destination for musicians and travelers alike.
Macon and the roots of Soul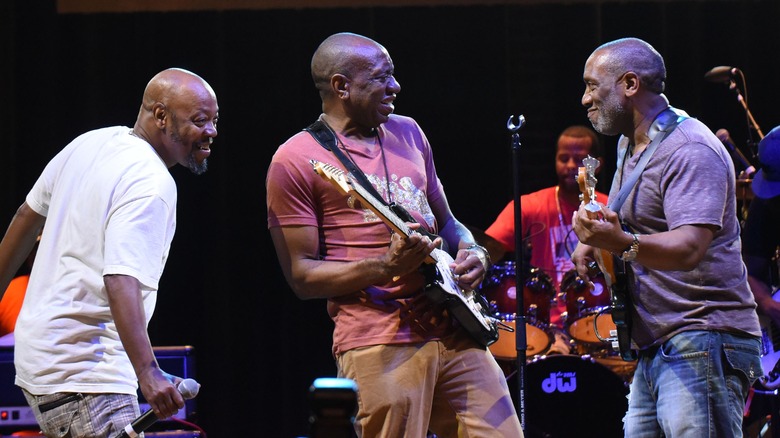 Chris Mckay/Getty Images
To start in the beginning, Little Richard (Richard Wayne Penniman) was born in Macon in 1932, per Biography. Soon, by the late '50s, Little Richard's songs like "Long Tall Sally" and "Good Golly Miss Molly," along with his flamboyant stage presence, established a tenor and attitude that inspired rock 'n' roll artists for generations. In Macon, you can visit Little Richard's childhood home, which is now a historical landmark and museum.
Macon also set the stage for two members of soul royalty. Otis Redding, known as the King of Soul, and James Brown, the Godfather of Soul, both jumpstarted their musical careers in Macon. According to the Augusta Chronicle, an unknown Brown recorded his first demo in Macon in 1955. By the time he left Macon in 1963, he was the biggest superstar of soul.
Otis Redding was a Macon native and actually began his career with Little Richard's backing band, before becoming an iconic soul artist of the '60s. Unfortunately, three days after recording his world-famous hit "(Sittin' On) The Dock of The Bay," Otis Redding died in a plane crash in 1967, per Songfacts. Today, in commemoration of his musical contributions, Macon is home to the Otis Redding Foundation, which operates a museum, performance center, and music camps.
Welcoming Southern Rock to Macon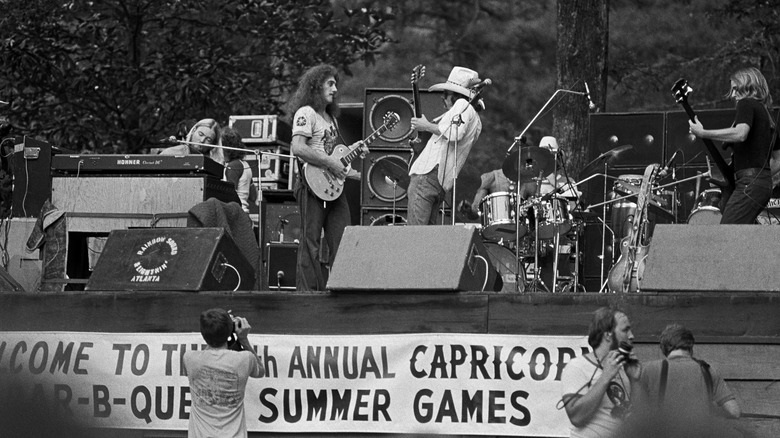 Tom Hill/Getty Images
Macon is also a must-visit for fans of Southern rock. Due to Capricorn Studios opening in 1969, the Allman Brothers Band and other southern rockers made Macon their musical home, per MaconGa. The Allman Brothers Band, the Charlie Daniels Band, Wet Willie, The Marshall Tucker Band, and others all recorded at Capricorn Studios to capture the Southern Rock movement of the 70s.
Visitors can now visit the Capricorn Sound Studios and Museum, which still serves as a recording studio while chronicling the musical history of Capricorn and Macon. Rock historians and enthusiasts can also take a tour of The Big House Museum. Formally the home of the Allman Brothers Band, as well as their roadies, friends, and family, the "Big House" is now a museum with historical exhibits and an impressive collection of memorabilia.
If you take a guided or self-guided musical tour of Macon, you may also visit the graves of Berry Oakley, Duane and Gregg Allman, and Butch Trucks. While the gravesites may be an homage to Macon's musical past, the city isn't stuck there. Renowned musician Jason Aldean recently named his tenth studio album "Macon, Georgia" after his hometown. While the title seems to pay respect to the city's musical past, the album's release is also a testament to Macon's continuing musical relevancy. By taking a tour and catching a show, visitors to Macon will experience both the past and future.