Visit This California National Park To Get A Glimpse Of Ancient Volcanic Ruins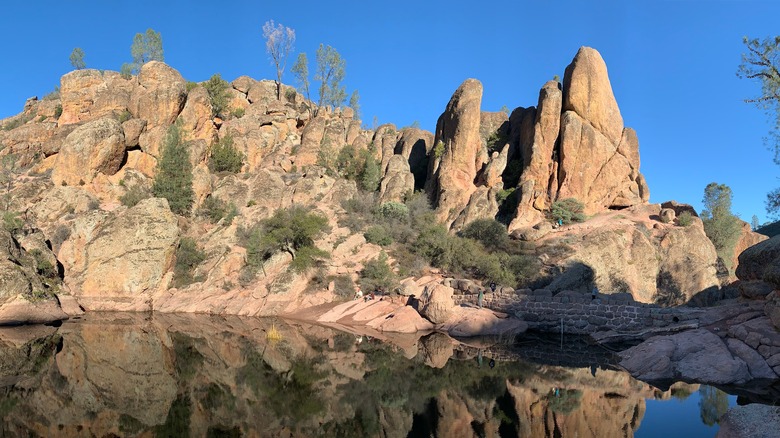 Eric Surprenant/Shutterstock
Thanks to the vast amount of protected wildlands, California has unforgettable views of natural landmarks and monuments. The state is home to the most national parks in the United States, including well-known destinations such as Yosemite National Park and Death Valley National Park. Though less widely known than its counterparts, Pinnacles National Park is the perfect spot for nature buffs and sightseers who want a glimpse of ancient volcanic ruins.
The Pinnacles were formed around 23 million years ago as a result of volcanic eruptions, tectonic plate movement, and exposure to the elements over time. The park has unique geological features that pepper the scenery, including faults, tall spires, canyons, rocky crags, and caves. The East and West entrances of the park lead to different observation spots and notable landmarks. For visitors who want to immerse themselves in the ancient volcanic fields, Pinnacles National Park offers a wide variety of activities for outdoor adventurers.
Activities at Pinnacles National Park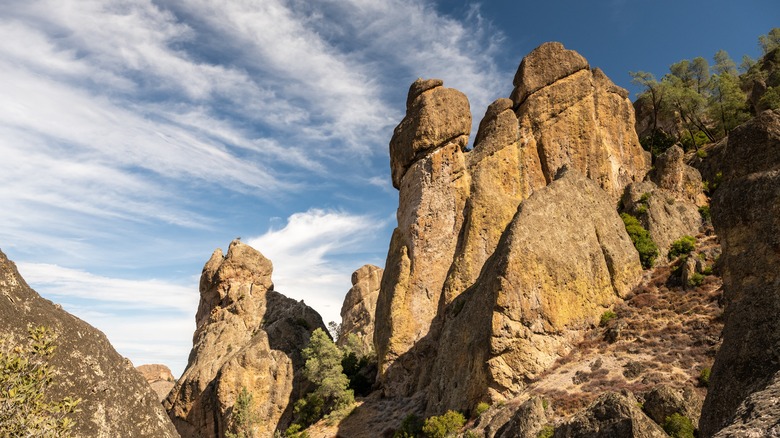 Kelly vanDellen/Shutterstock
California offers some of the best hiking opportunities in the United States. One of the most prominent activities in Pinnacles is hiking, with over 30 miles of trails that lead to iconic spots. The High Peaks trail is a popular 6.4-mile loop that provides incredible views of the park's diverse terrains, including the famous rock spires. The Bear Gulch Reservoir, easily accessible by several trails, is a perfect spot to have lunch and relax. Moreover, don't overlook the out-and-back Balconie Caves hike; this will lead you to interconnected passages formed by volcanic boulders.  Pinnacles National Park also has other cave systems, such as the Bear Gulch Cave, that are worth exploring. For experienced climbers, the park features over 300 designated climbing areas.
Although the reddish and gray-tinted molten rocks may give the park a barren appearance, Pinnacles is teeming with wildlife. Some of the most spotted species include the black-tailed deer, bobcat, gray fox, jackrabbit, ground squirrel, and several types of bat. The park is lush with vegetation and is home to different species of oak trees, gray pine, California buckeye, and more. According to the National Park Foundation, Pinnacles is also known for its beautiful variety of spring wildflowers that bloom across the ancient volcanic fields.
Planning your visit to the park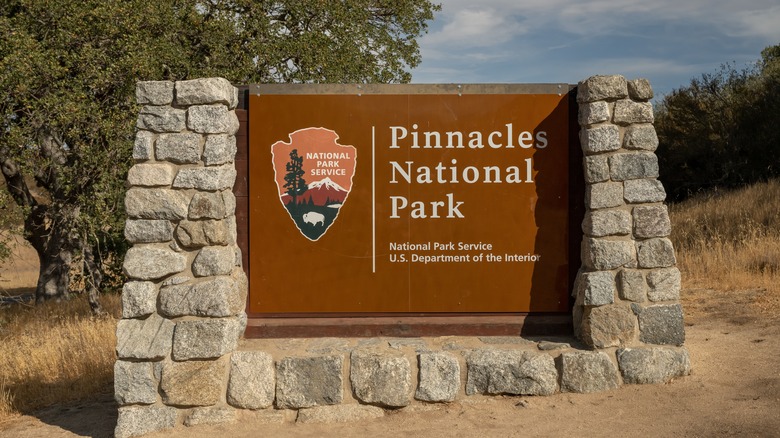 Kelly vanDellen/Shutterstock
Before visiting the Pinnacles, make sure to check the National Park Service's website for any notices of closures or warnings. Depending on current conditions, park capacity, and seasonal changes, certain areas of the park may be off-limits. During your time at the park, you may experience small to moderate earthquakes. Don't worry, seismic activity is completely normal, so it shouldn't affect your time in these wildlands.
When it comes to accommodations, you have several options. Although backpacking is not allowed in the park, you can rent tent and RV sites in advance at the Pinnacles Campground. Soledad, the nearest city to Pinnacles National Park, offers affordable hotel options as well as more upscale accommodations at estate vineyards. If you have enough time, plan for a two-day stay to fully explore both the West side and East side of the park. If you're planning a road trip to California's national parks, don't miss out on the Pinnacles. With its natural history, ancient volcanic fields, and breathtaking views, Pinnacles National Park is a unique and unforgettable destination.