Avoid Stopping At These Spots On Your Next Road Trip To Stay On Budget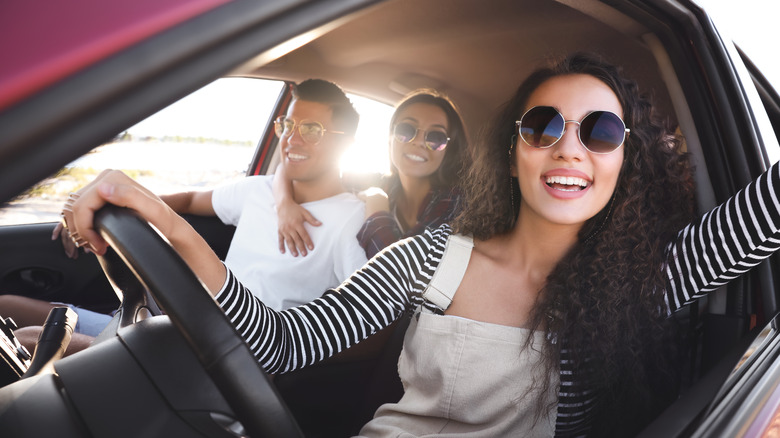 New Africa/Shutterstock
Road trips are arguably the cheapest form of travel compared to flying or going on cruises, especially if you're splitting the costs among a group. For instance, Forbes reported that a 3-day vacation including a domestic flight for a solo traveler costs an average of $1,389, while a Caribbean cruise for seven nights in November can set an individual back up to $1,158, per U.S. News. On the flip side, a multi-state road trip can cost roughly $1,000, which covers food, lodging, and fuel. The CEO and founder of ViaTravelers, Kyle Kroeger, told Go Banking Rates that amount would also leave individual travelers some leeway for souvenirs. For shorter road trips, he said you can be more frugal and spend only around $150 per day.
Generally, the key to saving money is to roll up your sleeves and take smarter approaches when it comes to planning your road trip. You can try driving during off-peak hours to avoid traffic, and thereby save on gas, pack food and snacks instead of stopping at restaurants and paying for expensive meals, and even go camping to avoid dropping hundreds on accommodation. You'll also want to invest in car maintenance and make sure your vehicle is in tip-top shape to dodge a hefty bill from the mechanic if your car breaks down mid-trip.
Being strategic when it comes to planning your route is also crucial in cutting down costs. If there are various options available, choose those that don't have tolls or roads that don't pass expensive cities. And when it comes to stopovers, stay far away from spots packed with tourists.
Don't make pit stops at tourist spots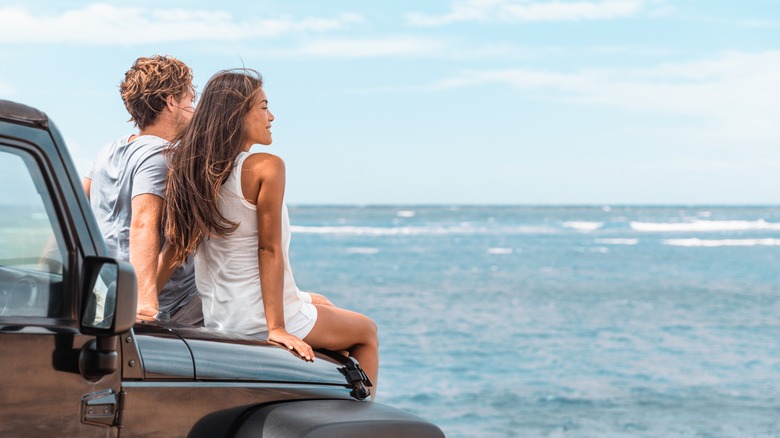 Maridav/Shutterstock
There's no overstating how important making pit stops is when you're driving cross-country. Doing so keeps your energy levels up, gets your blood flowing, maintains your sanity, and stops you from incurring fatigue. George Molina, a travel advisor with AAA Texas, recommends planning for regular stops throughout the trip so you can rest for a bit. "To remain alert, pull over every two hours or 100 miles for a quick stretch and, if possible, take turns driving with an alert passenger," he told AARP.
When planning those stops, however, you may want to avoid places often packed with tourists. Usually, these are popular roadside attractions you often see on Instagram, or overrated restaurants that advertise authentic food. More often than not, these places sell items at unreasonably higher markups, so you'll only end up paying more than what you actually should. The same goes for overnight stops; you want to bypass cities, towns, or spots teeming with tourists to lower your expenditure. As with all things travel, do extensive research so you won't find yourself at these places.
Alternatively, if you're really intending to stop at a traditionally expensive destination, like, say, a Disney-owned attraction, or Sin City, plan your road trip and stops during off-peak times, as hotel rates — and everything, really — are generally more affordable during this period. The crowds will be thinner this way, too.
Driving through interstates for fewer expensive stops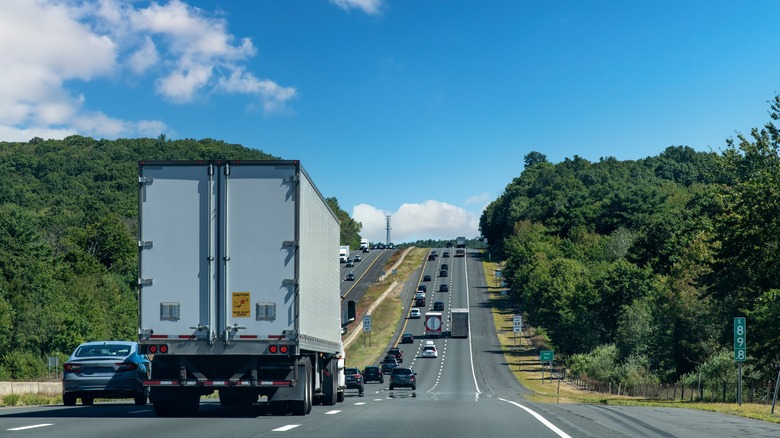 365 Focus Photography/Shutterstock
Now, if you're a generally curious traveler and gravitate towards tourist spots like a moth to a flame (we get it), what you can do is avoid driving through them in the first place. While passing through backroads gives you the unique opportunity to visit (or at least briefly witness) charming towns, enjoy scenic routes, discover quirky attractions, and take a peek at how locals live their day-to-day, you may want to think twice before doing so. If you're on a strict budget, the downside to taking backroads is you'll be more tempted to stop at places you didn't plan on going, and potentially spend more money than you intend to.
If your main goal is going from point A to point B, and you're really set on sticking to your original plan and budget, it's wiser and cheaper to drive through interstates instead. These highways are remarkably more boring, and you'll likely only see more cars than actual scenery, but more often than not, they can take you to your destination faster. The main caveat, however, is some interstates have gas stations that are few and far between, so you should make it a point to fill your tank before entering them.
But if you can afford to take backroads and discover new things just for the thrill of it, while still avoiding the tourist traps, you'll make your road trip more enjoyable. After all, as Ralph Waldo Emerson once said, "Life is a journey, not a destination."