Visit The Longest Cave System In The World At This US National Park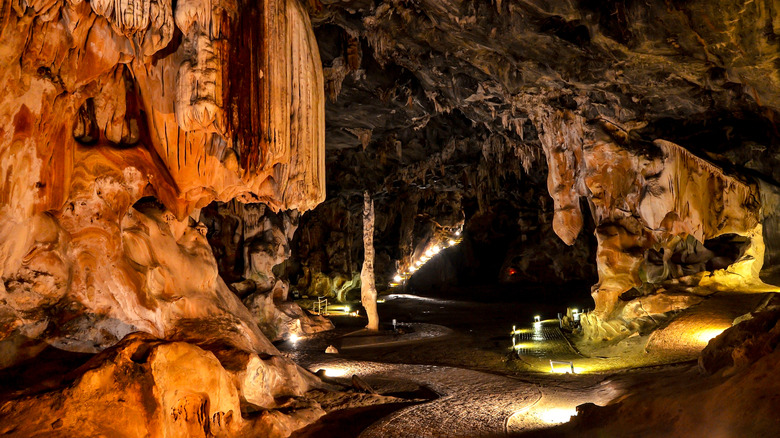 Ko Zatu/Shutterstock
When thinking of caves, perhaps New Mexico's Carlsbad Caverns or even stories of dramatic cave rescues, such as that of the Thai youth soccer team in 2018, come to mind. However, what should come to mind is Kentucky. This state boasts the longest cave system in the world discovered thus far, and these caves make up Mammoth Cave National Park.
The formation of these caves began millions of years ago with limestone deposited beneath an ancient sea. After the shores retreated, rain began to erode these deposits and create caves. In time, Native Americans started exploring the caves as far back as 5000 B.C. — to put that into perspective, these early explorations took place over 3,000 years before the reign of King Tut. By the early 1800s, the discovery of saltpeter — key to making gunpowder — added another chapter to the caves' history, and in the 1840s, some believed that the cave air could even cure tuberculosis. Finally, after extensive explorations and new discoveries within the caves, Mammoth Cave became a national park in 1941. It is also now a World Heritage Site and an International Biosphere Reserve.
Mammoth Cave National Park has multiple tour options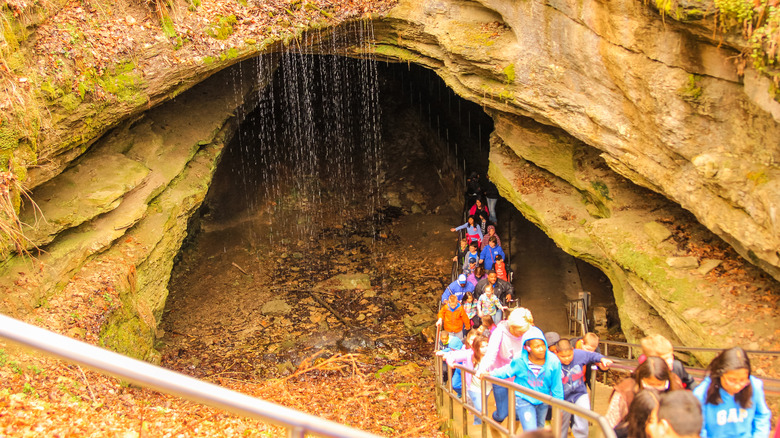 Sreenath_k/Getty Images
In the 21st century, a visit to Mammoth Cave National Park includes several choices of tours through the caves. While all tours show off the geologic makeup of the caves, some emphasize the land's human history, such as the Historic Tour, Extended Historic Tour, Gothic Avenue Tour, and Grand Historic Tour. As the names suggest, some tours are longer than others. If you are a history buff with more time to spend, the Grand Historic Tour might be the right choice.
Lantern tours can offer some added authenticity to cave exploration in Mammoth Cave National Park. Those at least 16 or older can carry lanterns during these tours. The Star Chamber Lantern Tour also overlaps with some of which you'd see on Gothic Avenue. Aside from varying in length, tours vary in difficulty as well, and it is important to note that not all tours are offered year round. Tours are detailed on the park's National Park Service website, and all must be booked in advance. 
Mammoth Cave National Park is less than two hours from Nashville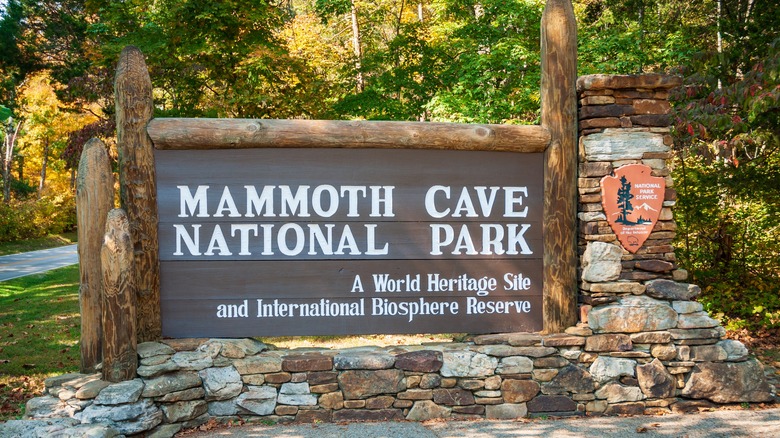 Zack Frank/Shutterstock
If cave tours do not sound appealing, there are plenty of other things to do at Mammoth Cave National Park. Check out the Old Guide's Cemetery near Heritage Trail to see headstones from as far back as the 1800s. Also in the park are the Mammoth Cave Baptist Church, Good Spring Baptist Church, and the Joppa Missionary Baptist Church, each with their own cemeteries. These buildings are relics from past settlers of the land before it became a national park. Horseback riding in the park is another above-ground activity and a different way to explore the park. Visitors can bring their own horses or take a guided horseback ride from Double J Stables.
Mammoth Cave National Park may be close to the center of Kentucky, but it is less than two hours from Nashville by car via Interstate 65 North. The Mammoth Cave Visitor Center can help you find parking, restrooms, tour tickets, and departure locations. The park's onsite lodging options, like The Lodge and campground information, are at the visitor center as well.