Catch Stunning Fall Foliage Views At This Southwestern City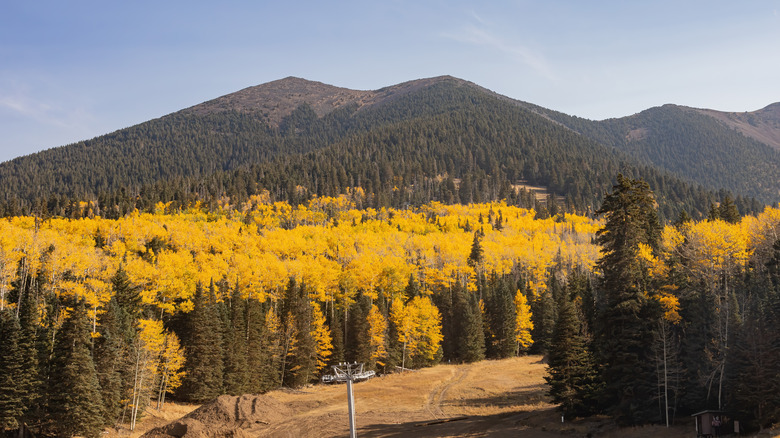 Kit Leong/Shutterstock
How much do you know about the Southwestern U.S.? If you're imagining it's all cowboys and tumbleweeds, we've got some myth-busting to do. The Southwest is actually a very environmentally diverse landscape. Yes, there are beautiful deserts full of majestic saguaro cacti to the south. However, in the landscapes surrounding Flagstaff, Arizona you can find gorgeous forests and woodlands scattered with pine, juniper, maple, and aspen trees. When fall comes along, the tree leaves here turn fiery shades of red and orange. So much so that these areas will remind you more of your typical October in scenic Vermont than a state on the southern border of the U.S.
While Flagstaff might be the gateway to the Grand Canyon, you'd be missing out if you just made the trek to the big crevasse and then hightailed it home. If you're smart and you plan your visit after the swell of the summer heat, you might just catch a glimpse of some of the prettiest fall leaves in the country.
Three places to find fall foliage in Flagstaff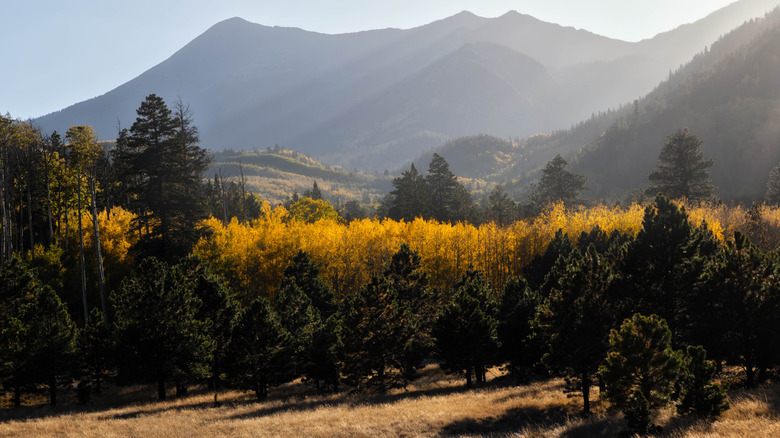 Pritha_EasyArts/Shutterstock
There are many places in and around Flagstaff that have incredible views of the fall foliage. However, if we had to choose, we'd pick these three destinations across the San Francisco Peaks to get the best views of the turning leaves. Lockett Meadow in Coconino National Forest is the most popular fall foliage destination in Arizona. It's the home of a gorgeous grove of aspen trees that turn a radiant yellow in the fall before shedding their leaves for the winter. Enjoy the rustling of the leaves and the carpet of gold as you walk along the Inner Basin Loop. Just be aware when October arrives, this area becomes jam-packed with others looking to get a glimpse of this famous fall foliage.
If you are not a fan of crowds and want to avoid the bumper-to-bumper traffic that often plagues Lockett Meadow, head to the Abineau-Bear Jaw Loop. Not only will you avoid the crowds, but you'll still get to see some outstanding landscapes and many aspens along this 6.8-mile hike. Lastly, if you enjoy solitude and you're not looking to wear yourself out with a big hike, you might just find the Flagstaff Arboretum to be the perfect alternative. This arboretum is located just off Route 66, 4 miles southwest of Flagstaff. The paved walkways make this location accessible and family-friendly.
Scenic drives for those on a tight schedule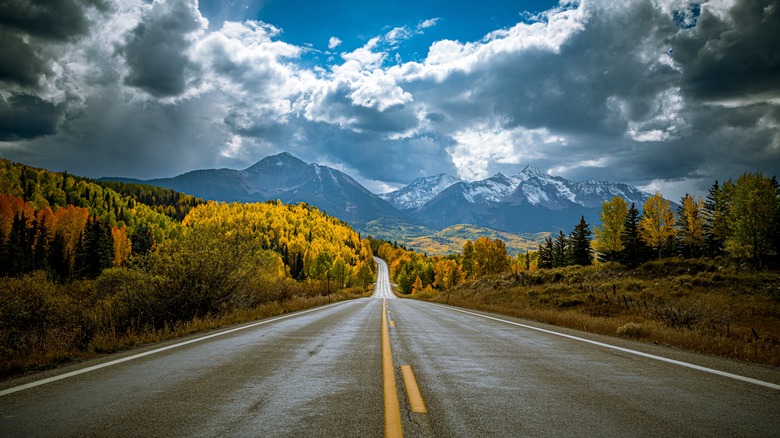 Teri Virbickis/Shutterstock
If you're back from the Grand Canyon and you've got a plane to catch in Phoenix, we get it, you may not have time to pull over for a leisurely hike. That doesn't mean you have to skip out on seeing more amazing views. As you make the drive down U.S. Highway 180, you will find several opportunities to pull off and enjoy a scenic drive. However, the Snowbowl Road Scenic Drive probably tops them all. This is a 15-mile drive that starts north of downtown Flagstaff and takes you along the western slope of Humphreys Peak until it ends at the lodge and ski area in the high meadows. Hop out for a stretch and get some incredible views of the valley below and neighboring mountains.
If you have time for another drive, try the Shultz Pass Scenic Drive. This is a 26-mile loop that has plenty of opportunities for you to pull over and enjoy views of prairies and golden woodlands. It's also a prime location for spotting local wildlife such as mule deer and even Arizona elk.