A Trip To The Grand Canyon Might Not Be As Expensive As You Think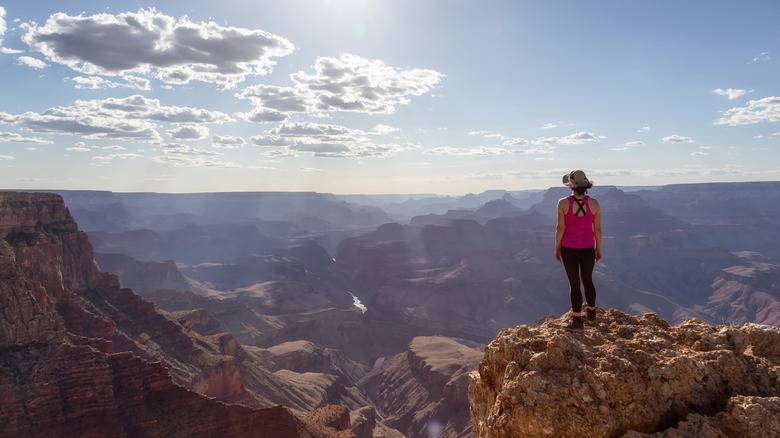 EB Adventure Photography/Shutterstock
"Leave it as it is. You cannot improve on it," President Theodore Roosevelt once said of the Grand Canyon. He was undoubtedly correct, which is why the National Park is visited by nearly six million people each year, according to the US Department of the Interior.
If you're dreaming of a trip to Arizona to have a colossal canyon adventure, you might wonder if it's within your budget. Of course, this is perfectly reasonable considering that Bank Rate reports that the average cost of a one-person vacation in the United States is $1,558. But before you start thinking your National Parks dreams have been dashed, we've done a little digging and are pretty jazzed to share some Grand Canyon travel tips that can save you plenty of money.
Whether you're a history buff interested in the true story of the 1869 expedition of the Grand Canyon or just a hiker or National Parks enthusiast, Grand Canyon has something for everyone, and it doesn't need to cost a fortune.
Open the calendar app on your phone -- it's time to get strategic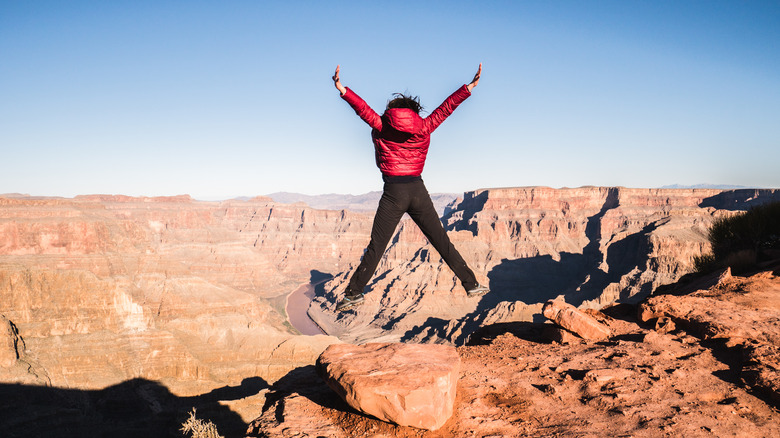 Ioana Catalina E/Shutterstock
You can do several things to save money on your Grand Canyon vacation before you even leave the house. First, the National Parks Service offers five free park days throughout the year. Any national park that usually charges an admission fee (Grand Canyon included) is free on January 17 (the birthday of Martin Luther King, Jr.), April 16 (first day of National Park Week), August 4 (anniversary of the Great American Outdoors Act), September 24 (National Public Lands Day), and November 11 (Veterans Day).
Keep in mind, though, that the parks tend to be busy on these freebie days, so Travel & Leisure also suggests being strategic with the time of year and which of the park's areas you want to visit. For example, April and June offer ideal weather throughout the park, but June is a busy time for family vacations, and area hotels might be more expensive. As an alternative, you could plan your trip for April.
Along those lines, like many outdoor recreational places, winter is less busy at Grand Canyon and, therefore, a great time to find hotel and travel deals. With this in mind, U.S. News and World Report suggests March, just as winter is ending, but before the warm-weather crowds.
Planes, cars, and tents -- oh my!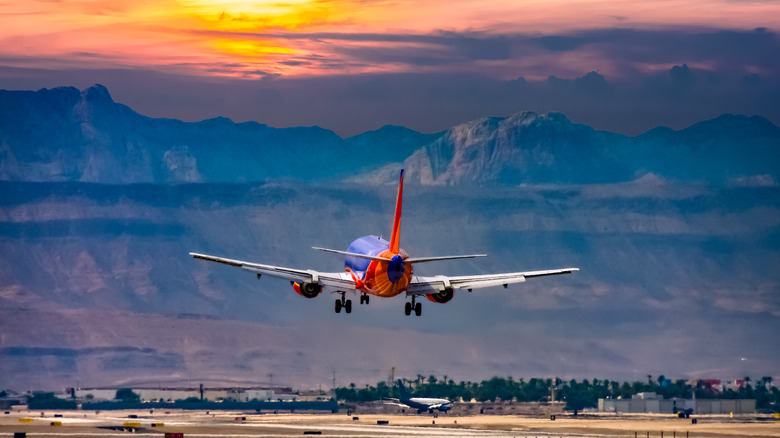 Darryl Brooks/Shutterstock
The travel experts at Sherman's Travel also suggest a very early spring visit to Grand Canyon. In terms of money-saving strategies, we agree with their suggestion to check flight options from Las Vegas McCarran or Phoenix Sky Harbor, even though Flagstaff airport is closer. The larger Las Vegas and Phoenix airports offer more flights, which will help you shop around for the best deals.
Once you arrive, take advantage of Grand Canyon's free shuttle bus, which U.S. News and World Report suggests is the best way to see the South Rim. If you decide to explore by car on your own, seasoned Tripadvisor users inform new park visitors that driving from the canyon's north to south rim is a four or five-hour drive. Of course, you'll want to factor this into your gas budget since that's a significant expense.
Or, you can skip the driving and hotels altogether by applying for a camping permit. The National Parks Service offers three campsites, and permits for Mathers Campground, on the South Rim, are just $18 for the night. Plus, each site includes a picnic table and fire ring with a grilling screen. With a little seasonal strategy and flexibility, you can visit the Grand Canyon on a budget!