Hike Along Lake Michigan At This Beautiful Midwest State Park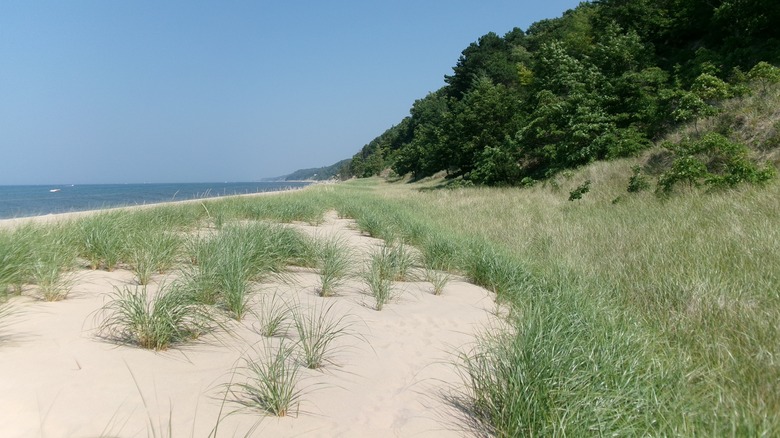 Chad Kelham/Shutterstock
Visitors to Michigan often have Detriot on their bucket list. But for those who want a beachy escape, there's Saugatuck. Located about 40 minutes away from Grand Rapids, Saugatuck is part of Michigan's Art Coast. The city, which lies on Lake Michigan, has a vibrant creative community. Michigan Blue Magazine wrote that it has the appearance of a New England town, and with its vivid greenery and charming streets, it's easy to see why. Moreover, Saugatuck offers visitors a plethora of outdoor activities, including hiking. One popular spot to do this is at Saugatuck Dunes State Park.
The park features sandy picturesque hills and consists of 2.5 miles of coastline along Lake Michigan and 300 acres of what is known as the Patricia Birkholz Natural Area. In addition, it has 13 miles of hiking trails (a trail map can be found here), which means that there is something for everyone. Trails include the North Trail, Beach Trail, Livingston Trail, and South Trail. The South Trail, which also happens to be the longest (5.50 miles round trip), is top-rated on All Trails. While you're unlikely to get lost on a hike here, take note that these hikes are not easy.
Know before you go to Saugatuck Dunes State Park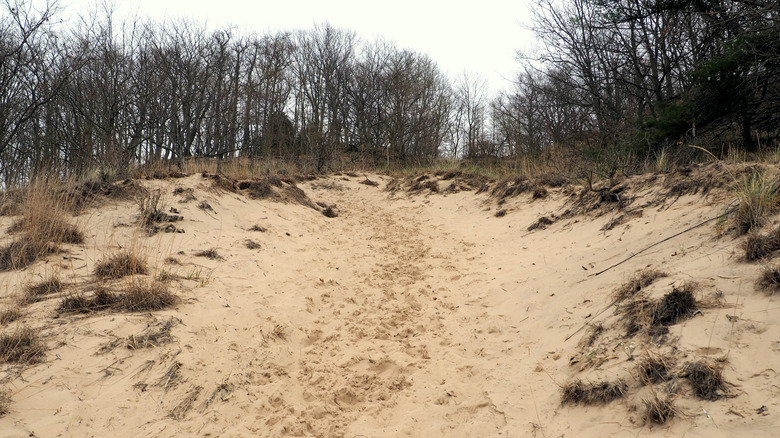 T-I/Shutterstock
Saugatuck Dunes State Park has a 4.5 out of 5 rating on Trip Advisor, with many reviewers mentioning the beauty of Lake Michigan and the scenic hiking trails. However, if you're planning to hike here, don't go in blind, and ensure that you're properly prepared. The trails feature sandy hills and inclines that can be challenging, with the most difficult being the South Trail. Those who want an easy hike to reach Lake Michigan can opt for the 1.5-mile round-trip Beach Trail. It takes hikers from the parking lot to the coastline. That said, parking is paid, and bathrooms and picnic tables are available. If you want your fur baby to join you on a hike, there's no problem, but they must be on a leash. After you're done with your hike, consider dipping your toes in Lake Michigan or exploring Saugatuck.
Head downtown and you'll find countless art galleries and local stores to peruse, such as Amazwi Contemporary Art and Good Goods. For a delicious hearty dinner, eat at Phil's Bar & Grille, Saugatuck's highest-rated restaurant on Trip Advisor. Staying the night? The Judson Heath Colonial Inn, which dates back to 1837, fuses historic flair with modernity. Due to its variety of outdoor activities, summer is perhaps the best time to visit Saugatuck. From Memorial Day to Labor Day, you can even enjoy the Kalamazoo River via a ride on the historic Saugatuck Chain Ferry.