Take In Australia's Gorgeous Coastline At This Iconic Spot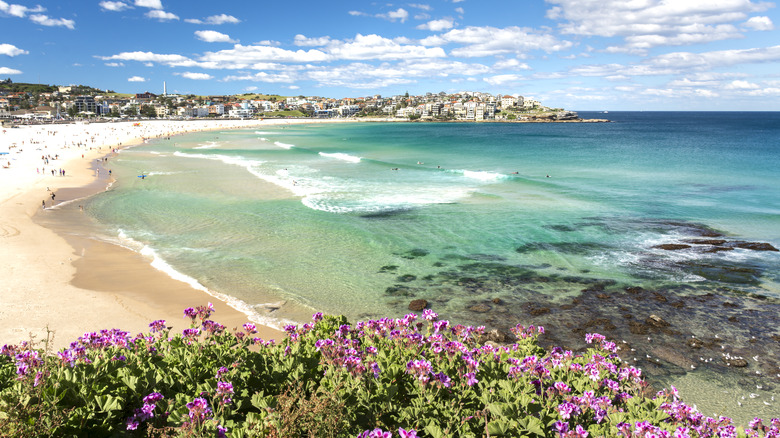 Ruglig/Getty Images
With its spectacular scenery, beautiful beaches, and world-class surf, Australia is renowned around the world for its coastline — and there can be few more iconic places to take it all in than Sydney's Bondi Beach. This famed stretch of sand attracts locals and visitors alike who come to sunbathe, swim or surf — and, let's be honest, to see and be seen. For those who simply want to appreciate the natural beauty of this stunning shoreline, however, or to discover some of its other charms, the Bondi to Bronte Coastal Walk makes an ideal introduction.
Taking in lovely coastal views throughout, this relatively easy stroll of around one-and-a-half to two miles (depending where on Bondi you start) can be completed in around an hour but could easily be extended to half a day. For instance, you may wish to pause for a drink or bite to eat, or to stop off at one of the points of interest along the way. The route can easily be expanded, too, which many people choose to do.
Beginning at Bondi Beach, take a moment to appreciate this sweeping arc of golden sand, framed on one side by a pleasantly disparate mix of beachfront buildings and on the other by the pristine waves of the Pacific. As the nearest beach to the city center (some five miles away), and easily accessible by public transport, it's long been one of the most popular. It's also surrounded by buzzy cafés, picnic spots, and even barbecue facilities.
From pavilions and pools to Aboriginal art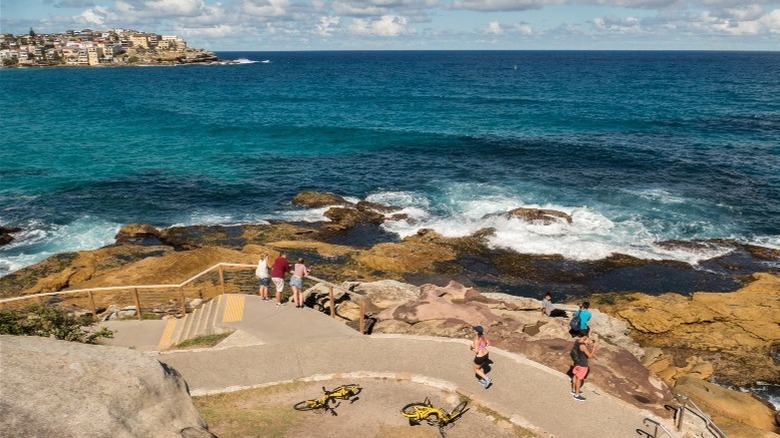 Alec Smart
Furthermore, there's a little more to this iconic beach than first meets the eye. Did you know, for instance, that Bondi Beach is home to the oldest surf lifesaving club in the world, The Bondi Surf Bathers' Life Saving Club, founded in 1907? In addition, one of Australia's oldest swimming clubs can be found here, the Bondi Icebergs, with its picturesque ocean pool dating from 1929. Then, there's the heritage-listed Bondi Pavilion, opened in the same year, and a local cultural icon.
While we could easily spend several hours exploring the area just around Bondi Beach, the idea behind this walking trail is to discover a little more of the wider coastline. So, next up, we need to head south, passing the aforementioned Bondi Icebergs, on Notts Avenue, where you could also stop off for a refreshing dip. From there, we can continue on our tour, following the concrete walkway around Bondi Bay, toward Bronte Beach.
Coming next on our panoramic pathway, we arrive at Marks Park, a grassy area on the clifftop, with impressive views. Be sure to stop off at Mackenzies Point, for a few obligatory snaps from the look-out, and see if you can spot the Aboriginal rock engraving. Continuing around the next bay, we arrive at the small scenic cove beach, Tamarama, which offers some great surfing but potentially strong rip currents. Surrounded by parkland, there's also a café, playground, and barbecue area, plus beach volleyball.
On the trail of sculptures by the sea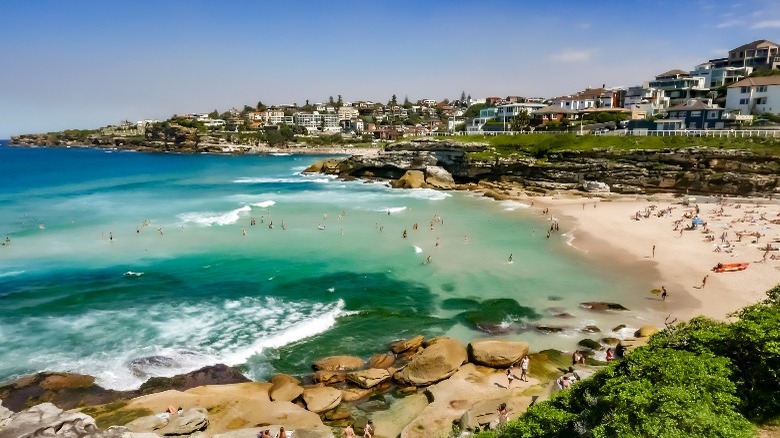 Alec Smart
Incidentally, this stretch of coastline, between Bondi and Tamarama Beach, is also where the internationally renowned Sculpture by the Sea exhibition is held each year in late October. This open-air display features more than a hundred three-dimensional artworks. Many of the pieces are created specifically for the site upon which they're installed, so the artists take the immediate environment into account, and this can lead to some striking results.
Leaving Tamarama Beach behind, continue on the main track heading south, along Tamarama Marine Drive and Bronte Marine Drive, until you arrive at our final destination of Bronte Beach. Another idyllic spot, just be careful to keep an eye on the water conditions, as here, too, they can be hazardous. A safer bet is to head to the popular ocean pool carved into the rocks, Bronte Baths, at the southern end. Behind the beach is a large park area, offering various facilities, and the wider area is home to plenty of places to eat and drink — perfect for a well-deserved coffee and a cake or a spot of lunch.
While that brings this particular Sydney sojourn to an end, as mentioned previously, you can easily expand your walk further should you wish. For instance, you could continue on by following the equally enjoyable route down to Coogee Beach. In any event, whether the short or the long version, this waterside wander offers the perfect vantage point to take in Australia's gorgeous coastline.