EPCOT's Fan Favorite Ride Test Track Is About To See Some Changes
As the Walt Disney Company celebrates its 100th anniversary in 2023, it has announced several new updates to its theme parks in Disney World. Taking the stage at the Destination D23 event in Florida, Scott Mallwitz, executive creative director of Walt Disney Imagineering, announced that Epcot's long-running Test Track attraction will receive a reimagining.
Acknowledging Disney's longstanding relationship with corporate alliance partner Chevrolet, Mallwitz said, "We're working with Chevrolet to once again reimagine the Test Track experience. We're reaching back into the history of the pavilion, taking inspiration from the original World of Motion, and bringing that spirit of optimism to this next iteration of Test Track."
Test Track first opened at Epcot in 1999 and underwent one prior reimagining in 2012. Some fans have already labeled the new upcoming version "Test Track 3.0." The popular thrill ride originally occupied Epcot's Future World area, which has since been rethemed to World Discovery. In its current version, Test Track allows guests to virtually design their own custom car before boarding a simulation vehicle. This "SIM car" then takes passengers for a test drive around an outdoor track, with the vehicle accelerating up to 65 miles per hour.
Beyond the short announcement at Destination D23, details are scarce on what Test Track's reimagining will entail or when it will go into effect. However, Mallwitz's comments indicate that the ride will be looking to the "spirit of optimism" in World of Motion, the attraction previously located in the same transportation pavilion at Epcot.
From World of Motion to Test Track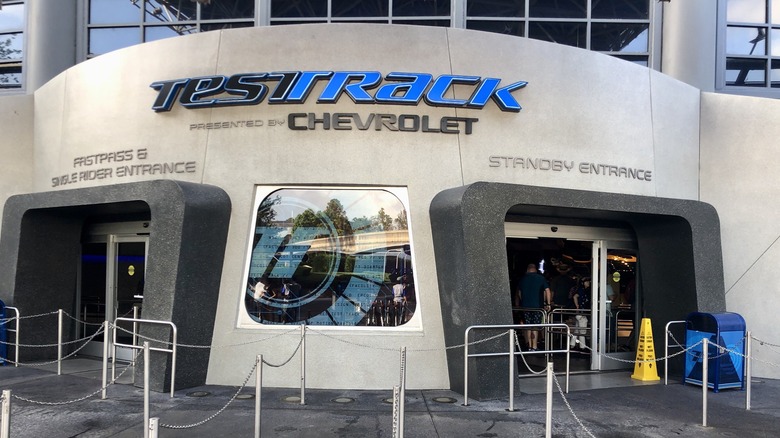 Joshua Meyer
Sponsored by Chevrolet's parent company, General Motors, World of Motion was an opening-day Epcot ride that operated from 1982 to 1996. The attraction saw guests boarding Omnimovers for a time-travel trip through the history of transportation. It employed humorous scenes, like a cyclist wallowing in the mud with pigs and an ocean explorer looking a sea monster in the eye through his spyglass. At the same time, it charted humanity's progress in developing new forms of transportation.
If Test Track is going back to its World of Motion roots, it could mean the reimagined ride will have a more lighthearted nature. The concept art unveiled at Destination D23 (see below) appears to show a ride vehicle emerging from a bright light onto a track in the jungle. This could mean the ride will lean back into World of Motion's original time-travel concept.
Disney and Chevrolet's reimagining of Test Track might further help differentiate it from the new Enterprise-sponsored TRON Lightcycle / Run ride at the Magic Kingdom. Located in Tomorrowland, TRON Lightcycle / Run employs a similar color scheme, outdoor track, and futuristic design.
In terms of wait times at Epcot, Test Track is right up there with other fan-favorite attractions like Frozen Ever After, Soarin' Around the World, and Remy's Ratatouille Adventure. It's a safe bet the reimagined ride will continue to draw long lines, but you can strategize to avoid those with our tips for shorter waits at Disney World.