Swap The Greek Islands For This Underrated US Destination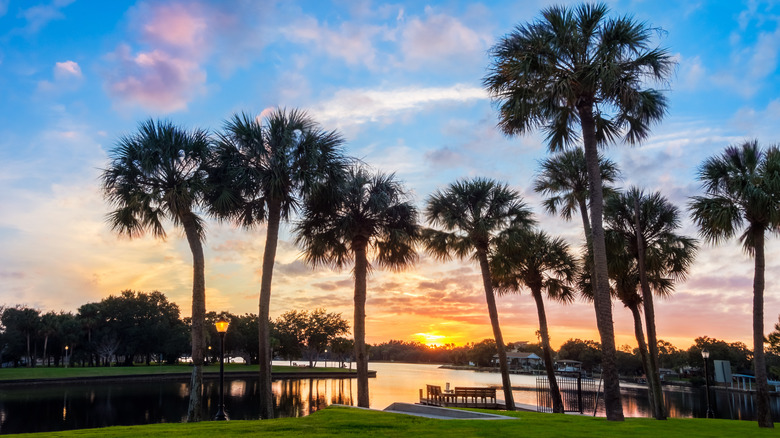 Benedek/Getty Images
The Greek Islands make for an exquisite vacation. With beautiful blue water, delicious food, and cultural richness, they're a wondrous place to visit. However, the Greek Islands aren't in everyone's budget. Or maybe, depending on where you're coming from, you simply don't have the time to hop on a plane and go. If you want to experience Greek life — not the fraternity and sorority kind — but can't quite make it over to Greece for whatever reason, consider the quaint town of Tarpon Springs, located about a 45-minute drive from St. Petersburg and Tampa, Florida.
Tarpon Springs is known for its Greek culture, as well as its claim to fame as the one-time sponge capital of the world. It has a population of more than 25,000 people and, while it doesn't have the dazzling blue waters Greece is famous for, it does have a lovely beach and is full of Greek culture and food that's celebrated. It's a vacation destination that'll be fun for the whole family.
Greek culture and things to do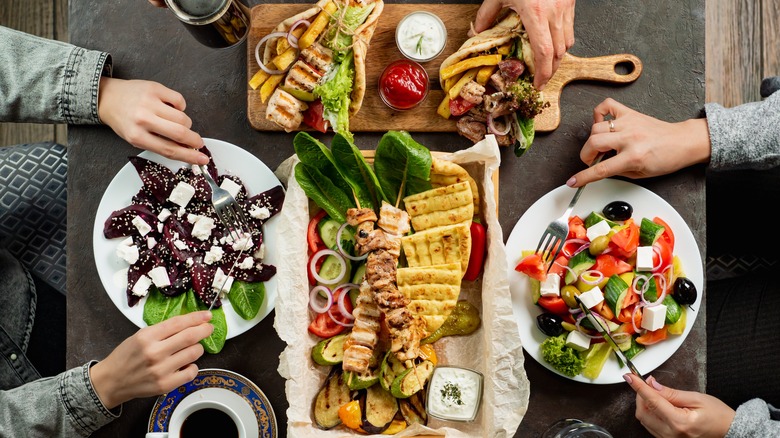 Fascinadora/Shutterstock
If you're a fan of Greek food, Tarpon Springs offers plenty of highly rated Greek restaurants that serve traditional food. One of the most popular eateries is Hellas Restaurant and Bakery, which is known for its vibrant decorations almost as much as it's known for its food. The shops lining the streets of Tarpon Springs also exude Greek culture. You can find storefronts selling homemade soaps, olive oil, spices, clothing, and souvenirs. "Tarpon Springs is a nice town with a lot of cultural offerings," a reviewer wrote on Niche. "It has nice people and a lot of history, specifically Greek culture. I enjoy going to the Sponge Docks and the many things to do in regards to living close to the water."
In addition to Greek culture, you'll also find opportunities to spend time in nature. The Fred Howard Park beach is a popular spot with its white sand, palm trees, and blue waters. Visitors can participate in water sports like kayaking here, or even take an evening cruise to watch the sunset. You can also hop on a ferry or private boat to visit Anclote Key Preserve State Park, which features beaches and wildlife.
The sponge capital of the world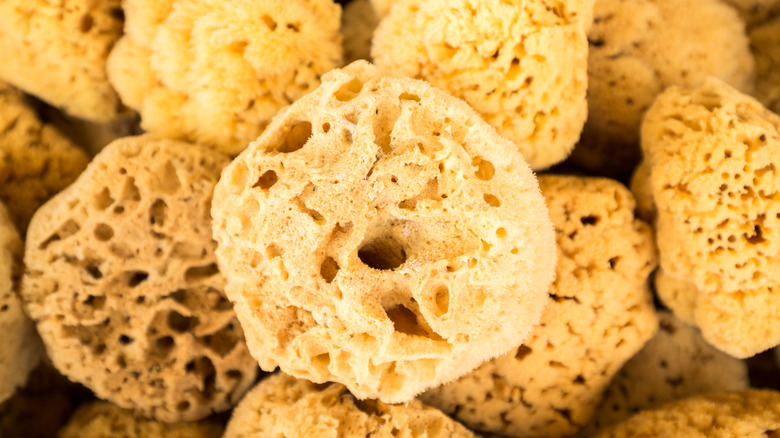 Steve Heap/Shutterstock
Tarpon Springs once had a booming sea sponge industry, and it remains today. Yes, sponges. Sea sponges are and have been used as, well, sponges. They're great for exfoliating your skin, bacteria doesn't grow inside of them, and they last for years. People harvest them from ocean waters and go on to sell them. This industry is what initially drew people into Tarpon Springs.
Gathering sponges was a common trade in Greece, so those immigrating from Greece were able to continue doing so in Tarpon Springs. This gave the town a special appeal and ultimately ended up drawing a large population of Greek immigrants to its shores. The industry saw a peak in the 1940s before a blight occurred. Nowadays, it still provides jobs, just not like it did in the past. If you decide to visit, you can easily purchase a sponge, or a few, in one of the many stores that sell them.