Visit This California Village For A Cozy Seaside Vacation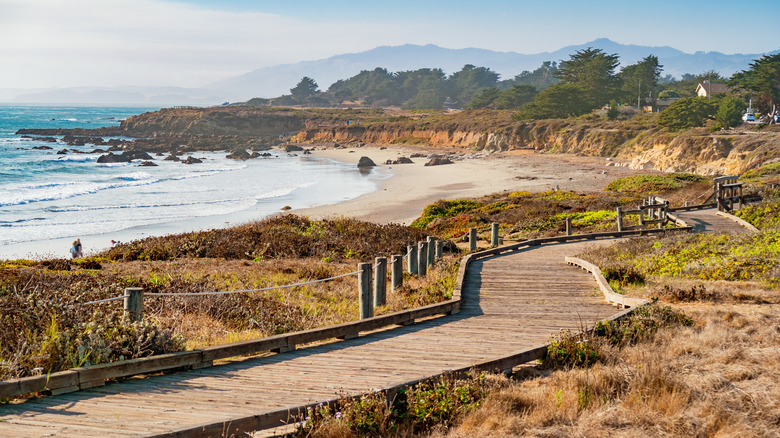 Benedek/Getty Images
California's Pacific Coast is home to a wealth of picturesque seaside vacation destinations. From sun-drenched beaches in Southern California to the cooler Northern California waters, there are many beautiful spots worthy of a visit. One seaside destination, in particular, offers visitors a very cozy and charming California escape.
The small town of Cambria, nestled amongst Monterey Pines in San Luis Obispo County, is home to less than 6,000 people. Known for its quaint and historic downtown, opportunities for outdoor adventure, like hiking and biking, delectable dining options, and tasting rooms featuring Cambria's many local wineries — a trip to Cambria on California's central coast is a real treat.
Cambria is easy to get to by car. Located on the scenic CA-1, halfway between Los Angeles and San Francisco, it's the perfect spot for a stop along the California coast. For those flying, the nearest airport is San Luis Obispo County Airport, which is 50 minutes away. Renting a car is advised as rideshare and taxis are limited in this area.
Things to do in Cambria, California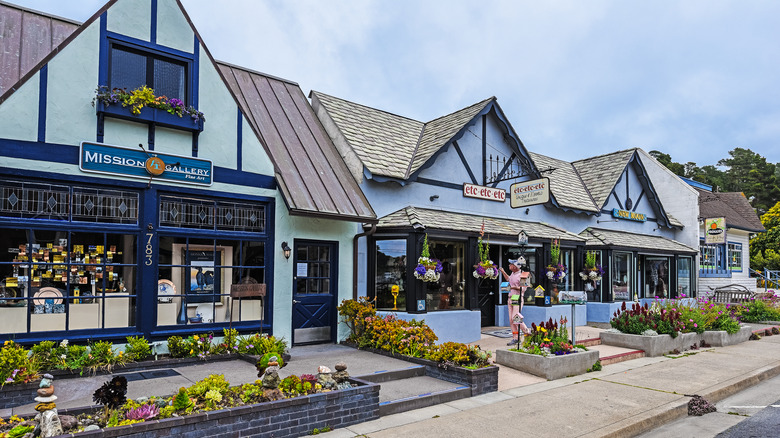 randy andy/Shutterstock
One of many beautiful California beach towns, Cambria offers a mix of indoor and outdoor activities. Of course, one of the main draws is the beach. Moonstone Beach is usually devoid of crowds and provides the typical shoreline activities, like cozying up on the sand with a good book, splashing in the surf, or strolling along the water's edge. However, it also offers a unique opportunity to spot wildlife, like crabs, in little tide pools. A relaxing stroll along the one-mile Moonstone Beach Boardwalk is the perfect place to both unwind in the fresh air and explore these little creatures. For those keen to add a little 1.9-mile hike to spot tide pools, try the Leffingwell Landing Trail to Leffingwell Landing Park. The trailhead start is marked at Shamel Park on Windsor Boulevard North and also offers a chance to spot sea otters and the occasional California Gray Whale.
In addition to the beach, Cambria also offers a historic downtown with plenty to do. For wine enthusiasts, try one of Cambria's many intimate tasting rooms. Fermentations on Main Street is highly rated. Stop by to sip and savor, or pick up a bottle to enjoy by the fire at your cozy seaside retreat. For art lovers, check out Artifacts Gallery for everything from paintings to sculptures and Ephraim Pottery West Coast Gallery for one-of-a-kind pottery pieces. Cambria's downtown also boasts many antique shops, boutique clothing stores, and wonderful restaurants — all within walking distance. 
Cozy Accommodations in Cambria, California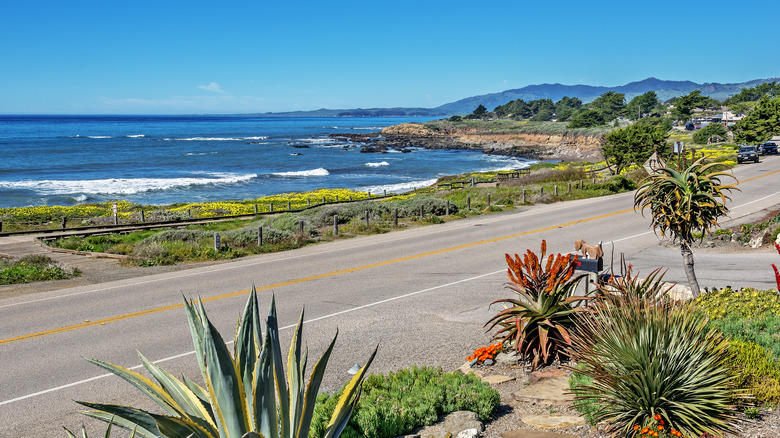 randy andy/Shutterstock
Visitors to Cambria have their choice between luxury accommodation, budget-friendly abodes, and everything in between. After a long day exploring the beach and the village, visitors can light a candle, slip into a robe, and spend a cozy night inside. Or, maybe a nice glass of wine near the firepit while watching the sunset is on the agenda. Whatever the plans, Cambria offers ample opportunity to relax near the seaside.
For visitors looking for high-end accommodation, try White Water (approximately $700 per night). Designed by Nina Freudenberger and located on Moonstone Beach, the luxurious hotel blends into the serene environment. Amenities include a lobby lounge full of local drinks and bites. White Water also offers bikes so guests can conveniently travel to the downtown attractions.
For less expensive accommodation options, try the Castle Inn (approximately $244 per night). It offers cozy rooms, a firepit, a heated pool, gorgeous ocean views (especially at sunset!), and a chance to play a friendly game of cornhole. Another great alternative is the family-owned Cambria Shores Inn (approximately $160 per night), which also offers cozy rooms and ocean views from its beautiful gardens. The Cambria Shores Inn is also an excellent choice for those traveling with pets. Each four-legged friend is greeted with a basket of dog goodies.