Take A Step Back In Time At This Beautiful California City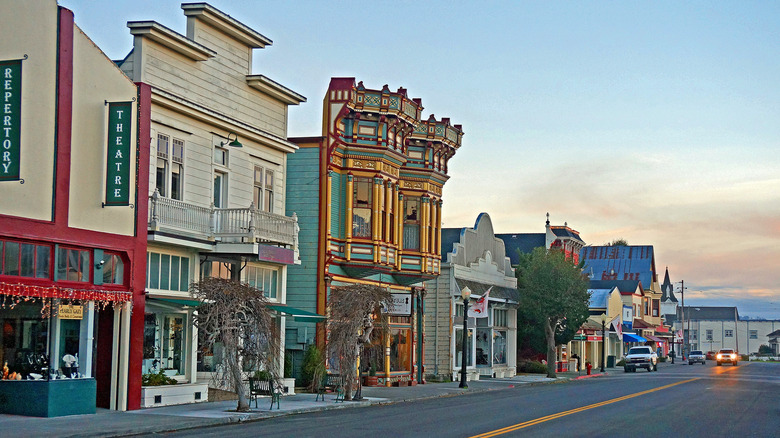 Dentok/Getty Images
San Francisco is perhaps the most well-known city in Northern California. However, outside of the Bay Area, 270 miles north and a nearly five-hour drive away, you'll find Ferndale. This hidden gem and budget-friendly destination is located along the Redwood Coast in Humboldt County. It is home to abundant colorful Victorian buildings that give the city the appearance of a movie set or a vintage photograph. Simply put, it will transport visitors to the 19th century.
Ferndale was first settled in 1852, and by the 1870s, it had become a booming dairy town. Many of its early buildings still survive. This includes five churches, the Ferndale Meat Company, The Palace Saloon, and many more. The meat market was built in the 1800s, and the saloon in 1890. At the time of this publication, both are still in business.
While Ferndale has a tiny population (1,387 in 2020), it nonetheless has a big personality. In 1975, the California State Office of Historic Preservation deemed the city a historical landmark. In 2011, Forbes named Ferndale one of America's prettiest towns. Ferndale is also Food Network star Guy Fieri's hometown and a popular TV and movie filming spot. Nevertheless, Ferndale is for those who want to escape the city for a taste of small-town living.
A visit to Ferndale is perfect for history buffs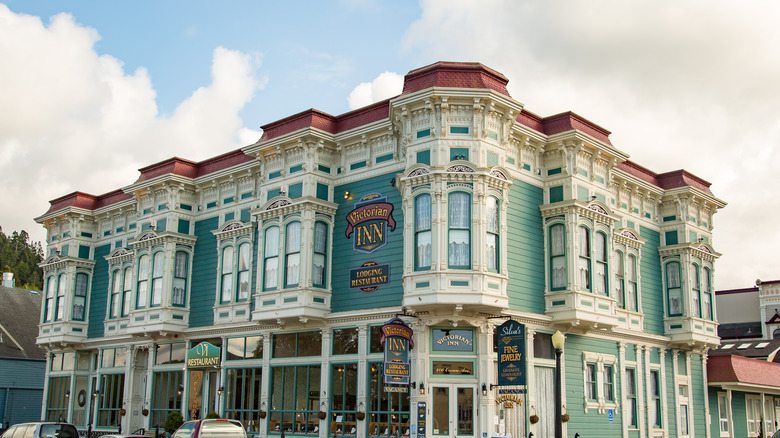 Bob Pool/Shutterstock
With its picturesque homes and rural backdrop, Ferndale is the type of city that would appear in Hallmark films. Likewise, it's highly walkable. But what is there to do in this Victorian village? Unsurprisingly, its attractions are centered around history. For example, the Ferndale Museum has thousands of photos, Victorian-style interiors, and exhibits that educate visitors on Ferndale's farming industry and more.
Visitors can get a taste of how a Ferndale family lived in the mid-19th century with a tour of Fern Cottage. Built in 1866, the 30-room home has original Victorian furniture and objects. It also features stunning gardens on its grounds where guests are free to enjoy a picnic. The Ferndale Historic Cemetery is a must-see if cemeteries don't give you the creeps. It was featured in the 1979 mini-series "Salem's Lot" and with good reason. It has stunning hilly burial sites and an eerie atmosphere that is incredibly photogenic.
Like any good old-fashioned town, the area has a Main Street. One standout shop here is the Golden Gait Mercantile. This is a general store that sells candy, hats, and more. It also has vintage products on display for visitors to see. In addition, Ferndale is a community rich in the arts and music. Live performances are regularly held at the Old Steeple, a church-turned-music venue built in 1871.
Ferndale has a variety of Victorian inns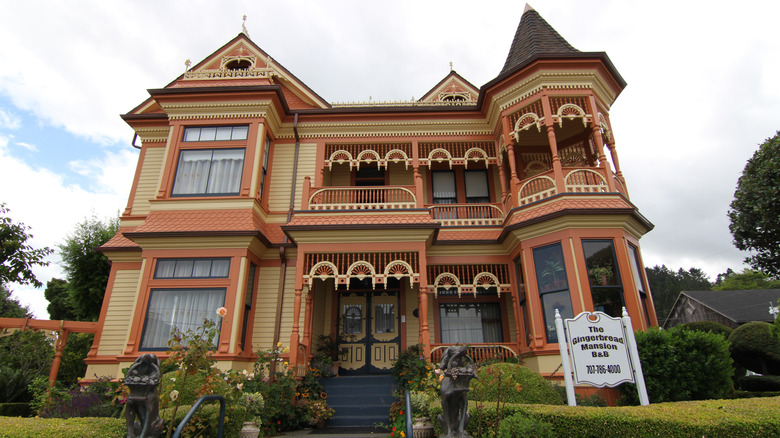 Sudha G/Shutterstock
To get the whole Ferndale experience, stay at one of the town's many quaint lodging options. The Victorian Inn has been around since 1890 and offers Victorian-style decorated rooms. It's also home to VI Restaurant, a steakhouse and Ferndale's top-rated restaurant on Trip Advisor. There's also the opulent Gingerbread Mansion Inn (pictured above), which was built in 1895. While it does not have a restaurant, it serves high tea and wine every day from 4 to 6 p.m.
You can also stay in Ferndale's first home: The Shaw House. Now an inn, The Shaw House was built in 1854 by Seth Shaw, one of Ferndale's founders. The charming Carpenter Gothic-style home has seven different rooms and a one-acre garden for guests to enjoy.
Beyond its historical significance, Ferndale is known for its outdoor activities. The Hadley Gardens on Main Street features replica Victorian homes among native plant life. Moreover, visitors can enjoy a long-distance hike at Russ Park, a vast nature preserve in the city. Alternatively, visitors can leave Ferndale to visit the nearby Redwoods National Park & State Park. They can also explore the Lost Coast, including Centerville Beach, an isolated but scenic area 5 miles away from town.