Avoid Busy Grand Canyon Crowds By Visiting During This Time Of Year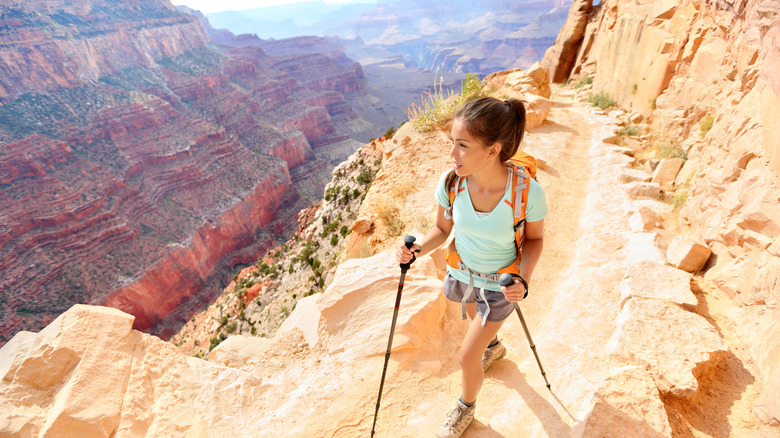 Maridav/Getty Images
Arizona's Grand Canyon National Park is one of the most popular destinations for hikers and sightseers alike, with over five million annual visitors, per The New York Times. But the destination tends to receive the highest number of visitors, curiously, during the month of July. Parks and Trips reports that 550,000 people visit during July, and we say "curiously" because experts say that's actually the most dangerous time to visit. The National Park Service reported that in July 2023, a Grand Canyon hiker died of a heat-related incident, and park rangers warn of the dangers of visiting the park during the summer months. Park ranger and paramedic Jeff Schwartz told The New York Times, "When it's sunny and over 95 degrees in the canyon, our call volume for emergency medical response and rescue goes way up." 
Schwartz said that he has encountered unprepared hikers in the canyon: "They thought they'd be fine — they'll be exhausted, maybe they'll have muscle cramps, they'll have to drag themselves out. But they're really not picturing hours of uncontrollable vomiting, or renal failure." Death, he said, is also a very real outcome. So the crowds, coupled with the extreme temps, are reasons why you should opt to visit the canyon from November to March for smaller crowds, and April to June for best temperatures. With less foot traffic on the trails, the cooler temps also provide a less muddy, firmer terrain for hiking without the risk of heat stroke.
Make sure you plan ahead for your Grand Canyon hike
@mikeandmish_

Here's our tips for hiking the Grand Canyon🏜️🌵 Weather can really range from the South Rim of the Canyon to Phantom Ranch. During the Spring and Fall the average low at the South Rim (top of Canyon) range from 22°-40°F meanwhile the average high at Phantom Ranch (bottom of Canyon) range from 70°F-95°F. Winters and Summers are extreme temperatures that you want to avoid. ☀️❄️ Always check the weather before attempting, you'll most likely need a small day pack to store your extra layers. We chose to hike down the South Kaibab trail to Phantom Ranch and back up the Bright Angle Trail. All in all it totaled around 18 miles and 4800ft of ascending. Hiking down the South Kaibab trail to Phantom Ranch descends around 4800ft over 7.3 miles. Bright Angel Trail is slightly longer at 9.8 miles and ascends the same 4800ft, making it less steep. If you plan to do a South Rim Loop this is what we recommend. We loved the layers of the Canyon the South Kaibab Trail showcases, where the Bright Angel Trail felt more enclosed and in the depth of the canyon. No water was available on the way down the South Kaibab trail. The first place to refill water bottles was at the bottom where the Bright Angel trail and South Kaibab trail fork. There was water available along the Bright Angel trail at a few different locations. This can change seasonally and it's always best to check the nps.gov the official Grand Canyon site, before attempting. We each packed 2 L of water in a camel pak, and 40oz of pre mixed electrolyte water. This was enough for us. 💦 Staying fueled is crucial to completing a hike this long. Some of our favorite hiking snacks include, beef jerky, licorice, and energy bars. We also packed a sandwich to enjoy at the Colorado River! 🥪 The park begins to fill around 10am, especially on weekends. So we got into the park around 630am and parked near the Bright Angel Trailhead (our finish line). To get to the South Kaibab Trailhead we took the Hikers Express Bus at 7am and arrived by the trailhead 20 min later. Check the bus schedule as this changes monthly! 🚏🚌 #nature #fyp #naturevibes #naturelove #grandcanyon #grandcanyonnationalpark #hiking #hikingszn

♬ Circles - Instrumental - Post Malone
According to AAA, a Grand Canyon park ranger said, "There are only two kinds of hikers in the inner canyon in high summer — fools and rangers. And one's there only because of the other." Luckily, park rangers are also on hand to assist you should you find yourself in the canyon during the summer months, and struggling to beat the heat. Ranger Jeff Schwartz told The New York Times that hikers should always have salty snacks on hand and if not, the rangers can provide them. "It's amazing what a bowl of ramen noodle soup will do," he told the outlet, noting that search-and-rescue employees attend to over 300 hiker incidents per year. If you do visit during the summer, make sure you plan ahead of time by looking into weather patterns to avoid the rainy season in September or expected heat emergencies. Also, you should look into which hiking trails in the Grand Canyon would suit your physical ability. 
Luckily, TikTok is also on hand with some tips to keep you cool and beating the summer crowds. User @grandcanyonecoretreat recommends finding a creek close to the trail, and soaking your entire body in it (avoiding your shoes and socks) to keep cool. TikTokers @mikeandmish_ recommend bringing 1.5 liters of water with you along with snacks. "Start early so you can find parking, avoid crowds and the peak heat," they said, pointing out that temperatures can sometimes soar past 100 degrees Fahrenheit.