Plan A Trip To The Top-Ranked Amusement Park In The Midwest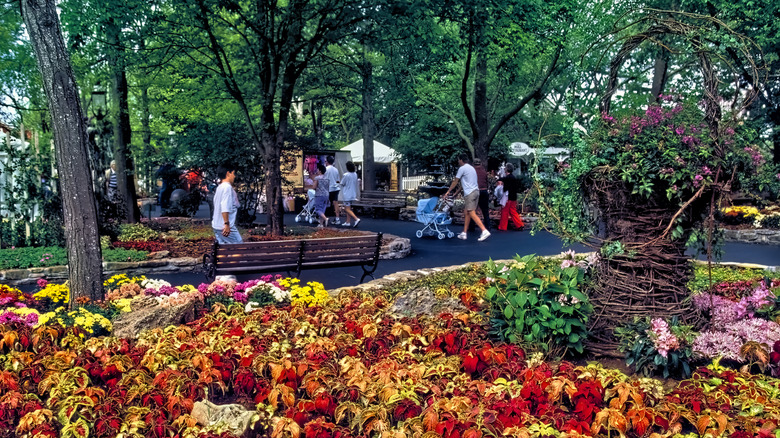 John S Stewart/Getty Images
Branson, Missouri is one of many entertainment hubs in the Midwest, with attractions like Dolly Parton's Stampede, a Hollywood Wax Museum, and world-class live music. Branson is also known for being home to the region's top-ranked amusement park on Tripadvisor: Silver Dollar City. Built around an 1880s-style mining town, Silver Dollar City offers a unique blend of thrill rides, family attractions, and shows that will keep you entertained all day.
Silver Dollar City is a family-friendly amusement park, offering everything from roller coasters and water slides to a collection of kids' rides. With more than 60 shops and 18 restaurants, there's ample opportunity to explore the park for unique souvenirs and experiences. Silver Dollar City has dozens of rides and attractions as well as live shows, so plan on packing a bag for a lengthy day in this theme park.
From thrilling roller coasters like Outlaw Run to interactive experiences like Fireman's Landing, there's something for everyone seeking an adrenaline rush. Visitors can also enjoy a scenic river cruise on the Showboat Branson Belle, explore a sprawling 13-acre water park, and experience camping at the Silver Dollar City Campground.
What makes Silver Dollar City unique?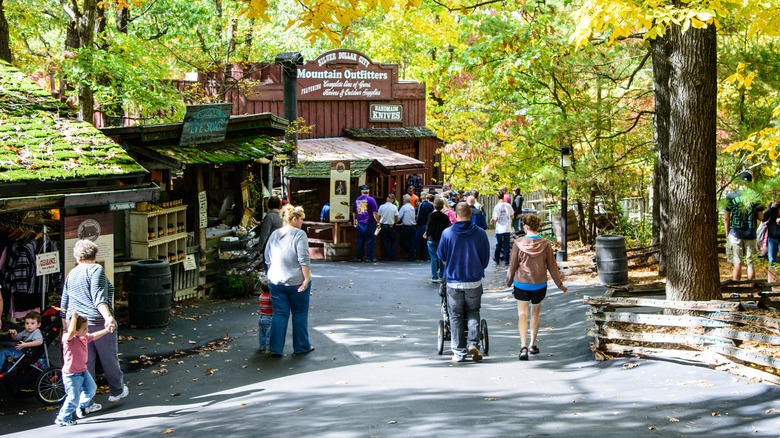 Erniedecker/Getty Images
Silver Dollar City has a prestigious reputation in the community and country. It first opened in 1960 as a small village offering silver dollars as change. At 100 acres, today's theme park offers a unique blend of Midwestern entertainment, Ozark culture, and adrenaline-pumping rides. The park is consistently ranked among the top amusement parks in the Midwest. But what truly sets it apart from other theme parks in the region?
Tucked in the Ozark Mountains, Silver Dollar City offers stunning views and natural beauty. The region's unique terrain allows visitors to take a scenic ride on the Frisco Silver Dollar Line Steam Train for an amazing view of the surrounding landscape. From the character-driven shows to the live music events, Silver Dollar City offers a truly unique environment that brings to life the culture of Branson, Missouri and the surrounding Ozark region.
The park features stage shows and events that showcase the area's history, including the park's longest-running show, Frontier Follies, and music from Horsecreek Band. Silver Dollar City's Ozark village setting creates a unique atmosphere. Stroll down Main Street to see skilled artisans at work, enjoy live shows, or indulge in treats like Clara Belle's freshly baked cinnamon bread.
Planning your visit to Silver Dollar City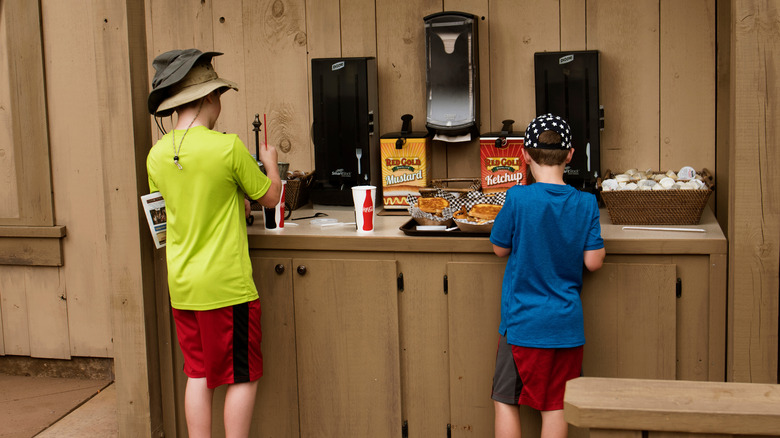 Olha Dieterle/Shutterstock
Silver Dollar City is famous for its seasonal festivals and events. If you plan on visiting during winter, make sure to attend An Old Time Christmas. It's packed with light displays, holiday shopping opportunities, and a host of other holiday treats. There's something for the whole family to enjoy, including live Christmas-themed productions and a huge selection of holiday comfort foods like caramel apples and hot chocolate.
Before planning your trip to Branson, it's important to check the weather forecast, as the Midwest's weather can be unpredictable. To avoid crowds and minimize ride wait times, consider visiting during the shoulder seasons like spring or fall. Spring and fall offer pleasant weather with typically milder temperatures for a more comfortable experience. Remember that the park is busiest during the summer and major holidays, and if you're set on attending the holiday-themed events, don't forget that some of the best and worst days for holiday travel are centered around the peak of these events.