The Top Budget-Friendly Golf Destination In The US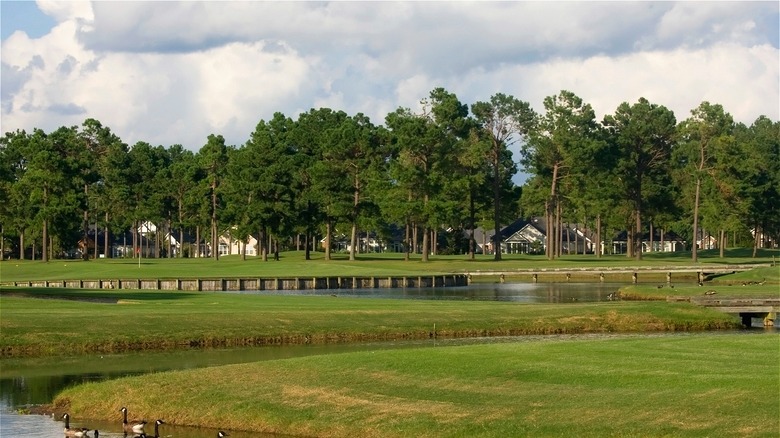 MarynaG/Shutterstock
A destination that is often called golf capital of the world can be found right in the United States of America. Myrtle Beach, South Carolina is home to over 90 golf courses which is how the destination has earned its prominent title. It doesn't hurt that Myrtle Beach is also one of the most budget-friendly destinations in the US. Any avid golf lover or golf enthusiast should consider a visit to this tiny beach city. You certainly don't have to be a golf expert to enjoy what Myrtle Beach has to offer, as there are enough courses for all types of golfers with all levels of experience.
It's not enough to be called the golf capital of the world just simply by having several golf courses to choose from, but the quality of the courses in Myrtle Beach paired with the affordable pricing is what makes Myrtle Beach a special golf destination. While golfing year-round in Myrtle Beach is possible, the best times are from Late February through May (known as "golf season") and mid-September through November (known as "golf season 2"). However, visitors who choose to golf in low season (December through January) can take advantage of Snowbird Specials offered by several golf courses, and in June through mid-September for lower prices than usual due to the heat.
The top golf courses in Myrtle Beach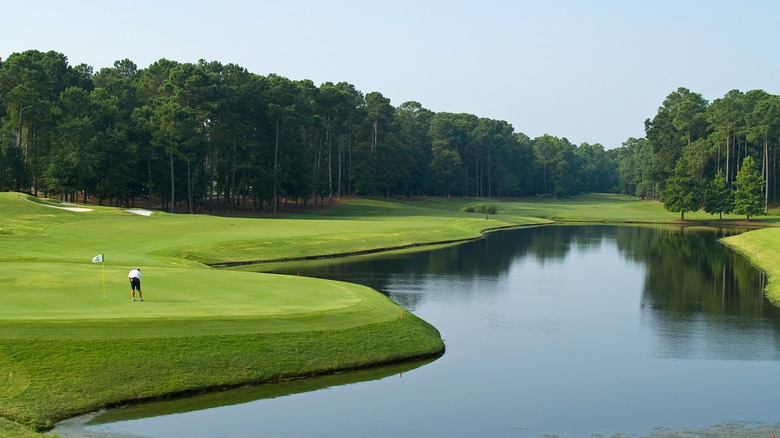 Andrew F. Kazmierski/Shutterstock
Myrtle Beach is considered to be a world-class golf destination because of the quality of golf courses throughout this beach city. According to Golf Digest, some of the top golf courses to play in Myrtle Beach are Dunes Golf & Beach Club, Caledonia Golf & Fish Club, Tidewater Golf Club, Grande Dunes Resort Club, Thistle Golf Club, and many more. All of these clubs are affordable, and the majority of them are open to the public. 
Myrtle Beach is such a golf-friendly destination that there are actually tour companies dedicated to booking dedicated golf trips. Myrtle Beach Golf Trips, for example, offers packages where, for as low as $35/day, golf fanatics can book their entire visit to this South Carolina haven around the premise of tee time. If you're looking to travel with the family, many of these golf clubs offer family-friendly activities so everyone stays happy and busy. Grand Dunes Resort Club, for example, has a program where kids can play golf for free.
Not just for golfers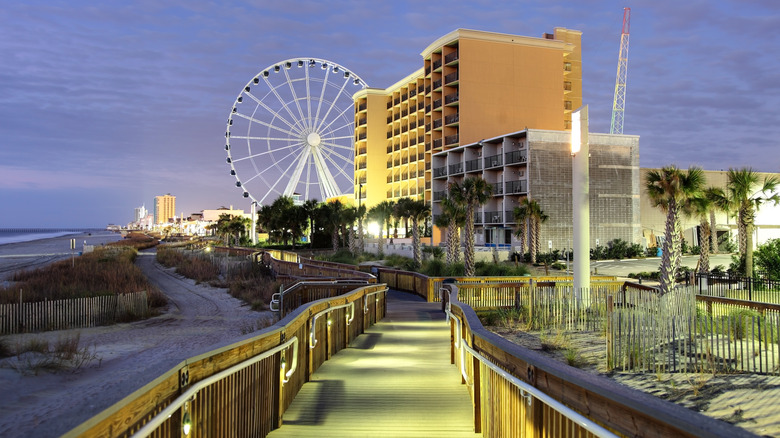 Denistangneyjr/Getty Images
Myrtle Beach goes far beyond just being a golf destination. While golf is one of the main attractions, for non-golfers, the options are not limited. Everyone who visits must take a stroll along the infamous Myrtle Beach boardwalk. Myrtle Beach is also great for scuba-diving and surfing, with companies like Coastal Scuba in North Myrtle Beach and Surf City Surf Shop providing these services. 
The food scene in Myrtle Beach is also top-notch, and dining out won't break the bank. Of course, seafood is popular, but don't forget to try some barbecue. South Carolina claims to be the birthplace of barbecue, so reward yourself after a long day of golf by digging in and trying all four of the infamous South Carolina barbecue sauces: mustard, vinegar and pepper, light tomato, and heavy tomato.