The Most Filmed National Park In The US Is A Must-Visit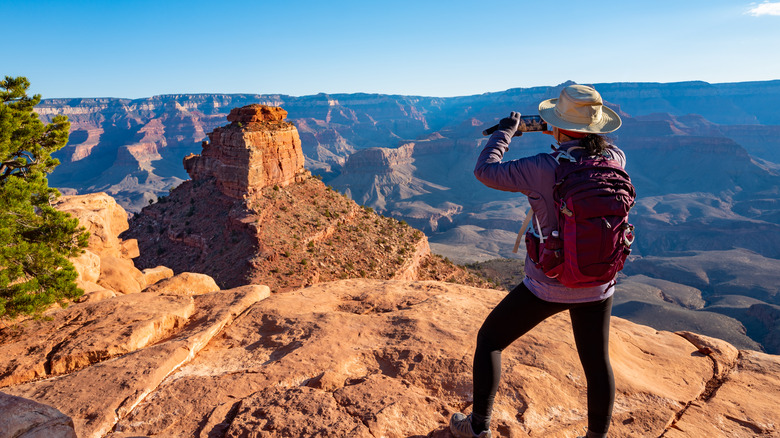 Nycshooter/Getty Images
Carved through Northern Arizona by the Colorado River over millions of years, Grand Canyon National Park offers hiking and rafting adventures, stunning vistas, helicopter tours, mule rides, and the opportunity to learn about the Native communities whose ancestral homelands now share boundaries with the park. In short, the Grand Canyon is one of America's most beautiful natural landscapes. It's also second only to the Great Smoky Mountains as the country's most-visited national park. However, while the Grand Canyon may have fewer major U.S. cities nearby than the Great Smoky Mountains do, it's so scenic that it's reportedly the most filmed national park in movie history.
According to an analysis from HawaiianIslands.com of Internet Movie Database's information, the Grand Canyon has appeared in 129 films. This puts it ahead of other popular parks like California's Yosemite National Park and Wyoming's Yellowstone National Park, which are the next most filmed and have appeared in 118 and 93 movies, respectively.
One of the most memorable movie scenes set in the Grand Canyon is the end of the Oscar-winner "Thelma & Louise," but as is often the case with movies, that scene used a different location to substitute for the official setting, with Dead Horse Point State Park in Utah doubling for the Grand Canyon. But there are plenty of other films where the real Grand Canyon has appeared, just as there are plenty of reasons why you should visit it in your lifetime.
National Lampoon's Grand Canyon Vacation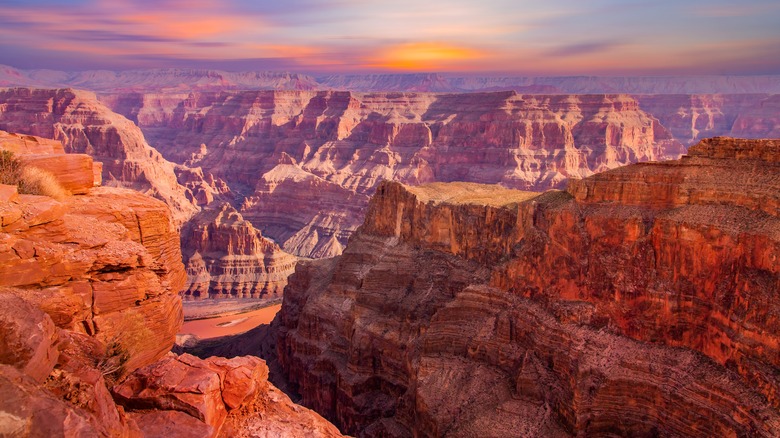 CK Foto/Shutterstock
One movie with a scene shot in the real Grand Canyon is "National Lampoon's Vacation," the first in the popular comedy film series starring Chevy Chase. In the movie, Chase's character, Clark Griswold, takes his family on a road trip across America in a big station wagon. His wife, Ellen, played by Beverly D'Angelo, would rather fly instead, which raises a good point: What's the best way to access Grand Canyon National Park? And how much will it set you back?
Luckily, the Grand Canyon trip of your dreams might not be as expensive as you think. Driving the full way as the Griswolds did is certainly one way to do it, but if you don't want to pay for gas or put mileage on your car (or steal cash out of the hotel register, like Clark), there are other options. The city of Flagstaff, Arizona, is about a 90-minute drive from the Grand Canyon, and it has an airport, a Greyhound bus station, and an Amtrak train station along the Southwest Chief route.
From Flagstaff, you can rent a car or catch a shuttle to the Grand Canyon. Another option is to arrange a vacation package through Amtrak or a ticket that lets you connect by bus with the Grand Canyon Railway Depot in Williams, Arizona. As alternative flight destinations, we also recommend Phoenix Sky Harbor International Airport and Harry Reid (formerly known as McCarran) International Airport in Las Vegas.
The adventure of a lifetime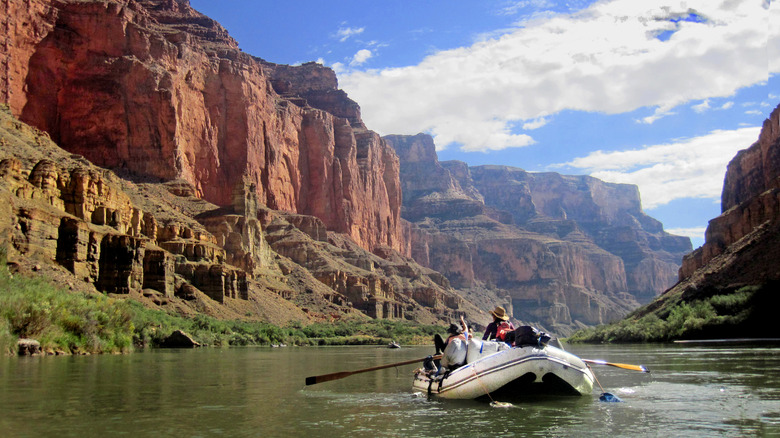 Elena Arrigo/Shutterstock
There are also various Grand Canyon bus tours that depart from Las Vegas as a day trip, and given that Vegas, its casinos, and the nearby Hoover Dam have appeared in many films, this could be an opportunity to visit more movie locations. Just be aware that it takes about 4 hours to drive from Vegas to the South Rim of the Grand Canyon, so on a half-day tour, you might end up spending more time on the bus than in the canyon.
Speaking of transportation, another movie that features the Grand Canyon as a setting is "Into the Wild," where real-life adventurer Christopher McCandless, played by Emile Hirsch, foregoes the 12-year waiting list and kayaks down the Colorado River himself without a permit. We wouldn't recommend doing that, but there are guided river trips you can take — and that's just the beginning of what the Grand Canyon has to offer.
As a geological formation, the canyon itself is ripe for photo ops, but there are many other things to do like taking bike tours. While it's temporarily closed as of this writing, the Tusayan Pueblo Museum will also offer visitors a chance to learn about Indigenous history and view tribal artifacts when it reopens. As of August 2023, the greater Grand Canyon has now received designation as a national monument as well, so this breathtaking natural wonder with a rich heritage remains well worth visiting.