The Question You Should Always Ask Before Booking A Cabin Vacation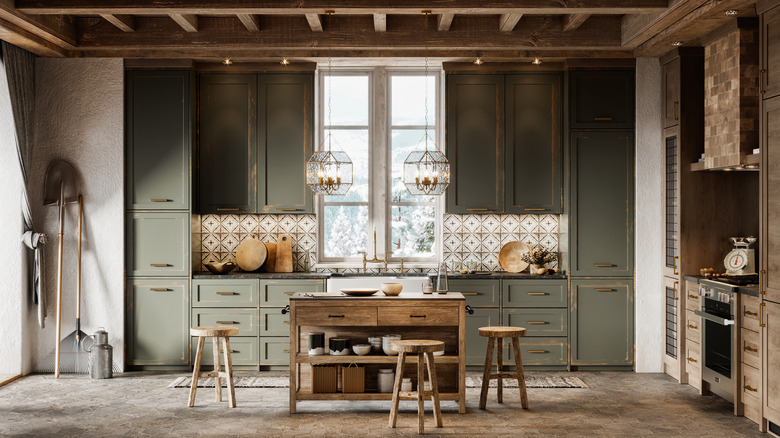 Alvarez/Getty Images
There's nothing quite like a cozy cabin retreat in the rawness of nature. From hot summer days soaking in the sunshine on a glistening lake to hours out on the ski slopes, America's diverse topography provides travelers with an exciting wilderness playground.
When booking your ultimate cabin getaway, knowing what kitchen supplies to pack is important to consider before loading up your car and hitting the road. Therefore, you should always call ahead (or check the listing) to find out which appliances and utensils you can expect to find when you arrive. Checking in with your cabin's host to learn what kitchen amenities are included with your stay can help you pack lighter and maintain a sense of peace, knowing you'll have everything you need during your stay.
Whether you're indulging in relaxing picnics by the waterside or easing into the morning with a cup of coffee in hand, items such as picnic baskets and coffee filters are essentials you won't want to forget. Packing can be an overwhelming part of trip planning, but with a few simple tips, it can also be an exciting step in your vacation.
After you ask, make a detailed packing list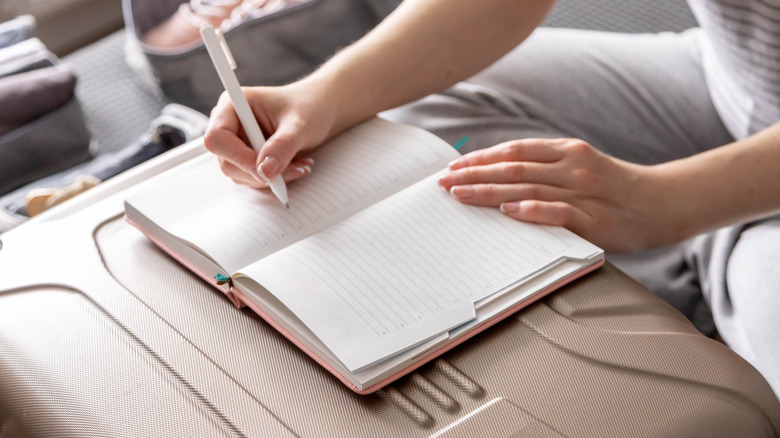 Kostikova Natalia/Shutterstock
Every traveler needs a solid packing list for that pre-traveling phase of trip planning. Once you know what supplies are already included with your rental, start brainstorming any remaining essentials to pack for your cozy cabin getaway. This is an important step to ensure you aren't missing a thing and helps you stay organized and clear-minded throughout the process. Plus, it's incredibly satisfying to cross off each item as you go.
Many cabins provide full kitchens for guests to cook meals in and enjoy the luxury of home while embracing an outdoor experience. Items such as colanders, kitchen knives and cooking ware may be things you want to consider if you plan to do a decent amount of cooking while you're away. Watertight tupperware is also a great idea to keep food items secure and dry while paddling down rivers and hiking along waterfalls.
Consider your cabin's location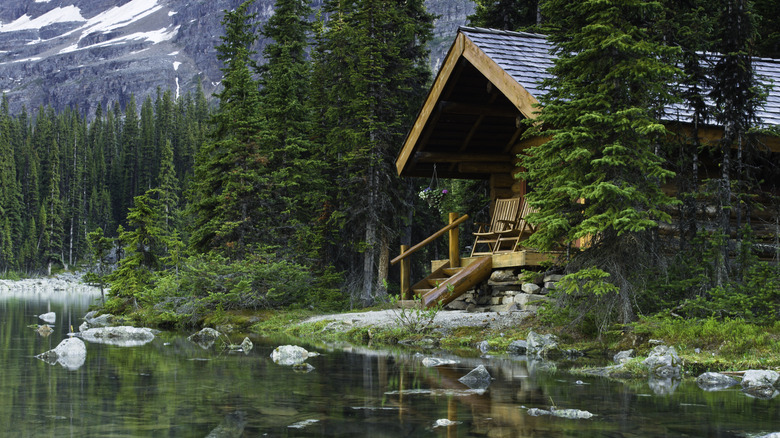 Every cabin boasts a unique experience that travelers should do their research on ahead of time. Knowing where your cabin is located can be helpful for identifying what conveniences are nearby such as grocery stores or gas stations for emergency kitchen supply runs. Run out of marshmallows for those s'mores you were craving? If your cabin isn't stocked with the necessary appliances, checking on a map to see what shops are close by is always a smart idea. Convenience stores are a cabin travelers' one-stop-shop solution for those miscellaneous items you just can't live without.
Considering the region and the rental's amenities is also something to consider. Rustic off-grid getaways offer travelers peace and tranquility among nature, but may not include utilities most of us are accustomed to such as running water and electricity. In that case, you might not have the luxury or need for tools such as hand mixers or blenders. Your cabin's management is an excellent source for providing you with this information so you come prepared ahead of time.